If the F-Pace crossover won't fully put Jaguar back on the map and kick some serious German ass, nothing can, and they should just stop making cars and go fishing instead using their claimed 33.5 cubic feet of luggage space. The good news is Jaguar's first SUV turned out to be quite something.

(Full disclosure: Jaguar Land Rover needed me to drive the F-Pace so badly they flew me to Montenegro via Paris, which did not make sense until I saw the hotel was on an island.)
What a strange world we live in! In 2016, Jaguar Land Rover, a historic British carmaker will tell us that while high-performance family wagons with loud exhausts don't make sense as products anymore, a fashion accessory weighing 4,336 pounds like the Range Rover Evoque Convertible does, and big time.
Since Land Rover currently outsells Jaguar by a huge margin, there was no question about the necessity of a Jag crossover, and we knew for sure the F-Pace was coming since we first saw the C-X17 Concept three years ago at Frankfurt.
G/O Media may get a commission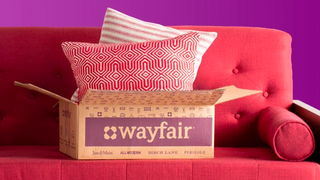 Big deals
Wayfair Surplus Sale
According to JLR's calculations, the decision to launch their BMW 3 Series competitor XE sedan and the F-Pace roughly at the same time next month overseas can triple their potential U.S. market reach while also making the SUV their best-selling model ever. After driving the F-Pace and looking at their pricing, I wouldn't bet against those predictions.
The Brits also want to attract a younger generation with their third all-aluminum model, and to reach them, they went all-in on gadgets and performance—on whatever surface you may come across.
Pretty And Light
Don't look at this as a Land Rover in a fancy dress, because it isn't one. Instead, the F-Pace is essentially an F-Type raised and widened so it can now seat five in comfort or four in luxury with all their junk in the back as well.
Eighty-one percent of its parts are new compared to any other JLR product, and while a similar car with a wagon body might be more pleasing to the eye and smaller on the road, such could never be as practical as this thing I wanted to criticize so much rolling on its 22-inch wheels and Pirelli P Zeros.
Jaguar will talk all day about its practicality, and it's true that with the rear seats folded flat, you're looking at a cargo area 5.9 feet long and 3.3 feet wide, with 13 other storage compartments in the cabin swallowing your stuff for all eternity.
Further evidence that the F-Pace is bit of a packaging miracle include the fact that a very tall driver can then sit behind himself comfortably without adjusting the seats, and that the trunk shelf slides neatly in a hole between the floor and the spare tire, meaning that you don't have to leave it at your garage in case all space is needed that day.
The lightest rear-wheel drive base manual diesel F-Pace weighs 3,670 pounds, but since all-wheel drive will come standard in America, you're looking at the entry car showing 4,014 pounds on the scale.
Add variable-ratio steering, Jaguar's custom adaptive Bilstein dampers monitoring what's up 500 times a second and some massive brake discs to that picture, and the F-Pace gets very dynamic on paper at once.

The reality is no different. Interestingly, what Jaguar has on offer here is the speed and driving experience of a Porsche Macan priced even below BMW X4 levels with more daily comfort the two German brands can show up for combined. And not even an Audi Q5 will do this many things so well.

Quick And Loud
The front subframe and suspension turrets are completely unique to the F-Pace for more ground clearance and travel, but with its double wishbone front and integral link rear setup complete with those passive monotone dampers, this whale of a wagon corners flat, steers remarkably sharp and slows down with confidence, meaning that with the F-Type's twin-vortex-charged V6 and all its 380 horsepower up front, this is no lame duck SUV.
And then there's the sound. The sound of metal spooling up and hot gases flowing very fast as you rocket yourself to 60 mph in a mere 5.1 seconds.
All it takes is that sweet engine, perfectly conventional twin exhausts and an intake valve that opens with the throttle, and you're in second gear at every tunnel. It never gets old, because if it did, I'm afraid you would have to be pronounced dead.
Yeah, so the almost top-of the line F-Pace S goes just like you'd expect it for something starting at $56,700. That's great, but not a huge deal in today's crazy world. What's newsworthy tough is that the base diesel, the 2.0 with its 180 horses handles just as good as the big brother.

The car we drove was the R-Sport with the body kit and 20-inch alloys, but as far as I can tell, the $40,990 F-Pace diesel has the same engine, suspension, all-wheel drive, steering, gearbox and brakes as the $53,900 fancy version, which means that for probably the first time since forever, the cheapest car will also put a smile on your face.

I thought there's just no way 180 horsepower would be enough to move this thing properly, but it works. Thank the torque of a modern diesel and clever power management of 8-speed automatic gearboxes. Further good news is that in dynamic mode, the drivetrain and suspension characteristics can also be changed individually to suit your preference.

Fun On Tarmac And Off
Speaking of diesels, we abused ours for what felt like an unnecessarily long time off-road, but Jaguar said it can take it, so we just kept waiting for a puncture to happen. I did not. That's just luck, but the F-Pace is very capable off the tarmac nevertheless.
To achieve that, Jaguar asked for some code from Land Rover, and so now, their SUV will not only climb and descend on very steep mountain roads without you ever touching the gas or the brake pedal thanks to its "low speed cruise control," but with a touch of a button, you can also engage low friction launch while the car will figure out what surface it has to deal with once moving using its numerous sensors.
As I mentioned earlier, we had Pirelli P Zeros on huge wheels fighting rocks more suited for built Discoveries and all-terrains, but while in other videos, I saw F-Paces running on Continental ContiSportContacts 5s. You should be happy to know that the lower suspension arms are protected against grounding, the bonded antiroll bar bushings can deal with the dust and with the additional suspension travel, there's really nothing stopping you from fitting some mud rubber on the 380 HP version. Makes more sense than rallying a Bentley Continental GT, I'll give you that.
So, the F-Pace is great on asphalt and won't get stuck off it. Cool. And for the kids, there's infotainment and 825-watt audio systems.
British Engineering
Jaguar uses an optional 12.3-inch digital instrument panel with full-screen nav capability and a standard 10.2-inch touch screen on the dash that actually works perfectly this time. The infotainment system is customizable, features 100GB of solid-state memory and supports up to 8 devices at the same time, turning the car into a WiFi hotspot with a data speed of 1GB/s, plus HDMI, MHL and USB 3 connectivity. It will even handle 4 video feeds simultaneously, while in case your battery is getting low, there are three 12V outlets and 4 USB ports coming to the rescue.
The driver is further aided by head-up display, automatic pedestrian detection, a 3D view of the destination and an app that can send your route plan from your phone to the car in advance.

To top it off, Jaguar threw in a waterproof activity key band that will open and close the car with the normal key left inside just by touching the letter J on the tailgate. It's all very, very active and connected indeed, just like your active lifestyle, I presume.
With what felt like the F-Type's steering wheel in my hand and a system I could use with ease after the first twenty seconds, I felt at home in the F-Pace's driving seat. That's what all carmakers should be aiming for.
The only thing Jaguar really did wrong in there is the positioning of the power window buttons. They ended up being way to high instead on the armrest, and that's silly.
Apart from that, the Jaguar F-Pace, this crossover SUV thingy wearing the same badge as a D-Type, is a rather brilliant car.
Do I still want an XE wagon instead? Yes. Not a brown one, yet the fact remains. But since we won't get that because literally all of you want these bigger cars now instead, let's have a look how much an F-Pace will cost you in America:
Not bad, is it?
Jaguar is back, and that V6 will provide the fireworks, not to mention what happens when SVR gets its hand on this car. I believe the nasty noises made from that will make it all the way to Germany.

2017 Jaguar F-PACE 20d AWD Specs
Engine type
Intercooled Turbo Diesel I-4
Transmission/Drive
Automatic w/OD