Despite last week's dazzling reveal of the 2016 Mazda Miata, the automaker has been extremely tight-lipped when it comes to releasing any actual specs on the new roadster. But Automobile just asked a question I don't think anyone else has asked yet — will the new ND Miata get a Power Retractable Hard Top like its predecessor?
The answer to that seems to be no, the magazine reports. At least, not for the first year the new Miata is on the market. And like the outgoing Miata, the new one's soft top will be manually-operated.
From Automobile's report:
A Mazda insider revealed that the top is light enough to lower and lift quickly with one hand, without getting out of the car. Neither the insider nor any of the Mazda officials speaking on the record would say whether a PRHT would be added in subsequent years, though a hardtop — whether fixed, or retractable — certainly will be added for club racing.

Considering the hard panel, or panels sewn into the fabric top, chances are good that the PRHT — a slick design that raises and lowers quickly and, unlike on competitive cars, does not take any trunk space — lived and died with the NC Miata.
G/O Media may get a commission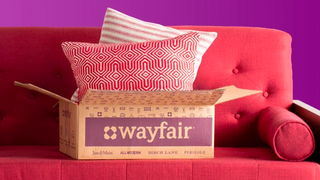 Big deals
Wayfair Surplus Sale
I'm a little sad to hear this. On both the occasions I had an NC Miata press car, they came with the PRHT option, and it was hard not to be impressed with it. It added a mere 70 pounds to the car, went up and down at the touch of a button, and took up no trunk space. As far as retractable hardtops went, it was probably the best out there, and I'm sure it helped sell Miatas in hotter, less convertible-appropriate climates.
But, hey, maybe it's no huge loss. The cloth top helps keep this Miata closer to the pure roadster it's supposed to be. I wouldn't be at all surprised if they added a PRHT down the line, just like they did with the last one.
I'm still holding out for a proper coupe though. Where are we at on that, Mazda?