Sony has a plan to make you forget all about the launch of that other racing sim today with the announcement of new downloads featuring 15 cars and two additional tracks as well as other in-game changes for Spec 2.0 of Gran Turismo 5 launching today. We hope you like four versions of the Nissan SKYLINE.
The 15 new cars in the "Racing Car Pack" are richly rendered but, in typical GT fashion, mostly a strange mix of must-have Japanese racers and curious choices, with just two non-Japanese cars on the list.
Headlining the pack is the Red Bull X2011 Prototype, a must have for anyone who wants to drive the sim racing version of a stealth bomber.
There's also a Challenger SRT8 touring car for the muscle car fans and a nice mix of Japanese touring cars (Miata, Evo, FD3 RX-7). There are also four generations (R32-R35) of the Nisan GT-R touring car. And three karts! And two hybrids! The pack will be available next Tuesday.
G/O Media may get a commission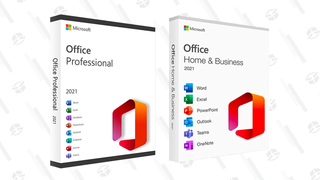 89% off
Microsoft Office Professional 2021 Lifetime License
Looking for a place to race these new vehicles? The "Course Pack" adds the famous SPA-Francorchamps circuit and two new Kart Space layouts.
Additionally, there's a new racing gear pack for your sartorial needs, a paint pack for new colors, or a complete pack that combines all of the above for just $11.99.
But the most important change? The launch of the free Spec 2.0 update today. It's got enough new features to make you forget you accidentally purchased a Prius race car, summarized below.
Simplified Cockpit View
New opening movie
Revised weather change menu
The ability to save multiple car tuning setups
2011 season NASCAR models
GT-R N24 Schulze Motorsports Car
Avatar now usable in Photo Travel
Replay Fast Forward/Rewind
Better online lounge
New racing graph display
More photo options
Consecutive login bonus revision
DLC compatibility button
Support for the Logitech G25/G27
So while you're worried about those pesky Microsoft-loving fanboi friends talking incessantly about how Jeremy Clarkson keeps popping up you can take a quiet, rainy lap of SPA in your new Red Bull prototype.