While exterior styling grabs all the new and concept car headlines, (and booth babes grab the eyes) it's the interiors that have the most potential to alter the way we experience our automobiles. Far from the squeaky, rattly, ill-fitting monuments to black plastic that are present on nearly every car at nearly every price range, show car interiors explore both new materials and new forms, as well as new ways for drivers and passengers to interact with their vehicles. Here are 14 of the 2008 Paris Motor Show's best dashboards and the ways in which we think they'll influence those on their road-going counterparts.
1. Saab 9X Air
Where every road-going Saab's dash looks like it was designed in 1994 (which all of them actually were) the 9X Air ditches the claustrophobic clutter for white simplicity and green holographic instruments. Note how even the steering wheel center is simplified into a subtly attractive form free from an excessive smattering of buttons. Our greatest hope for the production Saab 9-1 - which this vehicle hints at - is in the way traditional Saab design hallmarks have been updated. Check out the way the front headrests mount to the seats and the display screen at the top of the dash, which keeps navigation and entertainment functions in the driver's line of sight. 2. Renault Ondelios
While the huge gullwing doors - able to admit six passengers with minimal intrusion - wowed onlookers, it's actually the Ondelios's dash that's most impressive. Ignore the whale-like form and gimmicky prism primary instruments; it's the reconfigurable optical feedback keyboard and lit-from-underneath instruments on the dash that alter the way you interact with the in-car functions. Imagine being able to enter an address into the navigation system using a QWERTY keyboard that's only visible when it's needed. 3. GtbyCitroen
G/O Media may get a commission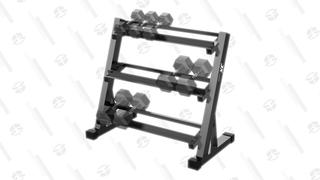 20% Off
JX Fitness Dumbbell Rack
Gains but tidy
Has a three-tier design to help store more weights more conveniently, can safely support up to 1000lbs of weight, which should be enough for most people, has a triangle base for stability, and also features anti-scratch feet which is great if you've built your own studio or workout in your garage.
The GTbyCitroen is pure concept car fantasy, designed to work within the virtual space of Gran Turismo 5 rather than the confines of the real world. The brushed copper dash would be extremely distracting in real driving conditions, but here delivers a sense of drama alien from more pedestrian models. Instruments are by fighter jet-style Heads Up Display, while settings are controlled through a red leather-covered F1-style steering wheel. 4. Mini Crossover Concept
Driven one of BMW's Mini's? You've probably come away disappointed by how cheap the otherwise uniquely-styled dash is. The Crossover fixes that by deleting just about all the buttons (placing them instead in the totally unrealistic laser projection globe interface) and replacing the cheap plastic with leather, wood and other high-quality materials. The Crossover's dash actually looks like it could justify the brand's premium price tags. Instead of tacky $1.50 add-ons, the tachometer is made from metal and looks like it was designed with the car, while the speedometer is a bar that wraps around the globe's upper half. Expect to see that on future production models. 5. Audi A1 Sportback
Already known for the best interiors in the business, Audis nevertheless tend to be cold and efficient inside. The A1's dash changes that, dropping high-quality black plastic and replacing it with white leather and brushed aluminum. The whole thing says luxury and quality in a way even Audi's current interiors can't. We won't see this on the production A1, but we might get the fancy propeller air vents. 6. Heuliez dump scooter
Heuliez keeps things real on their electric dump scooter. Who needs fancy haptic feedback lasers when you can use cable ties? Why use rear view cameras and LED displays when the mirrors can be cheaply and easily bolted directly to the crash structure? The front-loading scoot shows all the fancy concept cars that functionality rules. 7. Citroen Hypnos
With the Hypnos, Citroen is trying to make advanced technology more human and approachable. Instead, they've designed a wild, colorful interior then stuck on a flat-screen TV with Velcro. You get the impression that the colors are totally superfluous and it's the transmission tunnel's drive selector and other instruments - specifically the way they're contoured - that really matter here. It's as if Citroen wanted to make the points of interaction hugely tactile, but instead just made them odd. 8. Mazda Kiyora
Inside, the Kiyora looks like a space fighter from some cheesy sci-fi flick. But since we really enjoy a cheesy sci-fi movie, that's fine by us. The wrap around instruments radically focus the interior on the driver. None of this looks remotely grounded in reality, which is a shame, because Mazda interiors are some of the blandest in the business. Check out the webbed alien foot pedals. 9. Nissan Nuvu
We're not sure if Nissan's designers meant to turn the Nuvu's interior into the ultimate ride for midget strippers. But with a tiny stripper pole in the back seat and marital aids in place of a steering wheel (as well as the wipe-clean materials), that's what they did. We're not sure if it's because or in spite of this, but the Nuvu is one of our favorite concepts from the Paris Motor Show. 10. Mercedes ConceptFASCINATION
Ignore the incredibly pretentious coke mirror, Leica M8 and Cuban cigar-equipped trunk and focus instead on the dash. Remember when Mercedes' were the highest quality cars on the road? The stupidly named and badly styled ConceptFASCINATION's dash does, replacing production-spec plastics with leather, wood and metal. Mercedes, please immediately implement this dashboard on every single car in your range. 11. Peugeot RC HYmotion4
Peugeot makes nice, sporty economy cars for legions of budget minded Euros, so why does it keep knocking out high-end four-door coupe concepts? Regardless, this dark and moody interior, aside from the crazy instruments and screens, looks strangely production ready and wouldn't be out of place in any other expensive sports car. We like the exaggerated dual cockpits, the rounded corners and the black leather almost as much as we like the red accent lighting and chrome accents. Color us impressed. 12. Renault ZE
While the ZE's interior is a pleasant if unambitious take on the whole iPod thing, it's the crazy green-tinted windows that are really the point here. We don't know if they're meant to say, " Renault Drivers see an environmentally friendly world" or the more subversive "Hybrids are bullshit but their drivers think they're saving the world." We'll continue to think the latter, and thank Renault's designers for acknowledging the truth. 13. Tang Hua XY08 Chika
We'd be pretty happy boys if every car in the world looked like the Chika. We'd walk around calling everyone Mr. Happy, Mr. Angry, or, in Ray's case, Mr. OCD. We'd drive around sewing ourselves new clothes (note the needle-holding fabric tomato on the dash) while constantly seeing the smiling visage of our masterful leader in the center of the steering wheel. Right where the airbag would be in a less-perfect world. 14. Honda Insight
The Insight will go on sale next April in a slightly less-concepty form, but this is pretty much it. Expect the interior to use way more black plastic, but retain most of this simplicity. And that's a good thing.