The Tesla Model 3 and Model Y might soon have the option of physical buttons and knobs to give owners tactile control over certain functions buried in the touchscreen. Rather than furiously tap and slide on climate settings or other features that have no business behind a screen, Tesla owners can look forward to an aftermarket accessory called the Ctrl-Bar that adds actual buttons to their screens. That is, if the crowdfunded input device can make it to production.

The Ctrl-Bar promises to easily add a strip of physical buttons to the bottom of the infotainment display of the Tesla Model 3 and Y, putting a host of features at your fingertips. OK, so a touchscreen does the same thing, but it's just not as satisfying. Greenmission made the Ctrl-Bar to get around that in the Model 3 and Y, all while making sure installing the device is easy and straightforward.
The Ctrl-Bar has two knobs, or dials, as well as four programmable buttons that can be assigned to actions that can turn on the heated seats, toggle defrost mode and dog mode among many others. You could open trunks, frunks, maybe even gloveboxes with the buttons. Finally!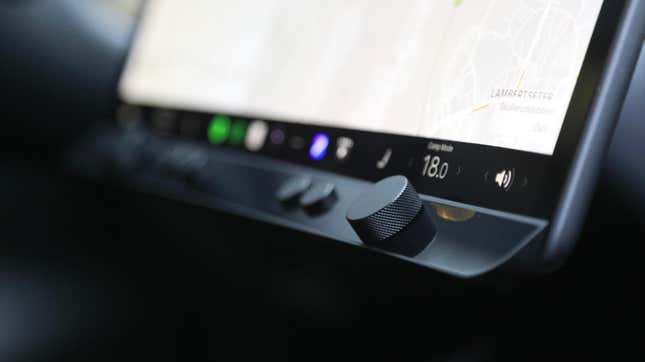 The bar appears to stick to the screen with adhesives and is powered via USB cable, which the makers claim is discreet or "hidden." The Ctrl-Bar connects to Tesla EVs by using a phone as a middleman, which means your phone must be connected through Wi-Fi or a cellular connection. That seems odd, but given the integration these EVs have with smartphones via the Tesla app, it's not as weird as it sounds.
All button presses or turn of the dials are then sent through your phone to the car so there's a slight delay, according to the makers. But I guess a mild stutter is better than not having physical buttons at all. We can mostly agree that pressing is so much better than tapping, and carmakers are starting to get hip to the idea that certain controls need buttons. Tesla is one of the pioneers of the minimalist cabin, for better or worse; I'm going with worse since a lack of buttons is consistently a problem for Tesla owners.

And since the Ctrl-Bar is essentially a "smart" device that connects to a phone, it'll get OTA updates for both functionality and to expand its features. The designers say they're already planning to add things like speed trap warnings via subscription, but I'm less enthused about that.
The Ctrl-Bar has already beat its goal at Indiegogo for an initial batch with an intro price of €249 ($272 at current exchange rates), though that doesn't guarantee it'll make it to retail. It very well could, given the reception to the device. And the creators of the Ctrl-Bar are partnering with Abstract Ocean, a well-known company that sells aftermarket products for Tesla models. Having the backing of an established retailer can only help, but this is an issue that Tesla should solve. Until then, it seems like the aftermarket is happy to step in.