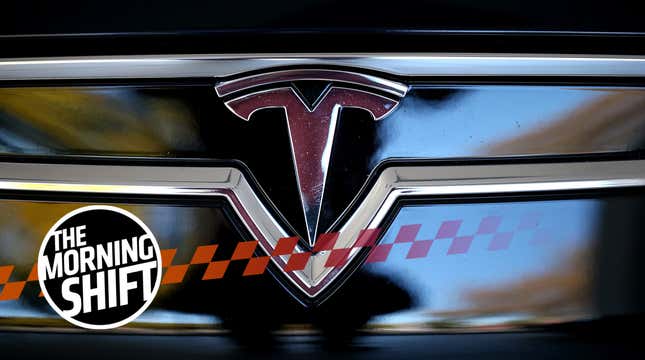 Elon Musk's ideas for offering Tesla insurance, more on the U.S.-China tariffs, slowing Chevrolet Corvette sales as buyers await the upcoming car, suppliers' preparation for General Motors' plant closure, and BMW's first-quarter losses. All of this and more in The Morning Shift for Tuesday, May 7, 2019.
1st Gear: Details on Elon Musk's Plan for Tesla Insurance
As Tesla posted a $700-million first-quarter loss recently, CEO Elon Musk announced that the company would offer car insurance. There wasn't much said about the insurance product at the time of the announcement, which was in late April, other than that the plan was for it to come out in about a month, and that some of its current practices would spill over into its product.
From a CNBC story at the time:
In response to a subsequent question about the safety of Autopilot, Musk said Tesla gives more details about safety to insurance companies.

"We do give some more detailed information to insurance companies to help with rates. And obviously as we launch our own insurance product next month, we will certainly incorporate that information into the insurance rates," Musk said.
The Wall Street Journal published more on the plan Tuesday, which is basically that Tesla wants to sell its drivers cheaper car insurance based on owners' driving and the performance of Tesla's Autopilot driver-assistance system. The WSJ reports that Tesla said it has better data on the performance of its cars and drivers than insurers do, and thinks it can lower insurance costs because of that.
Of course, Musk said drivers have "to agree to not drive the car in a crazy way" or else their insurance rates will be higher. From the story:
Tesla's planned offering "is emblematic of the types of partnerships that traditional auto carriers will need to forge with vehicle manufacturers and data and software conglomerates if they hope to survive the transition from the current environment," [Robert Hartwig, director of the Risk and Uncertainty Management Center at the University of South Carolina's Darla Moore School of Business] said. The car maker is acting to take advantage "of the value associated with the hordes of data it collects as Tesla owners log miles in their vehicles," he said. [...]

Researchers at the insurance-industry-funded Highway Loss Data Institute have determined that the crash-avoidance features on the Tesla Model S are reducing physical-damage and injury-liability claims, while Autopilot is lowering collision claims.
The WSJ has more on the plans here.
2nd Gear: More on the U.S. Tariffs on China
There's a lot going on with tariffs, threats of tariffs and predictions about the Trump Administration's tariffs on China lately, and that probably won't change. The latest, via Bloomberg, involves some predictions and reaction.
First, the predictions: Bloomberg reports that the CEO of ZoZo Go, a consultancy that focuses on automotive technology and vehicle businesses in general, thinks President Donald Trump will keep tariffs on electric vehicles from China as high as possible. From the story, which there is more of here:
China's government is pouring $100 billion into becoming the global leader in electric vehicles, Dunne said. Last year, Chinese consumers purchased 1.2 million battery-powered autos, compared with about 350,000 in the U.S. Trump's tough tariff talk, which has unsettled the Chinese government as much as it has rattled markets, is aimed at protecting technological innovation in the U.S., Dunne said.

Trump "believes that by threatening tariffs, this really puts a scare into the Chinese, and it seems to have gotten their attention," Dunne said. "The tariffs are almost a psychological tactic to undercut the confidence of the average Chinese businessman and consumer. But the real story remains technology. Tariffs are almost a decoy — technology is what the trade negotiators are working on."
But while that all seems well and good for U.S. businesses wanting to further EV production, the head of a company with multiple focuses, Cummins, isn't a fan. Cummins CEO Thomas Linebarger told Bloomberg Television that tariffs are not "the right medicine" for trade disputes.
Linebarger said while Cummins' Chinese business has held up, it's been paying a "significant cost" in tariffs. There are also other problems: According to the interview, the company is starting to see orders lower than production.
From Bloomberg:
"By imposing tariffs, what we're essentially doing is raising a cost, or a tax, on U.S. business," Linebarger says. "Most of those tariffs are being paid by U.S. business today, in order to resolve structural and non-tariff barriers."
And, as always, we know who pays for the extra costs that businesses incur: us, the buyers.
3rd Gear: Corvette Sales Slow as Buyers Await the C8
The mid-engined Chevrolet Corvette that car enthusiasts haven't been able to shut up about for decades is finally (almost) here, but it's not all celebration and fun for General Motors. As the July debut of the car's eighth generation, the C8, approaches, sales of the current, front-engined Corvette aren't too great.
Here's the deal, via Bloomberg, which has graphs of Corvette sales numbers throughout the generations in its story that look just like mountain peaks:
Corvette sales in the U.S. have declined every quarter from the prior-year period since 2016. Dealers sold just 18,791 of the vehicles in 2018, 44 percent less than in 2015. Current models are idling on dealership lots, forcing dealers to offer large incentives. Stingray, for example, is dangling discounts and incentives up to $15,000 on some of the high-performance models. If you've always wanted a Corvette and don't care where the engine goes, now's the time. [...]

The tricky thing, however, is that the Corvette is one of the rare speed machines that contributes significantly to the bottom line. General Motors makes a tidy profit on each one, and it typically sells a lot of them.
The sales slump awaiting the C8 is massive on Bloomberg's chart, likely because the car with the engine in the middle has been such a long time in the making—and in the imagination.
People have been putting down deposits for years, back when the mid-engined Corvette was still a long-running rumor, according to Bloomberg:
The Corvette clan is ready. "We've been taking deposits for a rumored mid-engine Corvette since 2014," said Sean McCann, floor manager at Stingray Chevrolet near Tampa, Fla. "People are canceling their orders (on 2019s) and starting to hold back, because they want to wait and see what's going to come out." [...]

Tony Fiorello, president of a dental implant company in Florida, will be one of many padding the sales stats for Chevrolet. He wanted the first mid-engine Corvette so badly that he hedged his bets. In 2017, he put down two deposits, one for the 2019 version and one for the 2020. "It's a paradigm shift," he explained. "And I just knew that I wanted to be No. 1 on the list."
If anything, it's about time for that list to become a reality.
4th Gear: How General Motors' Canadian Suppliers Planned for Plant Closure
General Motors announced plans to shut down its Oshawa plant in Ontario, Canada late last year, making a lot of people, rightfully, very mad about what that meant for jobs. The plant has been open since 1953, and the plan is to close it by the end of the year.
Automotive News wrote Tuesday that suppliers aren't feeling quite the same sting, since they saw the closure coming and have been prepping for it for about a decade. A lot of that prep work has been in diversifying the products that the suppliers offer, since they can't simply rely on supplying GM all of the time.
From Automotive News:

[Automotive Parts Manufacturers' Association president Flavio] Volpe said suppliers have been diversifying their product mixes for years to better withstand plant closures and consolidation.

"For generations, you could have built a very good business around one specific [automaker] in one plant. Nobody went to business school. Nobody needed to go to business school. The industry was growing, and for decades everyone made more cars than they made before.

"Everyone got caught kind of short 10 to 15 years ago, even before the [financial] crisis, with overcapacity and that new approach to capacity utilization.

"That was a wake-up call for all the suppliers. We lost hundreds then. We didn't lose hundreds because they moved. We lost hundreds because of consolidation and closure. We're in a new world now. Everyone's in business school. You go to work during the day, you're earning a degree in this stuff."
Automotive News has more on the story and suppliers' attempts to mitigate the effects of the Oshawa closure here.
5th Gear: BMW Car Unit Posts First Loss in a Decade
The automotive division at BMW posted a loss for the first time in a decade during the first quarter of the year, Bloomberg reports, due to lower car prices and a $1.6-billion legal provision over alleged collusion.
From the story:
Excluding the set-aside, earnings at the carmaker's main unit fell by 42 percent to 1.1 billion euros in the first quarter. Price competition in some markets and spending on new technology cut into profit, the luxury carmaker said Tuesday in a statement. [...]

The company is also cooperating with Daimler AG in autonomous driving, and the two companies merged their mobility services earlier this year. Though there has been speculation about further cooperation plans, Krueger poured cold water on hopes of a cross-share holding on Tuesday.
Bloomberg reports that BMW announced a savings plan for 12 billion euros, or about $13.4 billion at current exchange rates, in March, and that the back half of the year should be better due to sales of the new 3 Series and X7 models. Despite trade tensions, Bloomberg reports that BMW CEO Harald Krueger said X7 orders are "exceeding all expectations."
Reverse: DaimlerChrysler Begins
DaimlerChrysler, which will always be fun to say, began its life on May 7, 1998. That's the day Mercedes-Benz parent organization Daimler announced a $36-billion merger with the Chrysler Corporation, according to History, but it didn't stay that way forever.
From the History entry:
In 2006, according to the Times, Chrysler posted a loss of $1.5 billion and fell behind Toyota to fourth place in the American car market. This loss came despite the company's splashy launch of 10 new Chrysler models that year, with plans to unveil eight more. The following May, however, after reportedly negotiating with General Motors about a potential sale, DaimlerChrysler announced it was selling 80.1 percent of Chrysler to the private-equity firm Cerberus Capital Management for $7.4 billion. DaimlerChrysler, soon renamed Daimler AG, kept a 19.9 percent stake in the new company, known as Chrysler LLC.
Neutral: Would You Take a Sweet Deal on a C7 Corvette?
Front-engined, mid-engined—yeah, yeah, yeah. Would you go for the engine in the front if it was way marked down?