Tesla is out with its fourth quarter financial results for 2014 and the end of the year, and it's finally released numbers on how many people have raised their hands for its new – and severely delayed – Model X SUV. It's a lot, and it's one of the reasons Tesla thinks it will sell 55,000 vehicles this year.
According to Tesla, in addition to having over 10,000 Model S reservations, it also has almost 20,000 reservations for the Model X.
The SUV will use the same dual-motor system as the recently released Model S 85D, and Tesla says it has over 30 "beta" versions undergoing testing. Crash worthiness of these initial builds "have given us confidence that Model X will live up to the very high safety standard set by Model S," according to the release. Although there's no word on what's continued to cause the production delays.
G/O Media may get a commission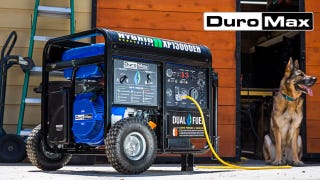 Black Friday Sale
DuroMax Generator Sale
After the beta phase is completed, Tesla will begin to build and test a small fleet of "released candidate" models that will be close to production spec, with sales still promised – again – in the third quarter of the year.
Tesla wrapped up with the year with a total of 31,655 vehicles sold – just below its estimate of 32,000 units – with 11,627 of them built in the fourth quarter. The company is projecting 55,000 Model S and Model X vehicles sold in 2015, which is about 70 percent over what it sold last year.
On the earnings side, Tesla's losses widened from $16 million to $108 million for the quarter. Revenues were up 55 percent from the same period last year to $957 million, but for 2014 Tesla's net loss grew from $74 million to $294 million.
We're combing through the rest of the statement for interesting tidbits and will be on the investor call with Elon Musk later today, so stay tuned.