Your video feed on Facebook has slowly devolved into an amalgam of moderately interesting news pieces, clips of politicians making passionate arguments, puppies being cute, and the newest episode of Ow, My Balls, but occasionally there are a few gems in there, like the launch of this new EV supermini urban two-seater concept, the Genesis Mint.
Over the course of 12 minutes in the video below, Genesis provides very little information on the concept car they're debuting, and sends out seemingly thousands of dancers and singers. After several minutes of dancing, the Mint Concept drives out to applause and the stream is over. It's certainly a spectacle. As is the Mint.
We already showed you this car this afternoon, before Genesis wanted you to see it, but it's nice to get clear up-close photos of the car in the real world. It looks like something from an upcoming summer blockbuster science fiction film, and possibly a future not too far away.
I personally love this thing. Can you imagine how fun a small two-seat electric compact car might be? Based on the looks of the Mint, I can't help but imagine an EV version of the R50 Mini Cooper introduced way back in 2001. That car was perfectly sized for a modern city car, and has only gotten larger since.
G/O Media may get a commission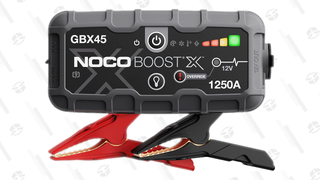 13% Off
Noco Boost X GBX75 Jump Starter
This Genesis, though, could bring the luxury and zero emissions that a modern city commuter would find perfect. Remember how important it was to be seen in a Prius in Los Angeles back when it debuted? Even the movie stars drove them, because they wanted to be seen as eco conscious. This concept has the potential to make eco conscious actually comfortable and fun.
I hope they build it.