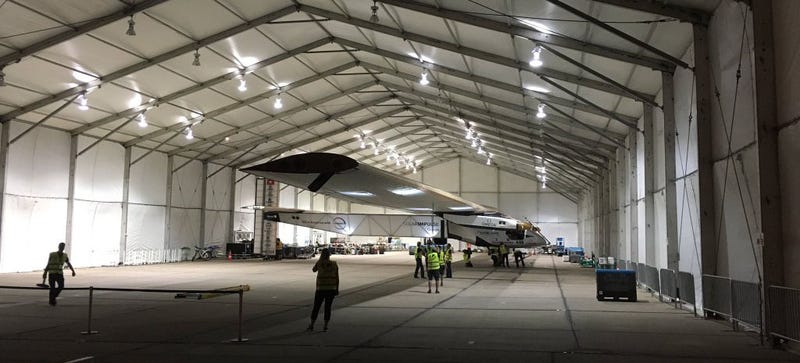 After taking off from Hawaii at 6:30am, pilot Bertrand Piccard reported that he felt great after a day of travel, and after a total 62 hours of flight time, he successfully landed at Moffett Airfield, California.

The Solar Impulse 2 trucked so hard on its record breaking, nonstop flight from Japan to Hawaii, it seems to have overheated its lithium ion batteries. The plane is now grounded for the next 2 to 3 weeks while engineers work to fix the damage and determine whether new parts will be needed to get the Impulse airborne…
Google's solar powered Internet drone may have just tanked in a desert, but other sun-powered fliers are still going strong, including the Solar Impulse plane, which has just taken off on a nearly 5,000 mile journey across the Pacific, from Nanjing, China, to Hawaii.
While many of us were asleep, the Solar Impulse 2 completed a successful maiden flight, after having been unveiled on April 9th. Flown by German test pilot Markus Scherdel, the solar-powered plane departed from Payerne Airport in Switzerland at 5:30AM and landed at 7:50AM local time.
When you're flying around the world in a lightweight solar-powered plane with a wingspan larger than most commercial airliners, you need to guarantee you've always got a safe place to store it on the ground. So the support team behind the Solar Impulse, the world's first globe circumnavigating solar-powered aircraft,…
The solar-powered 262.5-foot-foot wingspan Solar Impulse successfully completed its 26 hour, 9 minute maiden flight yesterday using nothing more than solar energy. Now just to work on that 78 MPH top speed. [Reuters]
The developers behind the Solar Impulse solar-powered plane are trying for a twenty-four hour flight relying on collected energy stored in the batteries to stay aloft at night. With a guy named Piccard heading things, what could go wrong?
Captain Bertrand Piccard's photovoltaic-powered plane "Solar Impulse" flew 1,148ft yesterday in Switzerland at three-foot altitudes. The 262-foot wingspan plane weighs 4,409lbs and has been under construction since 2003. The caveat? They were flying with battery-power assistance. Gallery below