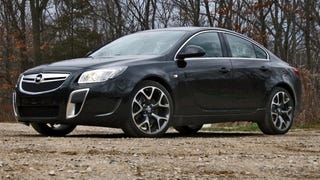 The Opel Insignia OPC is based on the same platform as the new-for-the-US Buick Regal, but adds the torque-vectoring Haldex AWD system from the Saab 9-3 Turbo X and a 325 HP turbocharged V6. Can anyone say "GNX?"
GM's European divisions finally have an answer to that pesky AWD hot-rod Audi S4. Say hello to the new turbo, AWD, 325-HP 2010 Opel Insignia OPC and brother-from-another-mother, 2010 Vauxhall Insignia VXR. That's a Saturn?!
Well, hell's bells. Look what happens when you let an image slip out of the bag. Thanks to EVO and Autoblog.it, you're looking at the upcoming 2010 Opel Insignia OPC in all its naked glory.
Judging from these shots taken by KGP at the Nürburgring, GM is already working up a high-performance version of the new Opel Insignia. Suspected to be powered by a twin-turbo version of the 2.8-liter V6 found in the standard Insignia, the added boost should up output to at least 300 HP. In Britain, the car will…