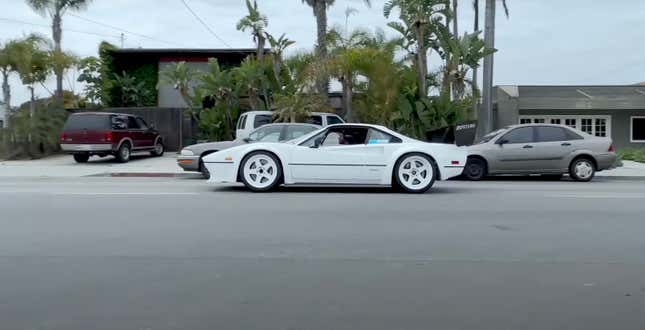 I've covered Stanceworks' Mike Burroughs and his incredible Honda K24-powered Ferrari 308 on a few occasions. I checked in with him just before SEMA last year, which he managed to idle the car into. Now though, the car is ready to hit the street, or more accurately, the track, because, since the car was invited to participate in the World Time Attack Challenge in Australia this summer (or winter, if you happen to be in Australia), the car has had to get more track-focused.
In case you haven't paid attention to the build, the car started as a pretty nice yellow Ferrari 308 but didn't stay that way for long. Mike pulled the Ferrari's motor and transmission and cut out a bunch of unnecessary stuff to be able to slap in a 1,000-hp-capable turbocharged Honda K24 engine and sequential manual transmission. He's designed and fabricated everything from a suspension to his own water-to-air intercooler and, overall, the car rules.
In this video, Mike finishes up a few odds and ends, redoes a few things that he wasn't happy with the first time around, and, most importantly, takes the car on its first street drive. Now before you get too excited, the street drive amounted to little more than a couple of laps around his block, but this is all in preparation for the car's first real shakedown at Southern California's Buttonwillow raceway, which should be in the next video.
Sure, I'm a little bummed to see this thing turn into such a race car, especially since it was originally intended to be sort of a dual-purpose build, but the results are stunning, and I'm super stoked for Mike. I can't wait to see it driven in anger.