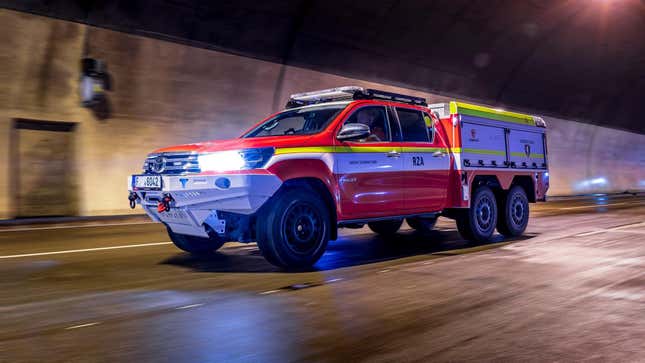 A UK-based company has modified the Toyota Hilux by adding a third axle and extra pair of wheels to turn the legendary pickup into a fire truck that's specifically designed to put out EV fires. Even though EVs present less of a fire risk than their ICE-equipped cousins, overall, EV fires are harder to extinguish when they happen. Firefighters have struggled with such fires for years now, but the custom car builders at Prospeed have come up with a purpose-built solution dubbed the Hiload 6x6.

In case you missed it:
The Toyota Hilux needs little introduction: the long-running Hilux is a paragon of durability, as proven by the infamous stress tests that the hosts of Top Gear once put the pickup through. But the Hilux should be as highly-lauded for its size and practicality, which is part of why it makes an outstanding platform for a number of uses — from military motor pools to emergency service fleets.
The Prospeed modifications begin by lengthening the Hilux chassis by 48.4 inches in order to fit the three axles and two additional wheels. The Hilux to Hiload conversion also features a torque splitter system, as Top Gear reports. Thanks to the extra axle and wheels, the truck's payload capacity jumps to 6,613 pounds and its gross vehicle weight rating increases to 12,436 pounds.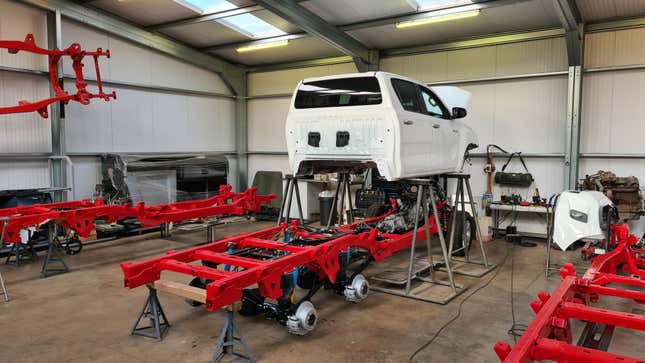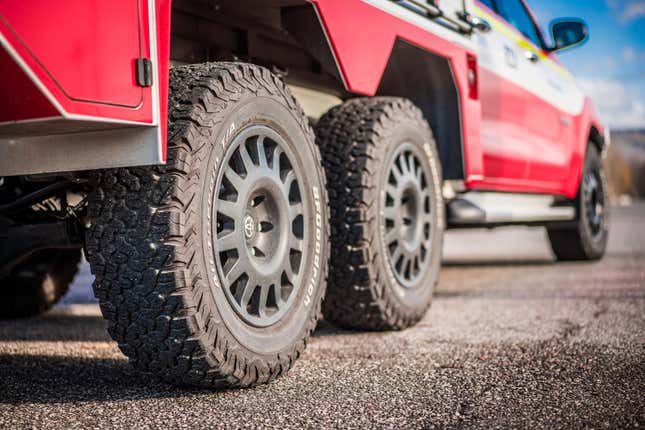 The chassis cab Toyota Hilux then gets an arsenal of fire fighting equipment including a Coldcut Cobra system that can easily slice through an EV's floor pan and injects pressurized water into the battery pack, thereby preventing the fire altogether or stopping it from spreading and consuming the whole battery.

This specific system is extremely efficient according to third party testing, which found the Coldcut Cobra can contain or prevent an EV fire while only using 240 liters, or about 63 gallons, of water. That's much less than the water needed to fully immerse an EV in case of a fire. And, more impressively, it's much less than the amount of water it takes to fill a bath tub, per Autoweek.
Despite all its modifications and special equipment, the Hiload is still a Hilux at the end of the day. And the Toyota Hilux is a relatively small truck, making it the right fit for multi-story garages; The Prospeed Hiload 6x6 measures in at 72.8 inches tall, making it uniquely-equipped to handle the low clearances of parking garages, where EVs could pose a big risk to other vehicles in the event of fire caused by a battery defect.