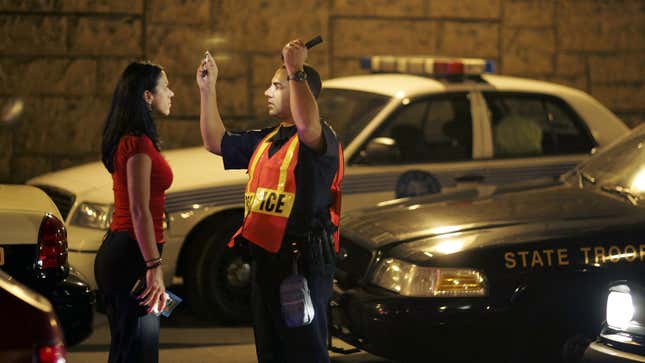 Currently, almost every state in the U.S. has the same legal blood alcohol limit of .08 for drivers. The one exception is Utah, which has a lower limit of .05. But it may not stay that way for long. Several states are reportedly considering joining Utah and implementing the same lower blood alcohol limit.
Honda's Motocompacto Is The Ultra Portable E-Scooter That Can Fit Just About Anywhere
According to the Wall Street Journal, six states have introduced legislation to lower the legal limit this year. Those states include Hawaii, New York and Washington state. Hawaii's state Senate actually already passed the bill, but for the third year in a row, it hasn't been voted on by the state House. In Washington, the state Senate is still in the hearing stage, although the bill has the support of Governor Jay Inslee. And in New York City, Mayor Eric Adams has given a similar proposal his endorsement and his transportation commissioner is lobbying the state to support it, as well.
These new proposed bills haven't come out of nowhere, either. Alcohol-related traffic deaths have increased significantly since 2019. In 2020 alone, there were reportedly 11,654 deaths as a result of vehicle crashes where one or more of the drivers involved were impaired by alcohol, a 14.3 percent increase over the year before. And those numbers have continued to increase. For example, in Washington, the number of vehicle deaths in 2022 hit its highest point since 1990, with alcohol or drugs being a factor in about half of them.
Opponents of these bills, including those in the restaurant and hospitality industries, say lowering the legal driving limit will risk jobs and increase liability for places that serve alcohol because it can be difficult for staff to recognize who's considered legally impaired. Opponents in New York also point out that drivers with a blood alcohol level of .05 can already be charged with driving while ability impaired.
Instead, they want states to focus on drivers who have had significantly more to drink, and looking at the data, they appear to have a point. A federal analysis of traffic deaths in 2020 showed among drivers that were involved in fatal crashes, 84 percent had a blood alcohol level of .08 or higher, whereas drivers with levels between .05 and .08 only made up 9.3 percent of fatal crashes. And yet, research also shows that the risk of a wreck increases at .05, and when Utah implemented its lower limit, traffic deaths fell, and the hospitality industry survived.
One significant factor the Wall Street Journal's article didn't touch on, though, is how building denser, more walkable cities and suburbs with better access to public transportation could also reduce drunk driving. As Urban Milwaukee points out, when the Department of Environmental and Occupational Health at the Rollins School of Public Health of Emory University published its Urban Sprawl and Public Health report, denser cities with better public transportation have lower automobile death rates per capita. For example, while New York City saw 2.65 automobile fatalities per 100,000 people, Atlanta's was 11.21, Dallas's was 11.53 and Phoenix's was 12.55.
Those disparities shouldn't surprise anyone, either. After all, it only makes sense that if someone can easily walk or take the train to meet their friends for a drink, why would they bother driving? Sadly, in a country where mixed-use development is illegal in most places, dense, walkable areas aren't nearly common enough. But the good news is, in places such as Charlotte and Tempe, that's slowly starting to change for the better.