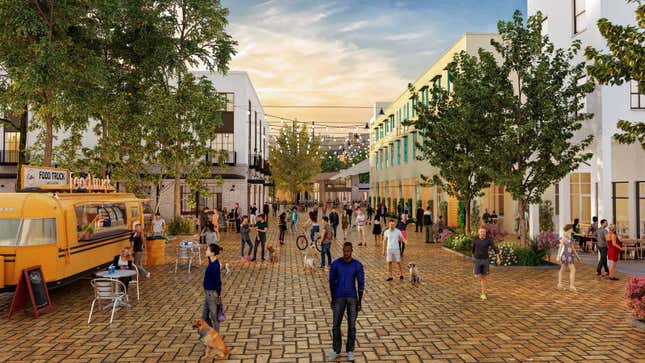 Back in 2021, we wrote about Culdesac Tempe, a car-free community being built in Tempe, Arizona. And we didn't mean car-optional, either. Residents were "contractually forbidden from parking a vehicle within a quarter-mile radius of the site." Instead, the development is dense, walkable and provides access to a number of alternative transportation solutions.
Fast forward to today, and Bloomberg reports that residents will begin moving into the first building in May. Meanwhile, restaurants and a farmer's market are already open.
"The majority of Americans want to live in car-free neighborhoods," Ryan Johnson, co-founder and chief executive officer of Culdesac, told Bloomberg. "We just haven't been building them since the advent of the car. The areas that are walkable have just gotten more expensive, which has made the demand higher."
But Culdesac Tempe isn't the only car-free neighborhood being built in the U.S. The idea has taken off in several cities across the country, including in traditionally car-dependent areas such as the Sun Belt and the South. Charlotte and Houston, for example, are also seeing their own car-free communities pop up. And while that idea may sound like something only the wealthy could afford, that's not necessarily the case. These neighborhoods are reportedly cheaper to build and therefore have lower rents.
A big part of that savings comes from the lack of parking. According to one estimate cited by Bloomberg, the median cost of building a parking spot in the U.S. is $25,700. So even if the buyer doesn't own a car, a two-bedroom condo could easily be $50,000 more expensive just because it includes parking. And that estimate is the median for the entire country. In cities such as Los Angeles, a parking space is going to be significantly more expensive to build than one in, say, Topeka, Kansas.
"Our product offered lower rents to residents, $100 to $200 below our competitors, and was the best product in the market because we were able to reinvest some of the savings from parking," Harrison Tucker, CEO of the company that just opened The Joinery in Charlotte, told Bloomberg. "The economic case was just very strong."
Unfortunately, despite high demand, these kinds of developments often aren't legal to build in large parts of the country due to mandatory parking minimums. If the law says you have to have at least one parking space per bedroom, you have to follow the law. And that's assuming it's even legal to build anything other than single-family homes, which it often isn't. Thankfully, a number of cities have begun repealing parking minimums and single-family zoning, which is finally giving people who want to live a car-free lifestyle the option to do so.
As Michael Rodriguez, director of research for Smart Growth America, told Bloomberg, "Walkable urbanism is making economic sense for communities throughout the country, and it's just a choice whether you want to have it or not. A lot of cities make it far too difficult to develop, and that just exacerbates the problem of price pressure."