If you are aspiring to be a bizarro-world version of a superpower, and you can't get many allies but you can get plenty of enemies, no two-bit B6/B7+ armored Mercedes S-Class limousine will do. No, if you want to beat the Beast, you need a custom limo of your own. This is Russian President Vladimir Putin's new ride.
The limo is part of an initiative codenamed "Project Cortege," according to the illustrious Justin Hyde over at Yahoo! Autos, who provides a much better translation of the original statement from the Russian government than I can. The gist of it is that the new Russian presidential limo will spring forth from the loins of a bolder project, headlined by Porsche Engineering and in partnership with a number of Russian companies, to create a whole new line of domestically-produced vehicles, including sedans and SUVs.
Even still, Google Translate informs us that the government is going to try to make these things a bit more common than President Obama's Beast (emphasis mine):
The project, tentatively titled "Developing and putting into production vehicles based on a single modular platform" is implemented in accordance with the decree of the Russian Government dated February 6, 2014. Its main task - to develop a modern platform components which businesses domestic auto industry could include designing their own brands of commercial vehicles. Approximately five percent of the total volume of produced vehicles will account for special vehicles for top officials. In addition, on one modular platform is planned to organize the production of several lines of premium cars and business class.
G/O Media may get a commission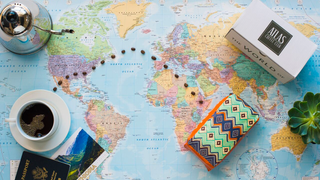 First Bag Free
Atlas Coffee Club - Free Coffee
Explore global coffee
With each bag, Atlas includes details on the coffee's tasting notes and a postcard about the region and its coffee history. And when you subscribe, you have options to tailor frequency, grind size, and roast preference of your beans, so you'll always be brewing the perfect cup.
In keeping with the Russian governmental traditions of over-the-top bombast and shoddy build quality subtlety and the finer points of craftsmanship, Project Cortege features an enormous golden double eagle on the steering wheel, and it appears to have stolen its front end from a Chrysler 300 that's owned by someone with a poor understanding of what "aftermarket taste" means.
The limo features a high beltline and a low roofline, most probably to enhance armor protection, but if President Putin is trying to avoid a gangster image, then it's not really helping. If he is going for a gangster image, then a hearty kudos to you, President Putin.
Mission accomplished.
Apparently the one thing he didn't want was for the limo to look too much like the ZiL limousines over Soviet days. I'm just disappointed he didn't go for anything resembling a Chaika.
Weirdly enough, as an aside to the rest of the information from the Russian government, they note that the recently-bankrupt Marussia took part in the development process, but that it's demise won't affect the outcome of Project Cortege.
Oh well.
Photos credit: RG.ru