Rolls-Royce has finally confirmed that it's making an SUV. Except it's not an SUV. They're calling it a "high-bodied car" that "can cross any terrain." That certainly sounds SUVish, no?
In what has to be one of the strangest product announcements ever, Rolls sent out a letter to shareholders signed by both chairman Peter Schwarzenbauer and chief executive Torsten Mueller-Oetvoes entitled, "An open letter from the Chairman and the Chief Executive of Rolls-Royce Motor Cars on the subject of a new Rolls-Royce".
In it, the two execs explain that Rolls is at a "seminal moment" in the company's history and at the urging of it's most discerning customers it's creating something to match this list of bullet points:
A car that offers the luxury of a Rolls-Royce in a vehicle that can cross any terrain
A car that meets our customers' highly mobile, contemporary lifestyle expectations
A Rolls-Royce that is as much about the pioneering, adventurous spirit of Charles Rolls as it is about Sir Henry Royce's dedication to engineering and innovation
A car that appropriately reflects Rolls-Royce's brand promise of effortless luxury
A high-bodied car, with an all-new aluminium architecture
A unique new motor car worthy of carrying the Spirit of Ecstasy into the future
It goes on to eschew the virtues of such a beast, pointing out that the automaker's founders, Charles Rolls and Sir Henry Royce, were quite the off-roaders, competing in Alpine and Scottish Reliability trials, and Rolls even managed to drop a Lawrence of Arabia reference.
That's how hard they're trying.
Obviously, there aren't any technical details, but something with a V12 is almost assured, likely the same 6.6-liter twin-turbo workhorse used in the Ghost and Wraith, with power sent to all four wheels.
G/O Media may get a commission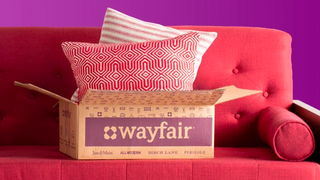 Big deals
Wayfair Surplus Sale
But Rolls' decision not to call it an SUV – something that Bentley has even tepidly embraced with the Bantayga – might mean it could be more of a lifted Phantom than a jacked up brick. If that's the case, this could actually get interesting, particularly in some kind of long wheelbase mobile pleasure palace.