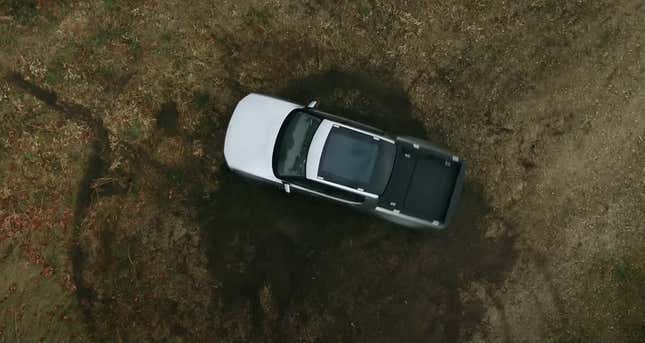 Not all cool ideas are good ideas. Case in point: Remember that sweet video from 2019 of a Rivian RT1 truck spinning in a perfect circle using something called "Tank Turn?" Well, it won't be coming to a Rivian product near you any time soon.
Rivian CEO RJ Scaringe broke EV truck shoppers hearts during an Instagram Q & A when he revealed that the feature was scrapped for being far too destructive to the trails and nature areas the company is dedicated to protecting.
The Tank Turn involved an RT1 or RS1 spinning like a corkscrew within its own footprint. The act of a 8,500 pound truck capable of hitting 60 miles per hour from a dead stop in only three seconds apparently tears up the ground a bit. Who knew! Even in the promotional video you can tell the maneuver is going to be a problem:
The spin chews up the ground, and that's not good for off-roading trails where owners might try out this neat trick. As Road & Track points out, that's not the only concern the company had about the maneuver:
Add in the concerns shared with Motor Trend in 2021 about how difficult the turns are for a customer to wrap their heads around at speed and the feature seems unlikely to land in an R1S or R1T any time soon.

While the "Tank Turn" itself clearly worked effectively (and at surprisingly high speeds) in the video, the clip also gives a fairly good idea of how much damage a 7000-lb truck can do to a trail as it spins in place. As the overhead camera angle shows, the R1T effectively becomes a boring device digging a divot into the dirt below. That could seriously damage trails over time by producing new crater-like ruts, which would, obviously, go against the environmental goals behind a go-anywhere electric truck.

Ford was also reportedly eyeing the tank turn for the Ford F-150 Lightning, but hopefully it will reach the same conclusion as Rivian. Rivian has had its ups and downs in recent months. This year started on a bad note with a $1.35 billion loss in the first quarter and a bunch of pissed off customers angry over a price hike. Still, the luxury EV truck maker expects to hit its 2023 goal of 50,000 vehicles produced.