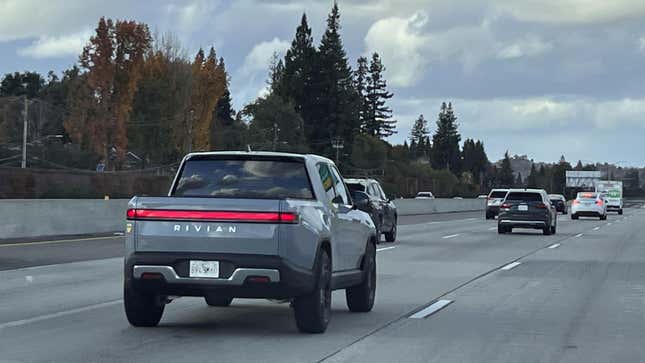 The Rivian R1T, an electric truck, starts at around $73,000, while the Rivian R1S, an electric SUV, starts at around $78,000. Neither of them are eligible for the full federal tax credit, but even if they were they would still be expensive vehicles, by any definition of the word. Rivian, apparently, is fine with that, according to a report on Wednesday from Reuters. The EV maker is not about big volume, you see, but something called profits.
Rivians — at least the ones on offer today — are not meant to be volume products, its CEO RJ Scaringe told Reuters. They are luxury products, and priced as such.
"We see demand from customers for what we're building" Rivian CEO R.J. Scaringe told Reuters on Wednesday.

Rivian is confident of maintaining prices in the face of growing competition, he said, adding that extra-large batteries, better performance and premium features would distinguish the company from rivals.

"Given the data that we have on customer behavior, the aggregate result we see is a continued upward shift in ASPs," he said. "We will offer a lower priced variant, but not necessarily lower prices on the things we're offering today."

[...]

"These are flagship products," Scaringe said of Rivian's offering. "These are the products that are building our brand. They're not meant to sell hundreds of thousands of units."

Rivian aims to produce 50,000 vehicles this year.
This is perhaps merely a function of Rivian's production constraints — I don't doubt for a second that Scaringe wouldn't like to sell hundreds of thousands of units a year — but still is interesting nonetheless in the wake of Tesla's price shenanigans this year. Indeed, Reuters quotes an investment guy that says that Rivian should increase their prices now, because there is currently more demand than supply, something that doesn't seem in the cards but shows you where Wall Street's head is at.
The fact is that Rivians are expensive cars, and a move a few thousand dollars down wouldn't change that. Long-term, this doesn't seem to matter, as Rivian hasn't had the sorts of short-term demand issues that a startup like Lucid has had, nor taken much of a brand hit as it struggles with production. Short-term, Rivian will keep being asked this question because of Tesla's price moves, even though Tesla doesn't sell an electric truck.
And then there is heat from traditional players in the industry, though Rivian and Scaringe have gotten to where they are now largely ignoring the noise, so why start now.