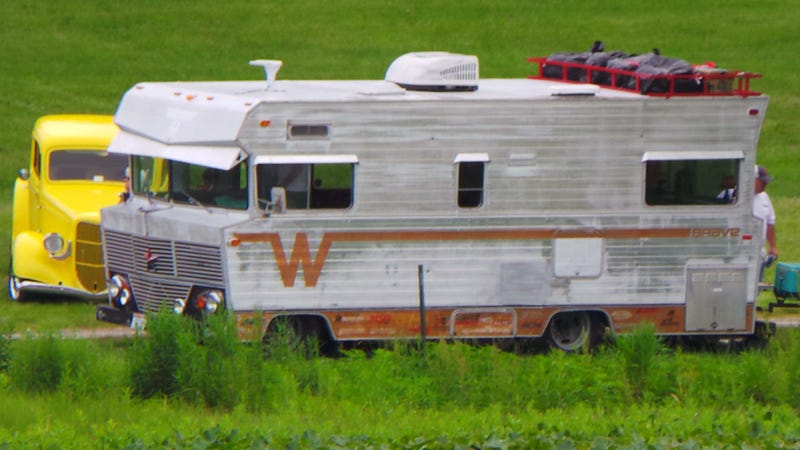 It doesn't fly, and by the looks of it back when it hit the auction block earlier this year, it didn't even drive. But Ringbrothers turned that 1972 Winnebago Brave into a tiki-wagon, with an interior inspired by WWII aircraft, in six months. Shut up. Oh. It has a pizza oven.
Leaving aside that "rat rod" is often auction-catalog code for "junkheap," this "rat rod" RV once had a cedar-and-plaid interior that looked like something out of the June, 1952 issue of Better Hunting Cabins and Gardens. It also had a tired Mopar 318 that produced the bulk of its horsepower during the Carter administration. Remember that slammed suspension that made the once-compliant vacation cruiser ride the interstate like an empty boxcar off its rails? It's still there, but the brakes got a serious rebuild.
With the 318 out, the brothers opted for 6.0-liter LS-based V8, built by Wegner Automotive of Markesan, Wisconsin, hooked to a Bowler Performance automatic transmission and a B&M shifter on top. "We know, not another LS motor," they wrote in a blog post, "but it is hard to argue with power, reliability, weight, and cost effectiveness (especially on a silly shop project)." The "Happy Camper" silly? Pshaw!
The interior is bric-a-brac central. Surf cabin meets B-24 Liberator. Yes, it has an electric pizza oven and a tailgate bar in the rear, with a TV for outdoor party viewing. It's not quite what you guys recommended, but for a party bus, it's serious stuff. Check out the entire build here, here and here.