Once upon a time in America, owning a Mercedes was a Europhilic statement of wealth and taste. Back before the brand hatched its alphanumeric plot to take over the world one market demographic at a time, US Mercs were made of raritanium. None was so rare, so big and so god damn FAST as the 300SEL 6.3. Mercedes' V8 sedan was such a snob monster that Skyhooks' 1975 song "Mercedes Ladies" cited the car as the ne plus ultra for women of a certain age who sleep with their mechanics. Granted, a mention in an Australian glam rock pop song might not be the ultimate accolade for an automobile. So how about this: it was the first German Q-Ship.
As befits a monstrously engined luxury sedan, the 6-3 began as a skunkworks project. More specifically, Mercedes engineer and amateur racer Erich Waxenberger spied the 6.3-liter mill nestling in the bay of Mercedes' 600-series limousine and thought what if... I dropped it into a 280 S-Class? We're talking about an SOHC 6332cc fuel-injected V8 cranking out 300hp @ 4100 rpm and 434 ft-lbs. of torque @ 3000rpm. It fit. Just. (Road and Track: "accessibility may be a problem") And while he was at it, Wax'l cribbed the 600's self-leveling air suspension.
Wax'l's boss, Mercedes Racing Director Rudi Uhlenhaut, secured board approval for the mutant. The finished sedan sprinted from zero to sixty in 6.5 seconds, passed the quarter mile in 14.5 seconds and topped out at 137 mph. The 6-3 had enough straight line grunt to waste a contemporaneous Porsche 911, keep pace with a 427 Chevrolet Corvette and cruise without complaint well into triple digits. As a pre-Cannonball Brock Yates said "It is impossible to describe this kind of performance to the uninitiated. Telling a traffic officer or a safety crusader like Ralph Nader that 100 mph can be safe is like reading the Constitution to a Maoist; it is a strange and hostile concept."
Check this: although the civilian version boasted all the luxury mod cons and then some (vast rear legroom, air conditioning, adjustable road clearance, power antenna, etc.), Wax'l took MB's bad boy racing — under the uber-tuner AMG's banner. And why not? With AMG's "Step One" engine conversion, the 6-3's powerplant developed 350hp; "Step Two" raised engine output to 400hp. Although technically a 6.8, Wax'l waxed the competition in the '69 Macao enduro and helped his team finished second in the 1970 Spa-Francorchamps 24-Hour race.
G/O Media may get a commission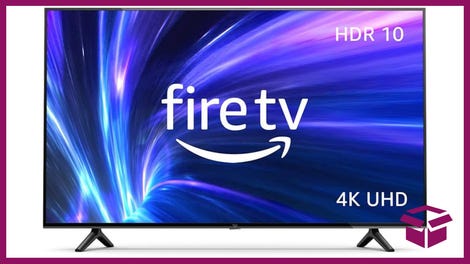 42% Off
Amazon Fire TV 50" 4K Smart TV
Mercedes produced 6526 6-3's between December 1967 and September 1972. Of these, 1839 made their way stateside, selling for $14,400. Today, the 6.3 is not considered as collectable as the relatively anemic two-door or convertible Model W109 280's. You can pick up a 6-3 for less than the original purchase price — but be warned! The air suspension is fiendishly difficult and horrifically expensive to repair. The air conditioning system must be completely rebuilt. Rust can also be a major problem. In fact, if ever a classic car should only be purchased in a fully restored condition (owners spend WELL over market value on repairs) and completely checked by an expert, the Mercedes-Benz 300 SEL 6.3 is it.
But the 6-3 is worth it. Not only was the luxoliner the first automotive stealth fighter — complete with superb brakes and reasonable steering feel — and a completely practical proposition (when running), but it also represents all that was holy about the Mercedes brand. Aside from the first 100 hand-made models, the 6-3 was the world's best built automobile, engineered with almost comical attention to detail. (When you lifted the hood, the air fan automatically switched off.) Although the "new" Maybach is a bit of a modern parallel, it doesn't have half the class and style of its spiritual forbearer. More's the pity.
[by Robert Farago]
Related:
AMG's New Screamer: Mercedes' 6.3-Liter V8 in Depth [internal]