As a frequent business traveler and a Hertz Gold Member I've had my share of Fusions, Mustangs and Tauruses (Taurii?). On a recent trip to the Bay Area I was surprised to see a utility-company-white 2006 Toyota RAV4 parked in space #312 at San Jose's Norman Y. Mineta International Airport. My company requires employees to rent at least a midsize vehicle, and occasionally Hertz has upgraded me to a full-size SUV or convertible. I guess this is one of the few times one could classify a mini-SUV as a midsize vehicle.
My usual routine is always to toss my luggage in the trunk of the car, which invariably leads to my first impressions of my ride for the week. The RAV4 has a wide, side-swinging tailgate that would have been easy to open had it not been for a Ford Taurus parked just inches behind. The low floor made loading luggage a snap, but judging from the number of deep gouges in the bumper, prior renters found it easier to drag their Samsonites across the threshold. A bumper guard would be a wise investment for those committed to a long-term relationship with the RAV4.


My second impression (not Toyota's fault) came via the untold number of renters granted driving privileges for this particular RAV4 previously. I wondered how a vehicle with less than 9000 miles on it could smell like an orangutan's armpit during an Indonesian summer. I had a 45-minute drive and a meeting with a boss in 30, so the visit to the Hertz rental counter had to wait.
I quickly made myself familiar with interior controls, specifically the power windows and the climate control system. The tilt/telescope steering wheel and manual adjusting seats were easy to use, and the overall interior layout echoed generations of Toyota ergonomics and sensibility. The windows are large and made one feel as if the seating position is higher than what it actually is.
G/O Media may get a commission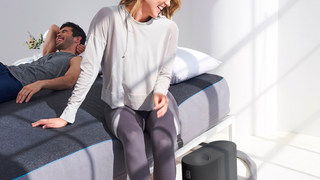 Eight Sleep Pod Cover


My only complaints were with the small lettering on the dashboard gauges and a less than effective drink holder. The tiny print used on the gauges reflected the mini-SUV theme, but my travel-weary eyes found it difficult to focus on. A trip to In-N-Out Burger evetually confirmed my suspicion that the cup holders, while large enough to hold a large chocolate shake, did a poor job of keeping smaller drinks steady; more than once did I play catch with my drink while on the road.
The 16-valve four-banger is zippy and eager. Pulling onto the 101 Freeway was a snap and it provided ample cruising and passing power when needed. The ride was a different story. While low-speed maneuvers required little effort, the RAV4 became squirrelly at highway speeds. Bucking and bouncing over the grooved highways and wavy local roads confirmed recent news reports that California's roadways are the worst in the nation. The RAV4 would probably be great for those with a short commute, but Dramamine is required for anyone taking a road trip.
Despite its broncoesque ride and indecipherable gauges, the RAV4 was a welcome change from the typical midsized rental. The surprisingly roomy interior and sporty appearance makes city driving a breeze but anything longer than a short commute would be a boon to chiropractors everywhere. Perhaps next time Hertz will upgrade me to something from the Hertz "Fun" Collection (Shelby GT-H anyone?)
Send all rental-car reachrounds to tips@jalopnik.com.
Related:

Jalopnik Rental-Car Reacharound, Short Form: The Shelby Mustang GT-H [internal]