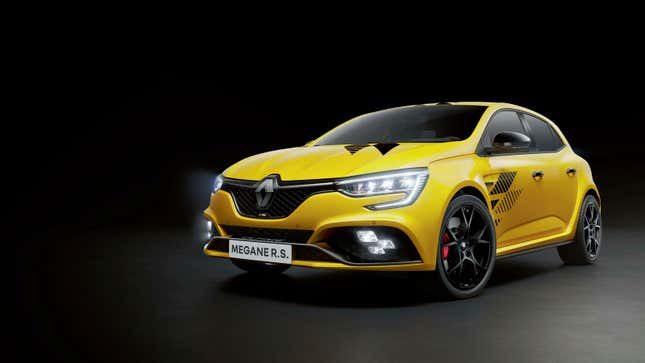 In a strange place far from here called Europe, there's a funny little car company called Renault. You might have heard of it, as it's made some neat hatchbacks and fun minivans over the years, and even tried its hand at racing. It turned out to be pretty good at racing, winning events in WRC, Formula E and even back-to-back F1 world titles.

Honda Finally Reveals Specs on the New 2023 Civic Type R
Off the back of its success on track, Renault began putting its racing know-how into its road cars. In the late '90s, this took the form of the RenaultSport Clio, and has since grown to include RenaultSport models of the Megane, Arkana and Captur cars – not to mention a crazy one-off F1-powered minivan.
But all good things must come to an end. So the French company recently announced the coming demise of its RenaultSport exercise, bringing all performance-minded models under the Alpine brand instead. Incidentally, this is also why the RenaultSport F1 team was renamed. Marketing, hey.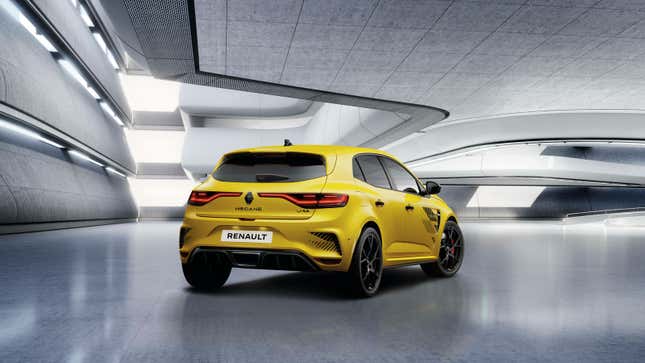 Thankfully, Renault wasn't going to retire the RS badge without giving it a proper sendoff, so here we are with the excellent Renault Megane RS Ultime you see here.
Under the hood, the Megane RS Ultime is powered by a 1.8-liter turbo four-cylinder that kicks out 304 hp to the front wheels. This is paired with a dual-clutch automatic gearbox that helps propel the car from zero to 62 mph in 5.7 seconds.
To ensure that all this power can be handled when you take your four-door hatch to the track, Renault gave the Megane RS Ultime a four-wheel steering system and a Torsen mechanical differential. There's also a set of Brembo brakes and Bridgestone Potenza semi-slick tires wrapped around 19-inch wheels.
Renault has made more than just a few performance tweaks to the car: The company also updated the styling to showcase this newfound power.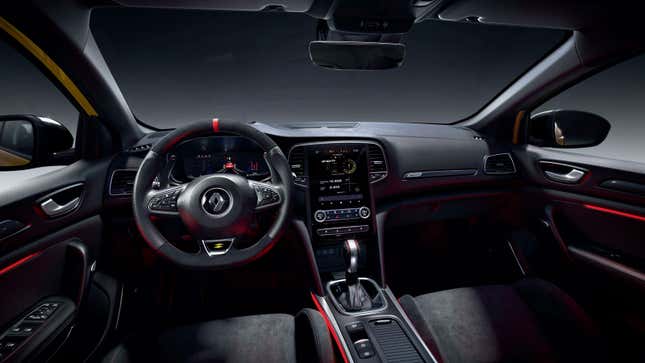 The bodywork on the RS swansong is 60mm (just over two inches) wider at the front and 45mm (just over one inch) wider at the rear. There are also new side air vents to help keep everything cool, and a spoiler and rear diffuser.
All this is, of course, cloaked in an excellent yellow paint scheme. But, if you're crazy, you can also spec your RS Ultime in white, black or orange.
Inside, the RS Ultime is fitted with a set of Recaro bucket seats, to make you feel ready to race at all moments, and the cabin is festooned with countless RS badges. This includes a numbered metal plate near the shifter, signed by Laurent Hurgon – the driver and development expert that worked on the Megane RS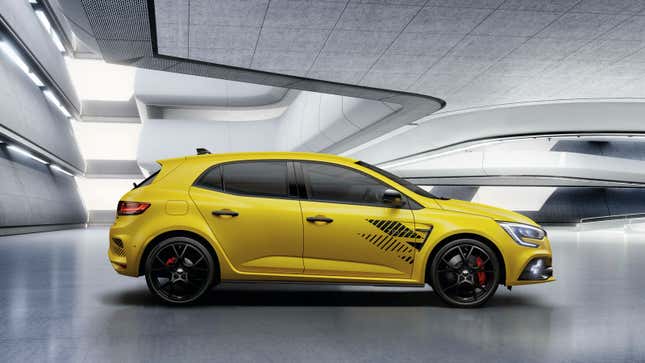 If all that sounds like a hoot, then you're probably going to want to move to Europe pretty quick to try and get your hands on one. There's no word on pricing just yet, but Renault confirmed that it will build just 1,976 numbered cars, to reflect RenaultSport's origins in 1976.
Now, if anyone needs me I'll be plotting my return to Europe to acquire one of these, or this quite excellent RenaultSport Clio I've just found for sale.