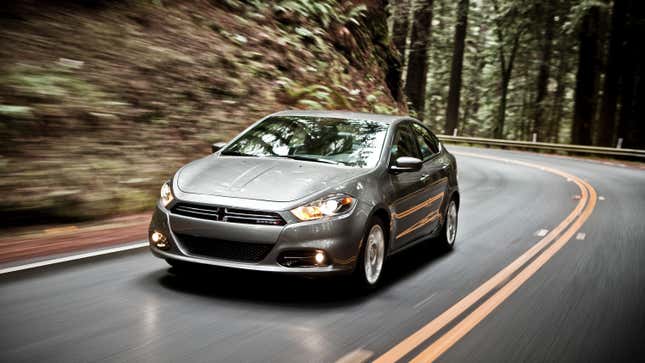 The Dodge Dart, which Dodge killed off in 2016 as a kind of early victim of the sedanocalypse, is now under recall—a recall including nearly 300,000 cars that could roll away randomly, at that. That's a real shame for the three people who bought a brand-new Dart in March, wouldn't you say?
Fiat Chrysler submitted a Dart recall report to the U.S. National Highway Traffic Administration last week, which said it's recalling 298,439 Darts from the 2013 to 2016 model years for the potential to roll. The recall only includes Darts with automatic transmissions, since the recall report said deteriorated transmission-cable bushings could allow the shift cable to detach from the transmission.
That means the shifter could ignore shift input from the driver, and could, for example, roll away despite the shifter being in the "park" position. To fix it in the recall, FCA will replace the transmission-side shifter cable bushing in all of the vehicles, and will notify owners about it around May 31.
In the meantime, at least, FCA's report said the true gear position will show up on the instrument cluster and on display next to the shifter, and owners can always use the parking brake to help ease their minds.
But of course, given their model name, we should've always expected these cars to dart away at some point or another.