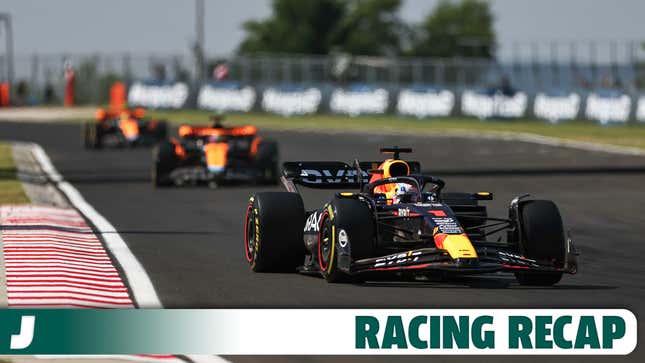 It's Monday, July 24, 2023 and this is Race Recap, your summary of last weekend's motorsports action. In Formula 1, Red Bull Racing and Max Verstappen added another race win in Hungary to their tally this season, breaking a long-standing record. Josef Newgarden continued his reign of dominance over IndyCar's oval races. In NASCAR, Denny Hamlin got his revenge at Pocono after his disqualification there last year.
Red Bull Racing Win 12 Races In A Row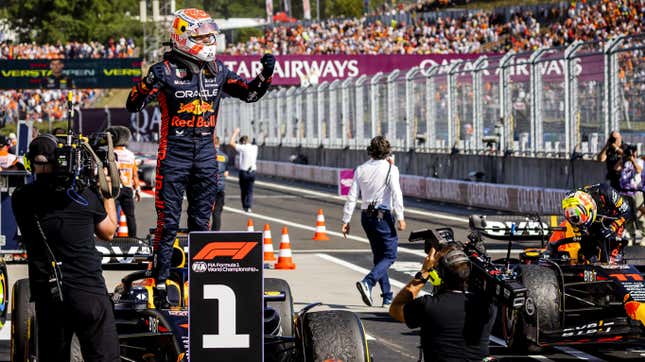 The Hungarian Grand Prix had an unexpected driver starting in pole position, Lewis Hamilton. The seven-time world champion took a record-extending 104th pole in qualifying, his first since 2021. However, Mercedes wasn't back in race-winning form. Max Verstappen passed Hamilton going into the race's first corner.
Verstappen would go on to win the race unchallenged. The victory was Red Bull Racing's 12th consecutive win, a streak that began with the 2022 Abu Dhabi Grand Prix. The streak has now surpassed the previous record amassed by the McLaren MP4/4 in 1988. Red Bull's drivers would be joined on the podium by McLaren's Lando Norris, providing the papaya-clad team's recent improvement after its raft of upgrades wasn't a fluke. On a podium, Norris accidentally broke Verstappen's first-place trophy.
Race Results
1. - Max Verstappen (Red Bull)
2. - Lando Norris (McLaren) - +33.731 seconds
3. - Sergio Perez (Red Bull) - +37.603 seconds
4. - Lewis Hamilton (Mercedes) - +39.134 seconds
5. - Oscar Piastri (McLaren) - +62.572 seconds
Josef Newgarden Sweeps IndyCar's Iowa Doubleheader
Will Power winning the pole for both IndyCar races at Iowa Speedway set the tone for the weekend, Penske dominance. Each race had long periods where all three Team Penske cars locked out the podium positions as they lapped most of the field. However, Penske couldn't secure a much-coveted 1-2-3 finish as Will Power brushed the Turn 4 wall in Race 1 and Scott McLaughlin faded late in Race 2.
Josef Newgarden would win both races, his fourth and fifth oval race wins in a row. Al Unser Sr. was the last driver to win five straight oval races in 1970. The streak and his recent Indianapolis 500 victory have cemented Newgarden's status as the best oval racer in the IndyCar Series. Newgarden now sits second in the championship, 80 points behind Alex Palou.
Race 1 Results
1. - Josef Newgarden (Penske)
2. - Scott McLaughlin (Penske) - +3.375 seconds
3. - Pato O'Ward (McLaren) - +9.607 seconds
4. - Marcus Ericsson (Ganassi) - +14.638 seconds
5. - Will Power (Penske) - +22.402 seconds
Race 2 Results
1. - Josef Newgarden (Penske)
2. - Will Power (Penske) - +0.705 seconds
3. - Alex Palou (Ganassi) - +2.686 seconds
4. - Felix Rosenqvist (McLaren) - + 4.116 seconds
5. - Scott McLaughlin (Penske) - +7.889 seconds
Hamlin Wins In Pocono To Chorus Of Boos
Nothing and no one was going to stand between Denny Hamlin and victory lane at Pocono Raceway yesterday. The Joe Gibbs Racing driver crossed the finish line first last year but was disqualified after failing post-race inspection. Sunday, Hamlin made plenty of enemies en route to victory lane, including Hendrick Motorsports drivers Kyle Larson and Alex Bowman. The Hendrick drivers finished outside the top 20 after contact with Hamlin. Hamlin said that they wrecked themselves.
Race Results
1. - Denny Hamlin (Gibbs)
2. - Tyler Reddick (23XI) - +1.238 seconds
3. - Martin Truex Jr. (Gibbs) - +1.239 seconds
4. - Kevin Harvick (Stewart-Haas) - +2.453 seconds
5. - Ty Gibbs (Gibbs) - +2.621 seconds