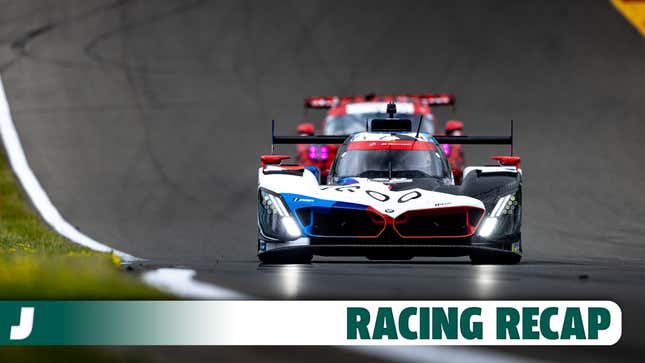 It's Monday, June 26, 2023 and this is Racing Recap, your summary of last weekend's motorsport action. In IMSA, a close fight between Porsche and BMW for the overall victory at the Six Hours of the Glen came down to post-race inspection. Ross Chastain led nearly a third of the NASCAR Cup Series race in Nashville en route to victory. And, Formula E's inaugural visit to Portland went down to the final lap.

BMW Wins IMSA Six Hours Of The Glen Following Porsche Penalty
The overall winner of this year's Sahlen's Six Hours of The Glen was decided hours after the checkered flag was waved. Initially, the No. 6 Porsche Penske Motorsport Porsche 963 won the race after taking the lead during the final five minutes. However, IMSA determined that the No. 6 Porsche's skid block was less than the minimum thickness required in post-race inspection.
No. 25 BMW M Hybrid V8, driven by Nick Yelloly and Connor De Phillippi, inherited the victory as the Porsche was relegated to the rear of the GTP field. Porsche has stated it plans to collect all of the data and follow protest procedures.
Race Results
1. - No. 25 Team RLL BMW M Hybrid V8
2. - No. 31 Whelen Cadillac V-Series.R
3. - No. 60 MSR Acura ARX-06
4. - No. 5 JDC Porsche 963
5. - No. 01 Cadillac V-Series.R
Ross Chastain Cleanly Dominates NASCAR In Nashville
Trackhouse Racing's Ross Chastain took his first race win of the season in the Ally 400 at Nashville Superspeedway. Chastain led 99 laps out of 300 on his way to victory lane without getting into any tussles with his rivals. While the watermelon farmer ran near the front most of the race, it was uncontested as he fended off challenges from Denny Hamlin and Martin Truex Jr.
Race Results
1. - Ross Chastain (Trackhouse)
2. - Martin Truex Jr. (Gibbs)
3. - Denny Hamlin (Gibbs)
4. - Chase Elliott (Hendrick)
5. - Kyle Larson (Hendrick)
Pecco Bagnaia Reclaims MotoGP Season Dominance With Dutch TT Win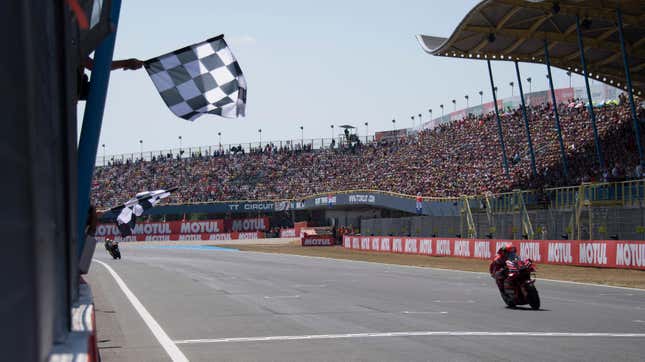 After coming second to a Ducati satellite rider at the German Grand Prix and Saturday's sprint race, Francesco Bagnaia reasserted the factory team's preeminence and won the Dutch TT. Bagnaia was joined on the podium by a non-Ducati rider on Sunday, but not the one who crossed the line in third. KTM's Brad Binder was relegated to fourth by the race stewards because of a track limits violation on the final lap, giving the last podium place to Aprilia's Aleix Espargaro.

Race Results
1. - Francesco Bagnaia (Ducati)
2. - Marco Bezzecchi (VR46) -+1.223 seconds
3. - Aleix Espargaro (Aprilia) -+1.925 seconds
4. - Brad Binder (KTM) -+1.528 seconds
5. - Jorge Martin (Pramac) -+1.934 seconds
Nick Cassidy Wins Inaugural Portland E-Prix
The FIA Formula E World Championship's first visit to Portland was also its first trip to a permanent road course without any significant alterations. The electric cars in qualifying ran faster lap times at Portland International Raceway than IndyCar. The pace was slower during the race as the drivers jockeyed for position and conserved energy for a late-race push. By the end, Envision Racing's Nick Cassidy was able to take the lead and build a large enough gap not to get drafted past.
Race Results
1. - Nick Cassidy (Envision)
2. - Jake Dennis (Andretti) - +0.294 seconds
3. - Antonio Felix da Costa (Porsche) - +1.140 seconds
4. - Mitch Evans (Jaguar) - +1.758 seconds
5. - Sebastien Buemi (Envision) -+2.220 seconds