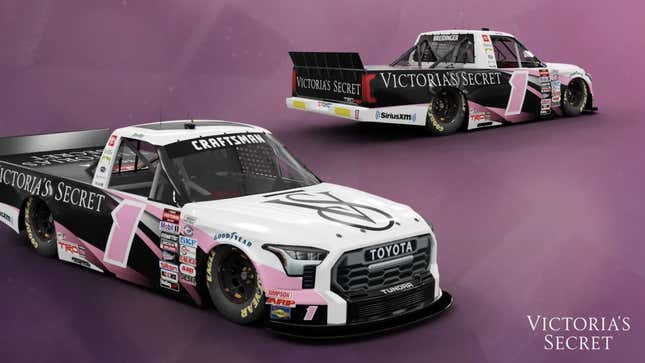 Earlier this week, 23-year-old Arab-American racer Toni Breidinger announced that she'll be making her NASCAR Truck Series debut with TRICON Garage at Kansas Speedway's May 6 event. As a brand ambassador for Victoria's Secret, Breidinger will be carrying a pink-and-black VS-branded livery for the event — and it's about damn time. We need more motorsport sponsors just like this one.
In case you missed it:
All right, hear me out. Victoria's Secret isn't perfect. It has a long and complex history of promoting unhealthy beauty standards for women, and I'll be honest: it's not even really the best place to buy underthings. There's a good chance you'll find the bras pricey, not ultra-comfy, and somehow ill-fitting no matter what size you try on. But at this point, I do not care. People recognize Victoria's Secret. They recognize that it's not a brand catered directly to the traditional portrayal of A Big Manly Man.

The comments on TRICON's Instagram post announcing Breidinger's arrival in the sport, though, proved exactly why this kind of sponsorship is needed if we want to make racing a more hospitable place for women.
"I mean. If Monster gave us the Monster Girls...y'all see where I'm going with this?" one user wrote.
"If the team doesn't change the "y" in toyota to a thong , I am giving up of the marketing of all race teams," another said.
Other comments imagined explicit scenarios featuring female drivers. Still others questioned Breidinger's credentials, despite her being the winningest woman in USAC history.
I've spent several years covering the roles of women in motorsport, so it comes as no surprise to find that male fans have once again found a way to transform an inspiring announcement into an opportunity to objectify women. (There are, for example, multiple men across the Internet begging for an opportunity to sexualize the drivers of the new all-female F1 Academy, despite many of those drivers being minors.) But the only way to weed out these mindsets is to continue seeing women compete — to encourage them to line up more female-focused sponsors and to accept more drives in top-level competition. The naysayers will remain, but their voices will be drowned out by the results of the women regularly racing and finishing well.
A Victoria's Secret sponsorship was always going to raise some eyebrows in motorsport's male-dominated sphere — and I think that's a damn good thing. Women don't need to bend over backwards to fit into the masculine image demanded by motorsport; we need to start carving out a larger and larger niche until the naysayers are forced to eat their chauvinistic words.