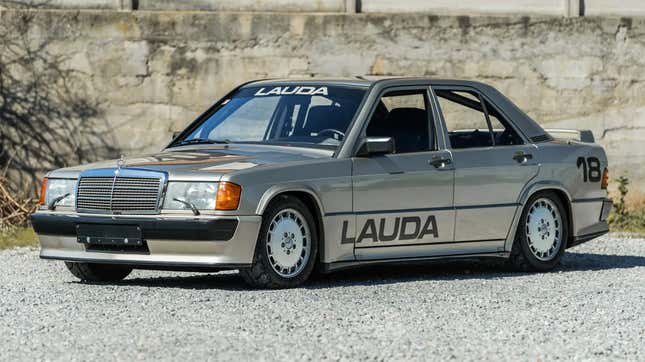 Mercedes held a special event for 1984 that promised to be the single competitive event with the most former Formula 1 World Driver Champions in history. A twelve-lap exhibition race between nine of the twelve then-living champs was held on the Nürburgring's then-new Grand Prix circuit [with another 11 F1 drivers participating] each driving identically-prepared Merc 190E 2.3-16s, like this one. F1 rookie driver Brazilian Ayrton Senna won that race from Niki Lauda (who would go on to win the championship that year).
The car here is the very same that Lauda drove to second place in this race of champions-esque event, and the only example still in private hands. Senna's car was interred in the Mercedes-Benz museum following the race, and it remains there today. While 21 examples were built for the 20-car grid plus a spare, the other 19 were returned to street car configuration and sold to dealers or Mercedes VIPs as "used cars." Now the Lauda car is coming up for sale at this month's RM Sotheby's auction in St. Moritz.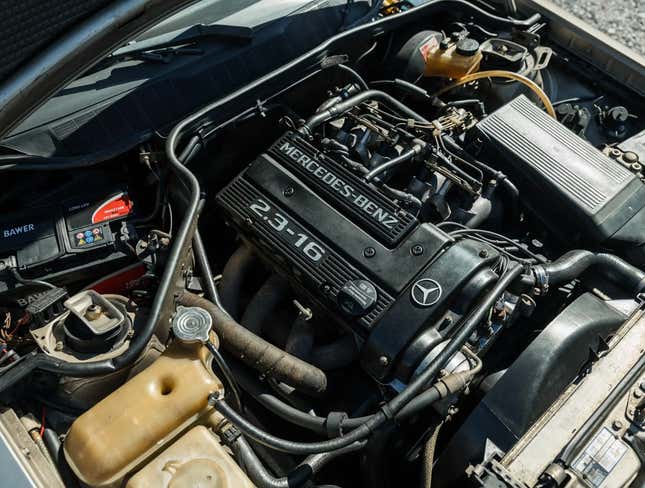 For those unfamiliar, the Mercedes-Benz 190E 2.3-16 was originally built for rally, but once the Audi Quattro arrived on the scene and mooted the Merc-Cosworth joint, Mercedes switched priorities to DTM. The class forced MB to build street car versions for homologation purposes, and the 190E 2.3-16 was born. With a 183-horsepower four-cylinder boasting a 7,000 RPM redline, the car was instantly successful among enthusiasts.
For this spec race Mercedes-Benz Sport Technik took new examples off the assembly line and sent them to the race shop for minor modifications. Each 190E was fitted with identical sport exhausts, upgraded suspension, four-piston front calipers, a shorter final drive ratio, a bolt-in roll cage, a pair of Recaro racing buckets, six-point harnesses, and wider wheels with sticky Pirelli rubber. These were not out and out racing cars, but they were given safety and speed upgrades to make the racing viable. Just enough tweaks to make it exciting.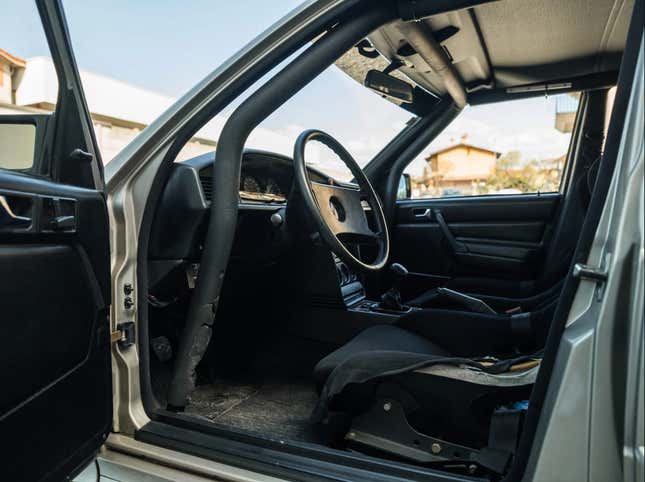 Niki Lauda is one of those heroes of motorsport history whose legacy can't be understated. The guy was a seriously fast racer and faced some of the best talents of all time, let alone of his era. When placed in a race with identical equipment, Lauda was faster than everyone except fresh-faced and fearless Senna 11 years his junior. It probably bummed him out to finish second that day in 1984, but after seeing how extraordinary Senna would go on to be, hopefully the sting dulled a bit.
Now, of course, a regular 190E 2.3-16, even the nicest example in the world, is worth no more than forty grand or so. According to RM Sotheby's this Lauda-famous 2.3-16 is expected to fetch between $450,000 and $550,000 when it crosses the auction block on Friday. Is Niki Lauda history and a bolt-in roll cage worth around half a million dollars?