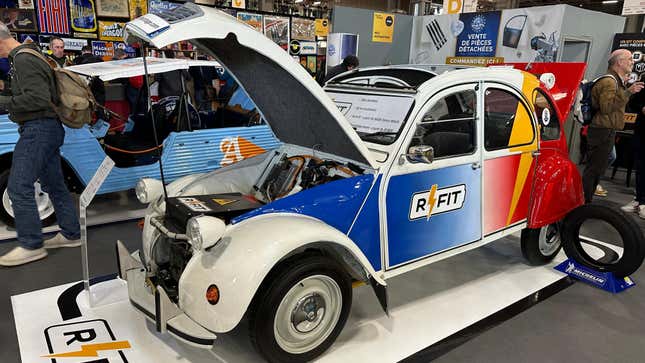 Electric restomods of classic cars are becoming increasingly popular across the industry, with OEMs even jumping into the fray and debuting kits at shows like SEMA. In France, electric conversions only just became allowed back in 2019, with the first company to get approval for homologation and sale being R-Fit Vintage, approved in 2021. R-Fit's first offering was for the Citroën 2CV, and its kit for the Renault 4L was unveiled earlier this year. I got to see R-Fit's conversions up close at Rétromobile, the Paris classic-car exhibit, where the company debuted its next EV-swap kit for the vintage Renault R5. Up close, these R-Fit builds are absolutely fabulous.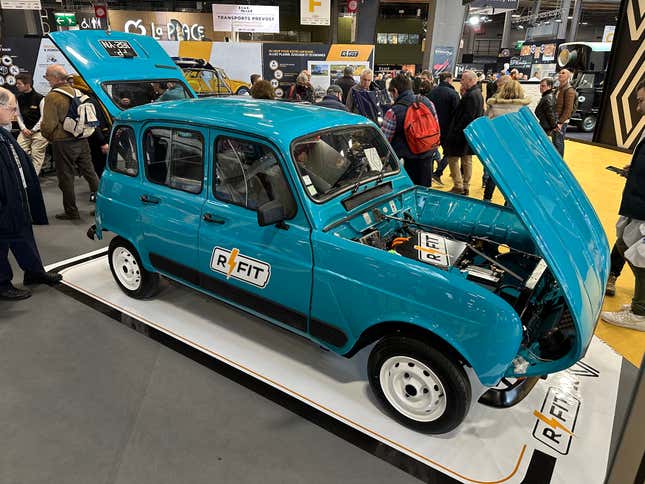 R-Fit's conversion uses a brushless DC electric motor and a lithium iron phosphate battery pack. In each build so far, the car's original manual transmission is retained and integrated with the EV powertrain. The company says performance is about equivalent to the original engine — in the 2CV's case, that's a two-cylinder with as little as 9 hp, while the 4L had a four-cylinder with as much as 32 hp (this is partly due to French regulations, which state that power cannot exceed the original factory output). Total battery range is up to 56 miles. The batteries can be fully recharged in under four hours with a Level 2 plug, and R-Fit says the batteries are guaranteed to still have 80 percent of their capacity after 10 years or 2,500 charging cycles. Weight distribution is said to be the same as in the stock cars, and there's no major weight penalty for going electric.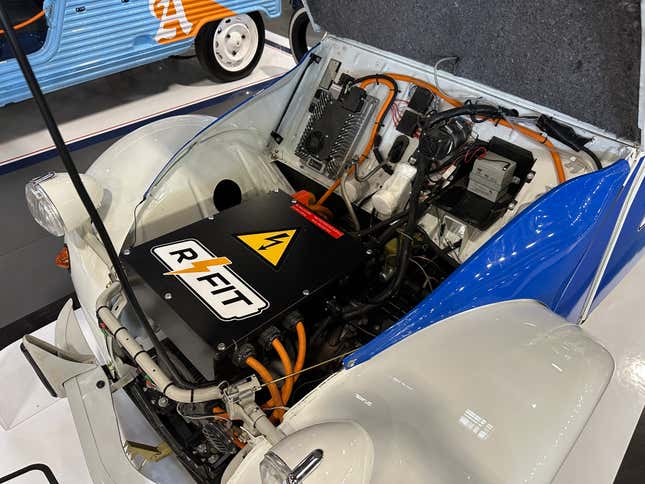 Looking at R-Fit's cars from the outside, you'd never know they were electric. In each converted model, the motor assembly fits perfectly in the cleaned-up engine bay. The battery packs are installed in the cargo area, which, sadly, eats up a big chunk of trunk space. The charge port is in the same spot as the now-departed fuel filler, and the rest of the styling is unchanged both inside and out, though the cars on the R-Fit stand also had reupholstered interiors and new paint. R-Fit offers conversions for 2CV sedans as well as the charming 2CV van, which bodes well for kits becoming available for different versions of the Renaults as well.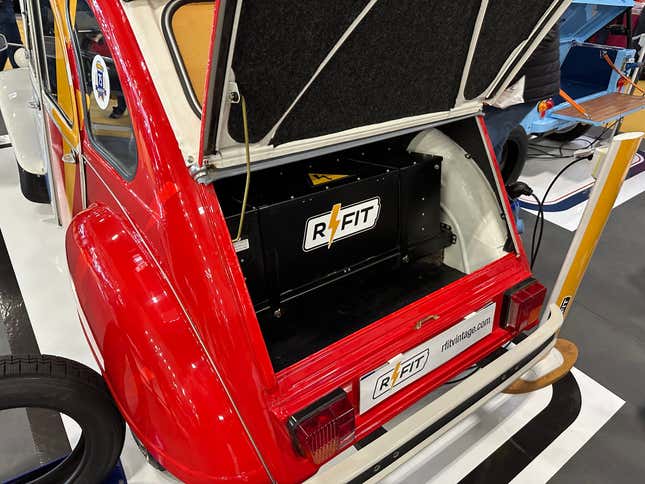 To me, this is the ideal way to keep a classic on the road, especially in cities like Paris where zero-emissions driving zones are being enacted. The vast majority of car owners in super-urban cities such as Paris are only driving a couple dozen miles per day, and the same is often true for vintage car owners. Low-powered classics like the 2CV and 4L aren't ideal for long-distance drives, but they're perfectly suited for silent city errand-running. Across their many variants, Citroën built more than 9 million 2CV-based vehicles, and Renault sold over 8 million of the 4 and over 5.5 million of the first-gen 5. If even a fraction of the cars remaining on the road get converted to electric power, that will vastly extend their lifespan and help turn whole new generations into vintage car lovers.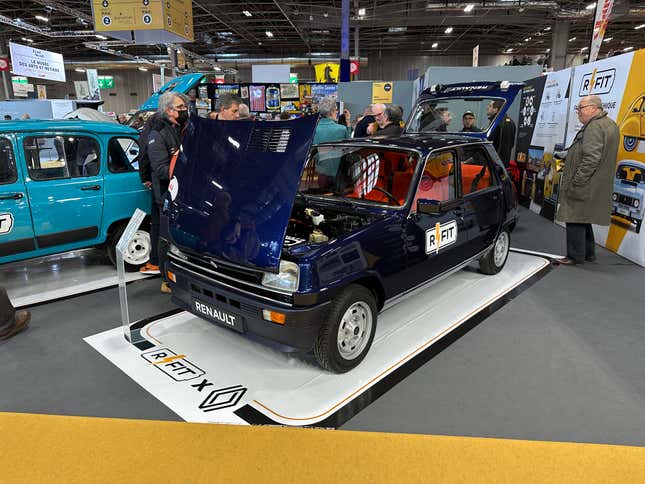 The 2CV kit starts at the equivalent of $9,500 including taxes, while the 4L kit starts around $12,700 at current exchange rates; prices have yet to be announced for the R5, with sales set to begin in September 2023. If you want to do the conversion yourself, you're out of luck. The install can only be done at authorized garages, of which there are currently about a dozen across France. But that price includes all of the hardware, the charger, all labor, and the required homologation tests and certificates so you can legally register your converted vehicle. R-Fit also includes a 3-year battery warranty and 2-year warranty for the replacement of parts, including labor. With the help of the Méhari Club Cassis, which partners with Citroën in manufacturing restoration parts for the 2CV and its variants, R-Fit will also assist customers in finding a used 2CV or Renault to convert if they don't already own one. R-Fit and the Méhari Club will also sell you a fully converted car and let you choose the color and spec, with the completed cars starting at around $40,000 including the cost of the donor.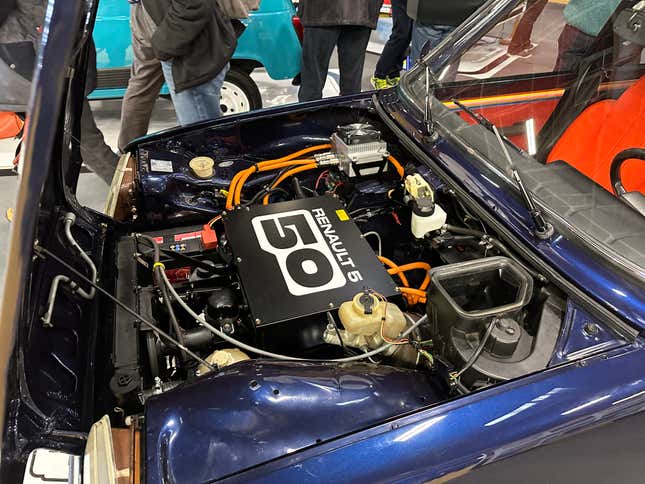 Renault is working directly with R-Fit to launch and sell the 4L and R5 kits, and while R-Fit hasn't said as much yet, Renault also teased that a retrofit kit could become available for the original Twingo, too. As part of its plan to be an EV-only brand by 2030, Renault is also gearing up to launch modern, retro-tinged electric interpretations of these classic models, with the new 4 crossover and 5 hatchback set to hit dealers within the next couple years. Renault's Rétromobile display was one big celebration of the past combined with a tease of the future, showcasing its own examples of R-Fit's restomodded 4L and R5 on the stand along with the recent R5 Turbo 3E concept and a host of other classics. I love seeing a brand like Renault embracing its heritage and supporting these electric conversions and reinventions so strongly. With other major OEMs like Ford and Chevy also getting in on the EV restomod game, hopefully it becomes even more common.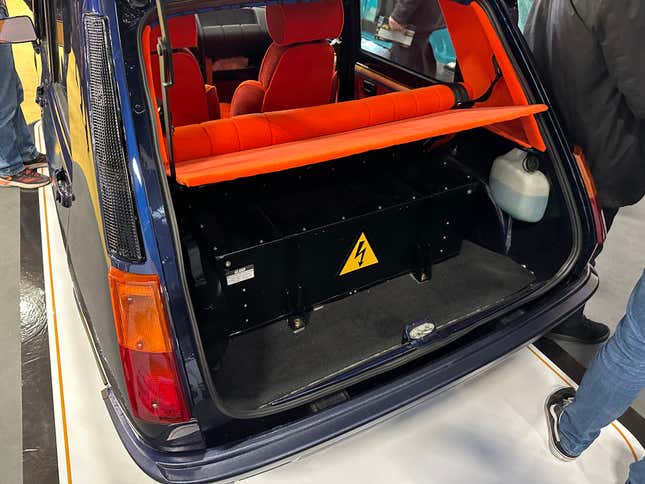 As for what's next from R-Fit, a representative told me the company wants to become the go-to maker for EV retrofits in France, with plans to expand its kits to other brands and models like the original Fiat 500. And though people in the US can't just buy a kit and do the conversion themselves, R-Fit is looking to partner with a shop in California in the hopes of beginning conversions and homologations here in 2024.