Volkswagen Group nemesis Audi has brought three cars to Le Mans for years, and now Porsche's joining the three-car party. But who will drive it, you ask? Porsche pinkie-swears they'll choose from their own GT driver pool, but rumors still suggest some names from F1 may have a go.
Say it with me now: I WILL HAAAAAAAAVE YOU, NEMESISSSSSSSSSSS. YOU ARE MINE, NEMESISSSSSSSSSS.
Naturally, any mere suggestion (much less an official announcement from the team itself) that a top-level seat in motorsports is open during the silly season can lead to a boatload of rumors being floated around.
G/O Media may get a commission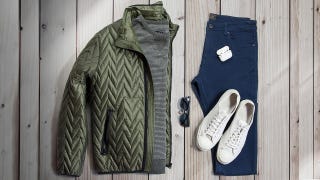 60% off
Jachs NY Fall Sale 60% Off
Despite guesses that this may be where possibly unemployed Formula One driver Jenson Button is headed, or that even Fernando Alonso may have a go in Le Mans despite for-sure heading to McLaren in F1 next year, Porsche insists that they will promote drivers internally from their GT roster instead.
Autosport suggests that these drivers will likely be Frederic Makowiecki, Nick Tandy and Michael Christensen. Not a single name from Formula One. Nope. Stop it. Porsche asks that you please stop it. Stop it right now, per the Germans. Das haltensomething. Nein!
Of course, internal poachin' opens up spots on the GT side. Former F1 driver Giancarlo Fisichella picked up an AF Corse GT ride. I'm just throwin' that out there for maximum lulz.
The third car will only run at two races on the World Endurance Championship schedule: the 24 Hours of Le Mans and the 6 Hours of Spa-Francorchamps. Since most of the competitors no longer run the 12 Hours of Sebring, Spa is the new home of Le Mans' dress rehearsals. (Not a bad choice, but it's still only a six-hour race, grumble grumble.)
Because this is Black Flag, and because I'm not required to present the news in a 100% unbiased manner, let me tell you exactly how this makes me feel. Everyone knows I'm a massive Porsche fangirl. I have a Porsche...racecar........for endurance racin', no less. And it's even painted up like a famous Porsche Le Mans car.
Let me tellllllll youuuuuu how this makes me feeeeeeel.
I want to hug everyone and everything in the universe right now. I can't because I'm quite sick from the last cold snap, but let me tell you, this 'tussin combined with this news of PORSCHE LE MANS DOMINATION is making me hallucinate rainbows and unicorns made of pure love and happiness right now.
I'm going to have the greatest Porsche-919-and-cough-syrup-fueled fairytale dreams of Prince Webber Charming doing burnouts in Porsche's three LMP1-H cars, all at once, all by himself, using magic or something because that's really impossible.
Just don't break this year. I want a good, clean fight 'til the end, and now Porsche has a third car to hedge their bets against wayward Pro-Am Ferraris and/or troublesome powertrain woes.
Hugs. Hugs and kisses. And winning. Hey, someone's got to take over for VAG in case Audi leaves for F1. Please be Porsche?
Photo credit: Getty Images