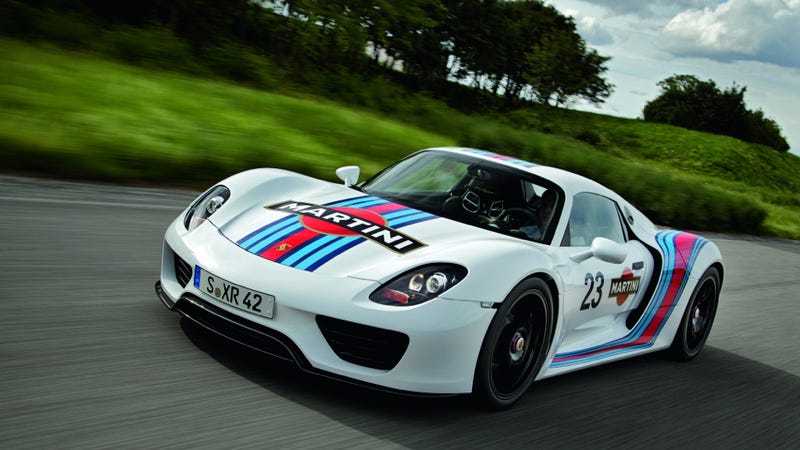 Porsche's still has a bunch of super-hybrid 918 Spyders for sale if you want one, but you better get one now, because they're totally gonna be sold out you guys, so can you just please buy one, pretty please?
That's basically the message that came out of Porsche's head of research and development, Wolfgang Hatz, when he spoke to Autocar at the Shanghai Motor Show.
The only thing stopping people from buying an $845,000 Porsche 918 Spyder is that its a bit expensive and people who drop enormous amounts of cash on a car haven't been allowed to test drive it, but once they do drive it people will all buy one and the whole line will be sold out, Hatz said.
It has nothing to do with the upcoming ür-hybrids in the form of the McLaren P1 and the Ferrari LaFerrari, oh no:
Hatz also said it was wrong to compare the 918 Spyder to other hypercars such as the Ferrari LaFerrari and McLaren P1.

"The Porsche 918 is so different," he said. "A car with more technology on than the 918 you cannot buy. At present, nobody outside our R&D group has experienced a supersports car with more electric power. It drives fast in electric mode, has good range and you can use the electric system to boost the car. This is something unique, and really quite special."
The Porsche 918 is so special, in fact, that both the McLaren and the Ferrari have actually already sold out.
This is also probably a lot like that time that Porsche said 1,500 Carrera GT units were going to be built, but then they decided to stop the production line 300 cars early, for, you know, "exclusivity."
Hey Porsche- if you can't get rid of them, I'll take one off your hands. Just sayin'.
Photo credit: Porsche