This Porsche Cayman GT4 Clubsport is something we haven't seen in a long time: a factory-built Porsche rally car.
For now, the company is calling it a "concept study" for running the R-GT class for sports cars in rally:
For Porsche, the entry of a concept study for the FIA R-GT category based on the near-production GT circuit race car is a critical test under real conditions. Whether this turns into a rally project for customers with a similar vehicle in the medium term will be decided at a later stage.

What else does Porsche need to study with this? It's awesome. It's the coolest thing Porsche has done in ages, and they just blew the Nürburgring Nordschleife record to smithereens.
G/O Media may get a commission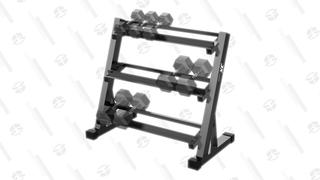 20% Off
JX Fitness Dumbbell Rack
Gains but tidy
Has a three-tier design to help store more weights more conveniently, can safely support up to 1000lbs of weight, which should be enough for most people, has a triangle base for stability, and also features anti-scratch feet which is great if you've built your own studio or workout in your garage.
The build doesn't even look particularly complicated. That's a real serious cage, and there are some healthy skidplates, but this is general race car stuff, just with more headlights.
Watch how well this thing tears up the narrow roads that make up Rally Germany, for which this thing will serve as a non-competing course car.
This is Porsche factory sports car driver Romain Dumas at the wheel, letting the flat six sing sideways.
I've codriven a fast rear-drive sports car in rally (Bill Petrow's Broken Motorsports Nissan 240SX) and managed to set some class records in the thing. (Most of the time we crashed, but we were fast when we weren't crashing.)
Though all-wheel drive took over in the top level of the World Rally Championship starting with Audi in the early '80s, rear-wheel drive isn't totally obsolete in rally, particularly on long, fast stages.
But more than its competitive feasibility, it's how wonderful these cars are to watch. The noise alone makes these things worthy admissions into the rally world. Hopefully it picks up.