The Porsche Cayman GT4 is a car we've been waiting for since the Clinton administration. Now we've driven it. Can it possibly live up to our expectations? Let's find out.
[Full Disclosure: Porsche wanted us to drive the Cayman GT4 so bad, that they flew me to Portugal for a half-day of messing around on the Algarve circuit, which is my new favorite place on earth.]
No modern sports car seems quite as underappreciated as the Porsche Cayman. We can almost imagine poor, er, Caymanella scrubbing the garage floor as its rear-engined stepsisters speed merrily off to the ball — or racetrack, as it were.
But what's this? Porsche's GT boss Andreas Preuninger emerges from the shadows. He summons his Weissach minions, and in a flourish of Stahlwille wrenches, they transform Caymanella into the enchanting GT4. Happy in its new guise, Caymanella rushes off for a half-day of merriment on a racetrack in Portugal, and wins the heart of a Handsome Prince (that's me, I guess?).
G/O Media may get a commission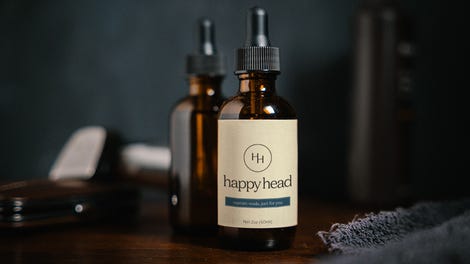 Alas! At the last stroke of 12, the spell is broken. Caymanella vanishes into the noonday sun. The heartbroken Prince shambles wretchedly toward the airport, with just a memory of off-camber corners taken at ridiculous speeds to comfort him during a long, boozy flight home. In his twilight sleep, a hazy coalescence of a new sports car and an old fairy tale.
The end.
The moral? The Porsche Cayman GT4 is an absolute masterstroke, a delight to toss headlong over blind crests and into fast bends, and a fitting halo for the Cayman ethos. Finally, we have a Cayman that inhabits that ephemeral desire-space of bedroom wall posters, magazine spreads and fastidiously planned savings accounts. The GT4, forgive me, is made of want.
It's exciting to see Porsche's mid-engine platform reaching its potential. While even the base Cayman's playful disposition had me at hello, tuners have, for years, taken it on themselves to expand its top spec. Back in 2007, race team and tuning shop Farnbacher Loles, now defunct, built a Cayman "GTR" with a 395-hp 911 Carrera S engine. Motorsports tuner Rick DeMan, of Blauvelt, NY has built several "GT3" models for the street and track. Clearly, if Porsche wasn't going to deliver an edgier Cayman, someone else would.
Now, Weissach is involved, and that means the mojo of the Porsche GT team, lead by Mr. Preuninger, is in effect. That team's era began with the dazzling 996 GT3 in which rally legend and Porsche development driver Walter Röhrl lapped the Nürburgring Nordschleife in 7:56, back when witnessing a road car crack eight minutes on the 'Ring was like eyeballing Sasquatch on your back porch. A decade-and-a-half later, and the Cayman GT4 — Porsche says — can do the deed 16 seconds quicker. With a time of 7:40, the GT4 is in league with the previous-generation GT3. Even better, mere mortals can derive actual enjoyment from driving the Cayman GT4 beyond the rarified air of the Eifel mountains.
What was the engineering brief? Take the Cayman, make it wider and stiffer and more responsive. The simple formula: a judicious treatment of powerplant, suspension and aero, and a manual transmission. The engine, based on the Carrera S's boxer six – flipped 180 degrees and shoehorned into the Cayman's compact center bay — produces 385 hp and 310 lb-ft. Porsche engineers insist there's nothing nefarious in the slight detune from the Carrera S's 400 hp, but is the result of the Cayman's particular intake challenges, and subsequent manifold redesign.
And while purists may balk at the lack of a "special" GT build, like the 911 GT3's 9000-rpm cooker, the 3.8-liter is a lovely engine that makes great sounds, and hucks the lighter Cayman down a stretch of pavement with a delicious crackle of kinetic energy. With the concept proven, what's to stop the GT boys from continuing the Cayman's march to glory? We'll see.
The front suspension borrows from the 911 GT3 kit, with split wishbones for better camber adjustment (track rats rejoice). The beefed-up rear suspension also gets the GT3's "helper" springs, which keep the shorter, lighter main springs aligned accurately during heavy cornering loads. Ball-joint mounts replace rubber bushings for a better connection between struts and chassis; instead of squeeging down, the hard, spherical joints hold camber in check for improved wheel location. In total, the changes to geometry add 10 millimeters of extra wheelbase over the Cayman GTS.
The standard brakes are six-piston monoblocs up front, four-piston in the rear, with 380 mm iron/aluminum discs all around. PCCB ceramics (410 mm front, 390 mm rear) are optional. I found the standard metallics fine for sets of five laps without fade, and I think the lure of cheaper track-day consumables may make the PCCBs — as good as they are — overkill for most GT4 buyers.
For aerodynamics, the GT4 has that manually adjustable fixed wing at the rear, and a front diffuser, with drag-reducing panels that can be removed from the air channels to feed more front-axle downforce. Together, the aero kit increases downward thrust by 10 percent, for a total of around 242 pounds at the GT4's top speed of 183 mph. Incremental, to be sure, but matched to the GT4's performance spec.
Along with the suspension and aero, the GT4's massive, confident grasp on the pavement comes via a set of brilliant Michelin Pilot Sport Cup 2s – 245/35 ZR 20 in front and 295/30 ZR 20 in the rear – which prove tire technology is not to be overlooked when considering the ridiculous performance of today's sports cars. The wheels are like those on the GT3, but with five lugs instead of the GT3's mo-sporty center hub release. The GT4's grip is staggering on tricky bends, like the nearly flat-out off-camber unwind out to Algarve's front straight, which has the GT4 up on its left-side tippy toes.
In fact, the GT4's overall setup is just the thing for Algarve's blind overcrests, hair-raising sweepers and roller-coaster elevation changes. It's not until we're out on the road that the Cayman's tall gearing becomes evident. A real-world driver might make it through an entire afternoon in the canyons without ever leaving third gear. When I ask whether they'd considered tightening the spread a bit, the boffins roll their eyes and talk emissions and fuel-economy compromises. Still, it's a small price for a car that's so well sorted out in every other way.
The interior reflects the GT4's mission. It's a simple, alcantara-filled cockpit, with three pedals and a shifter, and an inviting and slightly more compact steering wheel. It's Porsche's version of road-car minimalism, and we'll take it.
The GT4's system controls err on the side of simplicity as well. Surprisingly, Porsche offers few driver-adjustable bits on the GT4; with the Sport Chrono package, you can't change the throttle map – that "sport" button engages active gear-shift assist. Those automatic throttle blips are convenient for learning a new racetrack, but the GT4's edginess makes you want to match your own revs.
The PSM stability control gets a two-stage deactivation. "ESC OFF" cuts lateral intervention for a bit more tail-out potential, while leaving longitudinal traction control in place. ESC+TC off means you're on your own. But with the Cayman, the transitions are so gentle and progressive, that even the most ham-handed can play around without a slap from Mr. Physics.
There are two active-damper settings (the GT4 comes standard with PASM), normal, purportedly tuned for the Nürburgring Nordschleife, and stiff, which is too brutal but for the glassiest track surfaces. The basic setup – already set 30 mm lower than the standard Cayman – isn't for the faint of spine on regular roads, but allows for plenty of bite-down into the track's compression points.
Into tight corners, the front end settles quickly – and a combination of torque vectoring and a 22 percent locking mechanical diff helps with rotation. Still, the GT4 naturally transitions into a slide so progressively, you'll find yourself clicking off the nannies and goosing the throttle too early out of slow corners just to feel the dopamine rush. If you don't have a signature in-car laugh, you'll develop one quickly.
And of course it looks all business. Its wider track, lower suspension setup and puffed out rear intakes give it a wicked stance. It's part Carrera GT, part 911 GT3, part Cayman R.
To be honest, I would have had this written sooner, but I was busy playing with the Porsche sales configurator. The only must-have options I added to the GT4 were the pricy full sport bucket seats from the GT3, and Sport Chrono package – which comes with a very cool telematics system and app that provide easy-to-use lap-analysis functions (We can't get the Club Sport package, with rollover bar, six-point harness and fire extinguisher, in the US). All told, it still came in well under 100 grand ($92,175 with destination). It's obvious the GT4 is a secret garden of value within the Porsche lineup.
Porsche hasn't said how many GT4s they will build, but I can't imagine they won't will sell every one they make.
And all of them will, most assuredly, live happily ever after.