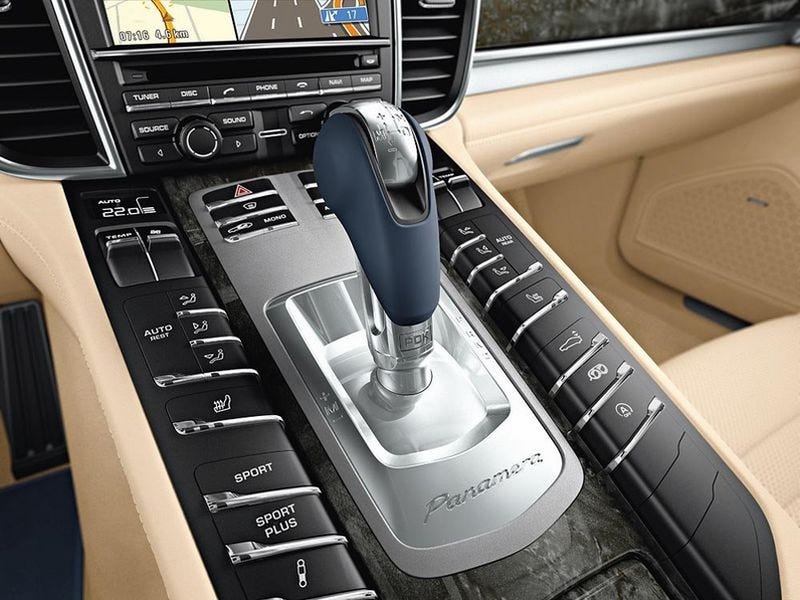 The Porsche Panamera, is finally showing us the part that counts: its luxurious 4-seat interior. Oh, there's something about a 500 HP Porsche Panamera Turbo too.

The Porker that finally lives up to its name actually looks like a really nice place to spend time. We dig the four Recaro-style buckets and whatnot, but that's not what we care about, nor what you want to read about. We care about performance.
The base model will be the Panamera S. It uses a 400 HP, 4.8-liter V8 that delivers 0-60 in 5.2 seconds and a top speed of 175 MPH. It'll cost you $89,900 and the ignobility of driving the cheapest version of the ugliest Porsche ever made. Above that sits the$93,800Panamera 4S, which uses the same engine, but uses all wheel drive to drop the 60 time to 4.8 seconds.
Have money to burn, literally, since you were smart enough to withdraw $10 million from your criminal husband's bank account the night before he was arrested? Then the car for you, Mrs. Madoff, is the range-topping Porsche Panamera Turbo. Not only will it flee enraged victims with aplomb at 188 MPH and get to 60 in 4.0 seconds, but it still has 15.7 cubic feet of room in the trunk to store the cash left over after you hand a Porsche sales person a brown paper bag with $132,600 in it.
The press release follows. A special prize for the first person to pronounce "Doppelkupplungsgetriebe" correctly.
PORSCHE REVEALS FIRST PANAMERA INTERIOR IMAGES

Photos Highlight the All-New Gran Turismo's 'Cockpit for Four' Concept

ATLANTA – February 12, 2009 —— Today, Porsche AG for the first time presents its Panamera four-door gran turismo interior concept. The much-anticipated addition to Porsche's performance lineup will make its U.S. market debut on Oct. 17, 2009.

With a continuous center console that extends from the dashboard to the rear seating area, the Panamera offers a new spatial concept for the driver and passengers featuring optimal ergonomic seating with individual cockpit-like spaces for all. Its deep seating position and a sport steering wheel help give the driver and passengers direct contact with the road. At the same time it provides a generous, roomy environment with exceptional leg and head room, unique qualities in a sporting machine yet essential for grand touring. This individual seating allows for optimum passive safety.

Porsche will provide countless opportunities for individual interior customization with 13 color and material combinations including four two-tone leather interiors and seven interior trim options including carbon fiber to Natural Olive wood.

An available four-zone climate control system gives each seating area individual control of functions such as temperature, air distribution and venting direction. In the unfortunate event of an accident, front, side and curtain airbags help protect the front occupants, while standard rear side airbags help protect those in back. The Panamera S and Panamera 4S feature eight-way power seats in front with a driver memory package. In the rear are two individual seats with a folding rear console and plenty of room. The Panamera Turbo has power seats with a memory package for not only the seat functions but also the electronically adjustable steering wheel. Further seating customization is available through optional alternatives such as 18-way Adaptive Sport Seats or fully adjustable eight-
way power seats in the rear.

Porsche for the first time will offer from Burmester® — the renown Berlin audio manufacturer — a new ultra high-end surround sound system. With 16 loudspeakers plus a subwoofer (a total of over 2.5 square feet of speaker surface area) and a total output of more than 1000 watts, this new system gives listeners a grand acoustical experience. And like the 2009 Porsche sports cars and SUVs,
Panameras will be available with the latest personal electronic connectivity features, including
Bluetooth for cellular telephones, Universal Audio Interface for connecting personal audio devices, and satellite radio.

The rear luggage area provides up to 15.7 cubic feet of space, enough room for four large suitcases. The tall space enables luggage to be loaded in an upright position, and with the rear seat folded down the luggage space generously increases up to 44.6 cubic feet.

Initially, all Panameras will be available with two V8 engine options, standard seven-speed Porsche Doppelkupplungsgetriebe (PDK) double-clutch transmissions and rear- or all-wheel drive. All engines feature Porsche Direct Fuel Injection (DFI) for highest efficiency. For additional fuel savings, all Panameras include an engine stop-start function that can turn off and restart the engine at certain times, like when stopped at an intersection or in traffic.

The rear-wheel drive Panamera S has a 400-horsepower, 4.8-liter V8 engine that can propel it from 0 to 60 mph in 5.2 seconds on its way to a top test track speed of 175 mph. The manufacturer suggested retail price (MSRP) is $89,800. The all-wheel drive Panamera 4S receives the same 4.8-liter powerplant. It sprints from 0 to 60 mph in 4.8 seconds, achieves a top test track speed of 175 mph, and has an MSRP of $93,800.

At the top of the Panamera lineup is the Panamera Turbo with its 500-horsepower, twin-turbocharged 4.8-liter V8. Also featuring the new PDK transmission, the all-wheel drive Panamera Turbo sets a breathtaking 0-to-60 time of 4 seconds flat and a top test-track speed of 188 mph. The Panamera Turbo has an MSRP of $132,600, and all three Panamera models will go on sale in the United States
this October. [source: Porsche]