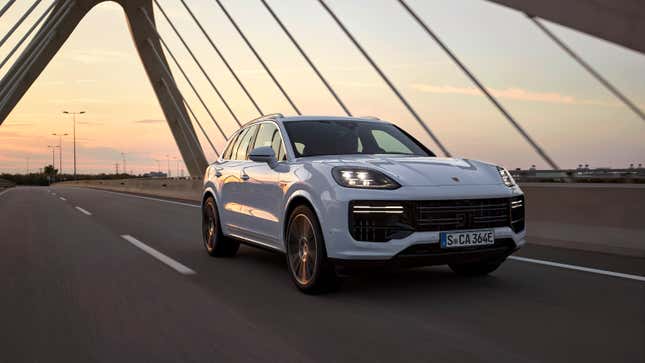 A few months ago, I got some time behind the wheel of the brand-new 2024 Porsche Cayenne. I drove the S model and the top-tier, wicked-fast Turbo GT; both were incredible. In fact, I'd say it's comfortably the best SUV on sale today. Of course, Porsche being Porsche, it hasn't been content with the Turbo GT's 650 horsepower, and so, according to an announcement made on Monday, it's adding a hybrid system to the twin-turbo V8.
The Porsche Cayenne Turbo E-Hybrid produces a frankly staggering 729 hp and 700 lb-ft of torque from its gasoline engine and hybrid system combined, which Porsche claims is good for a 3.5-second 0-60 time and a top speed of 183 mph.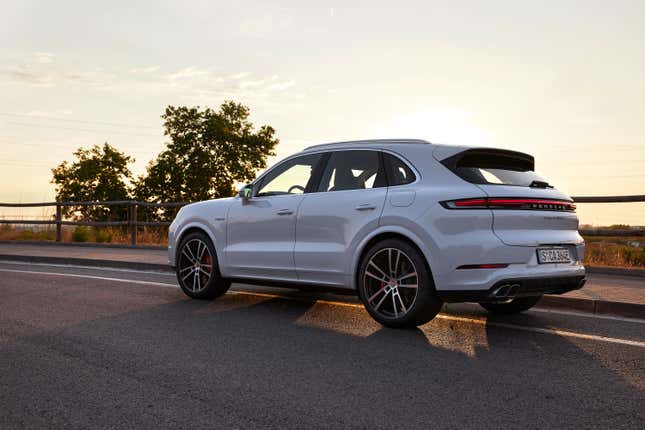 That Hellcat-like power figure isn't the Cayenne's only party trick either. It also has a larger battery pack than previous Cayenne hybrid models – it's now 25.9 kilowatt-hours – which means considerably more electric range, and an on-board 11 kW charger means it will be way faster and easier to top off that battery (if you're cool and buck the trend of PHEV drivers not charging their cars.)

Beyond the drivetrain, the Cayenne Turbo E-Hybrid gets all the same stuff that makes the other new Cayennes great, like adaptive air suspension and Porsche Torque Vectoring, plus features like Porsche Dynamic Chassis Control and rear-wheel steering can be ordered as options. Niceties like a heated steering wheel and 18-way power sports seats are standard, as is a Race-Tex (read: Porsche's version of Alcantara) headliner.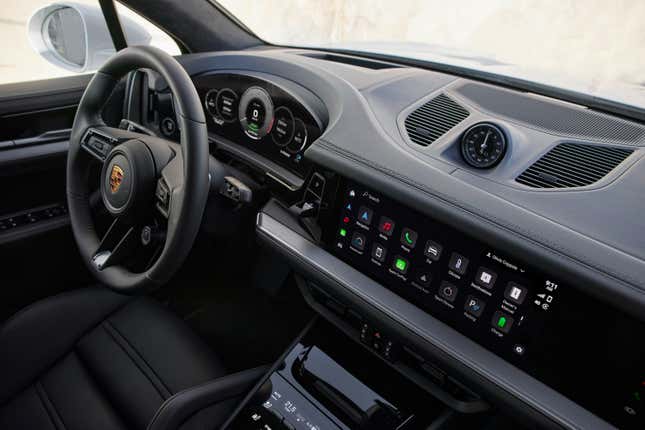 The 2024 Porsche Cayenne Turbo E-Hybrid is available to order now, with deliveries expected in Q2 of next year. Prices start at $148,550 for the SUV and $153,050 for the coupe, both including a $1,650 destination fee.