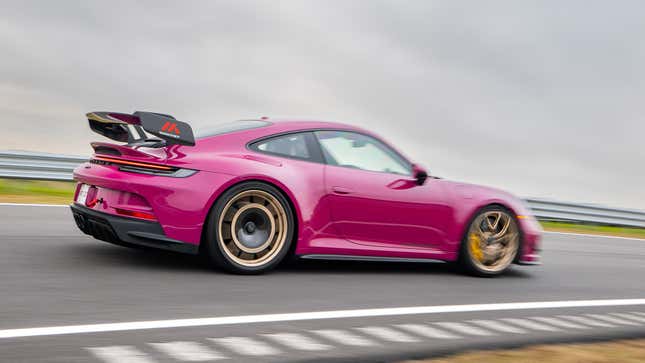 Almost exactly a year ago, Porsche sent the latest 911 GT3 for a run 'round the Nürburgring with a few changes courtesy of the specialists at Manthey Racing. This particular GT3 had larger front and rear wings, underfloor optimizations for airflow and a custom coilover suspension. Together, those changes shaved 4.19 seconds off the car's Nordschleife lap time. Shortly thereafter, they became available as a $40,000 add-on kit for GT3 owners in Europe only. Today, Porsche announced that same kit's headed stateside.
Stuttgart stans west of the Atlantic that happen to have a midsize SUV's worth of cash burning a hole in their pocket can now lavish Manthey's ingenuity on their track toys, simply by visiting a certified Porsche service department and spending lots of money. Even more money, in raw terms, than their European counterparts would've last year.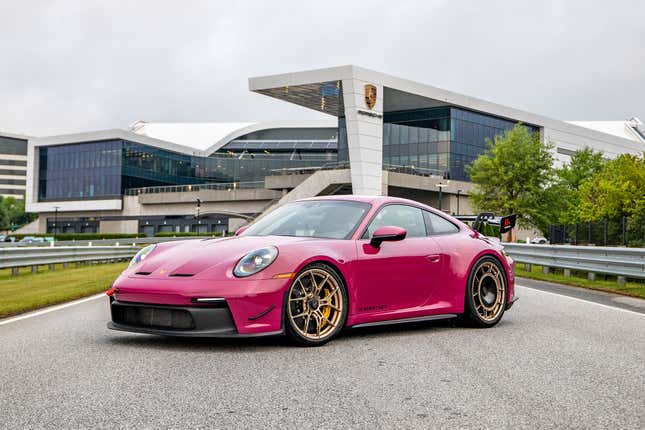 Chalk it up to inflation, exchange rates or whatever you like, but in the U.S. the Manthey Performance Kit starts at $57,300 — before an additional $15,500 for those lightweight forged wheels and rear turbofans, should you fancy them. (I couldn't blame you; they look stunning.) At least Porsche guarantees none of it will void your car's existing warranty.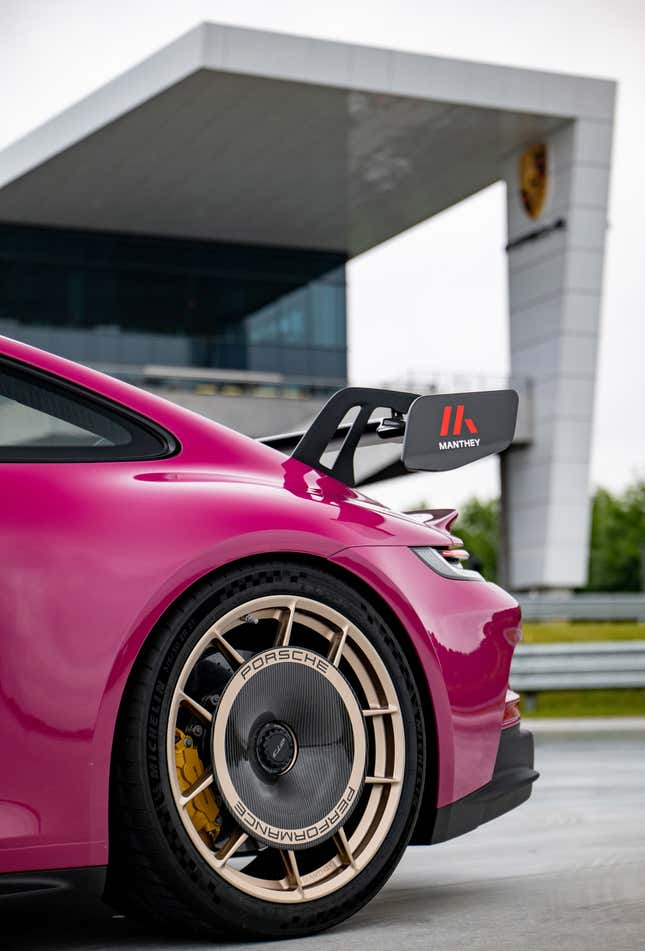 The Manthey treatment primarily focuses on the GT3's suspension and aero system. The stock 992-gen GT3 already has coilovers, but these are adjustable without tools, and increase spring rates by 10 percent up front and 7 percent out back. The new hardware "improves handling without compromising daily usability" in Porsche's words, and also comes with braided steel brake lines.
If you want a ballpark estimate of what this aspect of the kit costs alone, one distributor is taking preorders to the tune of $17,972 before tax. Of course that doesn't include installation, let alone Manthey's aero-related goodies, which Porsche outlined in its press release:
A larger spoiler lip and side flaps are fitted at the front of the car. In conjunction with the modified air guide elements on the underbody, they increase the downforce on the front axle. The modifications at the rear are even more pronounced. The swan-neck-supported wing of the 911 GT3 is wider, and now features a Gurney flap. The end plates with their distinctive Manthey logos have also been enlarged, as has the wing's angle of attack. The fins of the rear diffuser are extended and are now made of carbon fiber reinforced plastic (CFRP).
Returning to those lovely forged wheels, the rear pair also incorporates carbon fiber-reinforced plastic for their center discs. Altogether, the whole set reduces unsprung mass by about 16 pounds.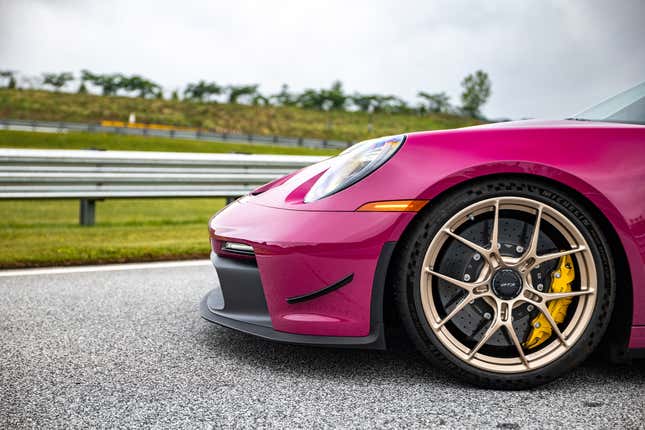 If you're good enough, these enhancements might help you set a new personal best on your next trip to the Green Hell. Porsche is also offering a 90-minute program at its Atlanta and Los Angeles facilities where clients can try before they buy and sample regular and Manthey-tuned GT3s back to back, for a $1,675 fee.
But if you're an owner who reckons your $57,000 could be better put to use elsewhere, you may be interested to know that chunk of change can buy you a 3.0 Supra, albeit not one with the manual transmission. It'll also get you into an Audi S3, a Genesis G80, a non-GT Kia EV6, a two-door Defender (the best one) or even the new Ranger Raptor. There are in fact many great cars that could be yours with the same amount of money it takes to drive 13 miles in four fewer seconds.
Those who disagree are encouraged to inquire about the Manthey Performance Kit at their local Manthey-certified Porsche Center — or trade their cars in for a 911 GT3 RS, which is another six seconds faster around the 'Ring. Just saying.