The rumors that Apple is working on a car have been around for decades, and the iPhone maker even has test mules out on the road ironing out its self-driving tech. But while all eyes have been on Silicon Valley's switch to four wheels, did anyone think to check on carmakers to see if they wanted a slice of the phone market?

Clearly not as, out of the blue, Swedish electric vehicle maker Polestar has teased its own ambitions to make a phone that it says will pair seamlessly with your car. The project was outlined by CEO Thomas Ingenlath in an interview with CNBC where he said that Polestar will have a phone on sale in China before the end of the year.
According to CNBC, the Polestar phone is being created to launch when the EV maker begins sales of its electric Polestar 4 SUV, which is slated to go on sale in China later in 2023. The phone is being developed in collaboration between the Swedish firm and Chinese tech company Xingji Meizu, which is owned by Polestar parent company Geely.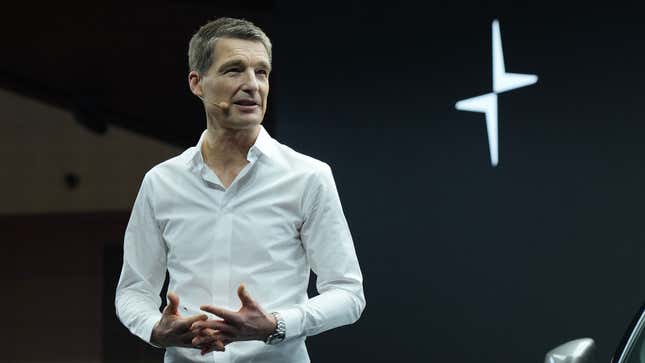 However, Ingenlath is keen to point out that his company's planned phone release isn't about going up against cellphone giants like Apple in China. Instead, it's all about improving the experience for Polestar drivers, as CNBC explains:
Instead, the unusual step of an EV company launching a smartphone comes from a desire from automakers to make the car like a mobile phone on wheels.

"Where you have an opportunity to link these two worlds, without any border ... then you can really have a seamless transition," Ingenlath said.
The integration of a Polestar phone with a Polestar car, Ingenlath argues, will mean that apps can migrate seamlessly from phone to car, as they do when you switch from a phone to tablet with some devices today.
One thing that could help this integration work better in China versus overseas is that there's no Android operating system in the country. This means Polestar will have to rely on Chinese systems like FlyMe across its car and the upcoming phone so both can run the same apps and programs.
It's this integration that Apple will also be chasing with its plans for CarPlay and an Apple car of the future. As it stands, we're no closer to seeing an Apple car in the flesh but Xingji Meizu is already working on a new operating system that could run in both the Polestar's cars and phones. Your move, Apple.