Much to my dad's chagrin, I'm one of those people who has trouble telling the difference between 1080p and 4K. This issue came up again and again when I was helping him shop for his new television. And I think the problem was that we were watching clips of movies in the store and not playing video games. Because playing Forza Motorsport 7 on an Xbox One X in 4K changed my visual standard for video games. I don't know if there is any going back.
(Full disclosure: Microsoft wanted us to review Forza Motorsport 7 in 4K so badly that it sent an Xbox One X, three months of Xbox Live Gold membership and a two-terabyte external hard drive so the console wouldn't run out of room.)
The Xbox One X, Microsoft's new and incredibly powerful gaming console, is smaller than the standard Xbox One and comes with one terabyte of internal storage. It makes regular Xbox One games look great and load faster, up-converting them from 1080p to 4K.
Microsoft, however, is also enhancing some of its games, which means that these games have been worked over to look especially good and run fast on the One X. (A full list of Xbox One X Enhanced games can be found here.) This takes time to roll out, as Mike Fahey, my colleague over at Kotaku, noted. I wasn't able to download the enhanced version of Forza 7 until last Friday.
G/O Media may get a commission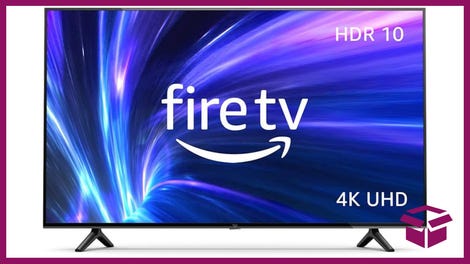 42% Off
Amazon Fire TV 50" 4K Smart TV
As noted in our initial Forza Motorsport 7 review, the game is beautiful. The details on the cars are sharper than ever and the weather spraying up on the windshield at speed is distracting in its realism.
That being said, as soon as you fire up the enhanced version of the game on the One X, you'll notice the difference between the two consoles immediately. My driver, standing next to her car and casually swinging her arms, was distinctly more detailed, the composition of the fabric of her racing suit more obvious than before.
I hooked the One X up to our 27-inch Acer S277HK 4K monitor and marveled at how crisp just the menus looked. I've been playing the game for about a month now, making slow but decent progress through the racing campaign, so that's where I went, picking up where I left off with the Xbox One.
Textures are really vivd in the enhanced game. Paint designs and decals on the cars blend more seamlessly into one another; you don't see jagged, pixelated edges where you used to. In races, details on the other cars stand out a lot more and the scenery flashing by doesn't look as flat.
Of course, there's something to be said about playing on a monitor and versus playing on a television, which is what I use my regular Xbox One on. You sit much closer to a monitor, so the differences between its picture and the TV's were easily picked out when I compared the consoles back-to-back. It was like getting glasses or contact lenses for the first time. You don't really realize how much your vision has slipped until you put them on and look around. Then you wonder how you ever looked at things without them.
Here are some screenshots from the Xbox One X:
And here are some screenshots from the regular Xbox One:
Admittedly, it's a little hard to tell from here. But the One X offers an experience that is just that much crisper, brighter and more acute. And faster.
You spend a lot of Forza 7 sitting in loading screens. Track loading. Forever waiting for the track to load. It's most infuriating when sometimes you hit the wrong button accidentally and start loading into a race when you don't want to, and you have to wait for the thing to finish loading before you can cancel and go back to your menus.
I ran some more back-to-back tests and found that the average track loading time for the Xbox One X is 35 seconds, whereas it was 49 seconds for the Xbox One, which makes the One X's loading time about 29 percent faster. It sounds significant on paper, but while you're sitting there, messing around on your phone and waiting for the race to load, it doesn't really feel like that huge of a difference.
There's no doubt that the Xbox One X is a gorgeously performing machine. But if you don't have a 4K monitor or TV to use it with, it's kind of pointless. You're not using it to its fullest potential. Plus, the new box costs $499.99, which is a lot of money to pay if you just want Forza to look better and load a bit faster. The rest of the game remains exactly the same.
To make the One X truly worth its price tag, it's better if you play some of the other games on that Xbox One X Enhanced games list. I can tell you right now that Middle-earth: Shadow of War and Gears of War 4 were both stunning. And it makes the already striking Forza Motorsport 7 even more breathtaking. It'll be hard to go back to a non-4K gaming experience after this.