When Sir Murilee penned the PCH, Personal Dilemma Edition: 1964 Lincoln Continental post, I was certain that not only would the readership clamor to vote in the poll, but also attempt to deduce the J-lop mad enough to make such a poor decision. Surprisingly, Mad Science was the only commenter to venture at a guess of either Bumbeck or the venerable Murilee. Such is not the case. So it is with unsound mind and withering pocketbook that I announce that the unlucky owner of this most badass of luxo-barges is I, Ben Wojdyla; lackey contributor extraordinaire. Lets take a closer look at the who's, what's, where's, and most importantly, why's of this soul crushing endevour.
Last week saw a fury of intro pieces from our newest contributors Eric Tingwall and Laura Burstein, as well as the clarification that Murilee Martin is in fact a hairy, greasy dude. I was very tempted to pen my own intro, since I never actually got around to it last January when I hopped into this little blue-gray wagon. So here are 117 words of background: I'm 26, came from a long line of farmers, graduated with a Mechanical Engineering degree in 2004 from Kettering University (GMI for you old timers) in lovely Flint, Michigan and now live eight blocks from Ray Wert in Royal Oak. I've been passed around like a $2 corporate whore, I've worked in various facilities within the Blue Oval, Visteon, and now I've gone to the dark side and I'm a program management consultant. I'm currently doing work launching a new engine line at Detroit Diesel. My daily drivers are a 1999 Audi A4 2.8V6 (5 speed, Quattro, silver) and a thoroughly modified, fire engine red, 1978 Kawasaki KZ750B3 set up in the café style.
G/O Media may get a commission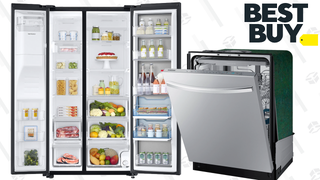 Up to 50% off
Best Buy - Samsung Major Appliance Sale

Now back to how I came to own this piece of automotive enormulance - basically, Craigslist and low opportunity cost. Like drug fiends looking for the next fix, so many of us trawl the "cars & trucks" section of the list, hoping for that once in a lifetime buy that is too good to pass on. It's almost a bloodsport, waiting for that '63 Split Window in some old ladies garage, and then pouncing before your competition. This car originally posted way back in August, I went an took a look just to get a feel for what was out there. The old boy was up on jack stands in a spacious, well lit garage, hood, wheels and trunklid in the corner - the owner was looking for $3500. Those two dents, the so-so interior with no headliner, rust in the rear fenders, all the trim taken off, tail lights off, bumpers off and a bucket of unlabeled nuts and bolts... it was a bit too much for me, so I passed, with regret. A month went buy, and the seller was getting nervous, he was looking at a move south and couldn't afford to take both the car and his wife, so he had to make a sacrifice. He gave me a call and asked me to reconsider with a healthy discount. Twenty crisp Benjamins changed hands and the deal was done, the title was mine.
A title to what though? This Continental is huron blue with teal blue interior, 430ci MEL V8 good for 320hp hooked up to a three speed slushbox. At seventeen and a half feet long, with a 126" wheel base, 79" track and weighing in over 5050 lbs, this is no clown car. A solid axle and leaf spring suspension handle things in the rear while a double wishbone suspension and anti roll bar up front absorbs any kind of road imperfection (and road feedback). Enormous drum brakes do stopping duties on all four corners and steering is eventually done with a steering box and drag links, everything from the wipers to the doors locks is vacuum powered - this is definitely old school.

Moving such a car is no small feat. While the car was driveable, no cop worth his taser spikes would have let me through his precinct without hassle, so external assistance was needed. Funny thing here, if you have a pickup truck capable of towing it, no autodolly will accommodate the car and apparently there aren't any rental locations that will lend out a flatbed trailer that can carry 5000 lbs unless you have a semi. The solution came with a call to my ever resourceful brother. He pulled some of his redneck strings and matched a nineteen foot trailer to his 600 hp Dodge 2500 (Cummins power). Now with that problem solved, I turned to finding the beast a home. See, part of my sickness is making decisions that are not only foolhearty, but irrational. I don't really have a garage. After a few calls and some begging, I secured the unused garage of one of my extremely intelligent, generous, drop dead gorgeous friends, we'll call her Julia. Okay, that's not entirely true; she was very influential in the purchase, threatening me with bodily harm if I passed on the car for lack of garage. I'm sure I will be paying off the debt for quite some time.

When the day came for the move, there was very little in the way of drama, the car actually made the move without any problems at all. My brothers truck, beast that it is, pulled it as if it were as light as a feather, and the load and unload process didn't take but five minutes on each side. It took longer to load all of the loose parts (not a good sign). As I pulled it into the garage where the transformation will occur, I felt a deep sense of satisfaction in making this decision. There is was in its too small home with those smooth luxurious sides, the knife edge fenders, the gorgeous tumblehome, eight-body trunk and those suicidal doors. There will be sweat and blood and surprises, but that's kind of what it's about. I've come to see this less as a race to next August's Dream Cruise, and more as a journey, for both this car, and for myself.
Next: Fitting the puzzle pieces back together.