The 24 Hours of LeMons has a way of making otherwise-normal racers eyeball a BMW, then pick up the cutting torch and the 5-gallon bucket-o-Bondo. Longtime Jalopnik reader LTDScott has turned the already awesome "Pricks Outside" Porcubimmer into… ChriPrickstine!
The 325e-based Porcubimmer was one of the very first LeMons cars to combine a highly twisted and labor-intensive theme with great speed and driver skill; LTDScott's personal LeMons experience extends all the way back to the very first Altamont race in 2006. The Porcubimmer suffered from some reliability problems, but when it ran it was fast as hell. With a 9th-place finish at the extremely competitive Buttonwillow Histrionics last summer, we learned what the Porcubimmer could do.


G/O Media may get a commission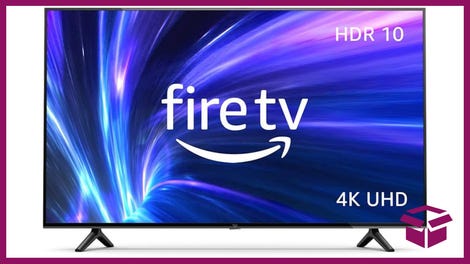 42% Off
Amazon Fire TV 50" 4K Smart TV
Sadly, the Über Bird, masterminded by longtime Jalopnik reader and Hooniverse overlord Mad_Science, won't be in this weekend's race, but we like where this LeMons BMWs-into-Chryslers thing is going. Should Eyesore Racing start sweating? Wouldn't you start sweating with a bloodthirsty Bavarian '58 Plymouth looming in your rearview?
Disclosure: Murilee Martin gets paid crazy baksheesh for his work on the LeMons Supreme Court.