Good morning! Welcome to The Morning Shift, your roundup of the auto news you crave, all in one place every weekday morning. Here are the important stories you need to know.

1st Gear: The SUV Machine Won't Stop
It seems inevitable that once gas prices rise (they're already high and rising) people will at some point stop buying SUVs. I mean, that's what would happen in a rational world. But that's not the world we live in. According to Automotive News, car sales were still going strong in May, thanks again to SUVs and crossovers.
Auto sales came in stronger than expected in May, rising 4.7 percent from a year ago to 1.59 million, according to the Automotive News Data Center. It was the third consecutive year-over-year gain for the industry's seasonally adjusted, annualized selling rate, though the 16.91 million rate for May also was the industry's lowest SAAR since August.

Analyst forecasts were increasingly optimistic based on how the year has progressed. LMC Automotive last week raised its 2018 outlook to 17.1 million vehicles from 17 million. Cox Automotive said it could make an upward revision to its 16.7 million forecast at the end of the second quarter. Automakers sold 17.2 million new cars and trucks in 2017, which was the third year in a row topping 17 million.
[...]

"Despite rising transaction prices and higher fuel costs, the new-vehicle market remains strong. Consumers continue to buy trucks and SUVs at an accelerated pace, more than offsetting the ongoing drop in car sales," said Karl Brauer, executive publisher for Autotrader and Kelley Blue Book. "Economic indicators suggest we'll see this trend throughout the summer and fall, though talk of tariffs and the specter of $4-plus-a-gallon fuel could end the party, and inventory levels remain relatively high at several automakers."
This, even as gas prices are beginning to rise for the summer. I hope you're all happy with your large cars. Small cars, ride or die.
2nd Gear: Automakers Have An Angle On Spare Parts
That's by using software to illicitly monitor demand and how customers buy parts, according to documents in a court case reviewed by Reuters. Is it illicit or just solid business? As always, the line is thin.
G/O Media may get a commission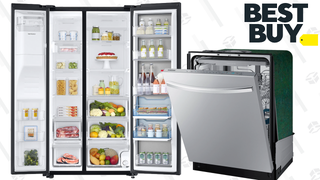 Up to 50% off
Best Buy - Samsung Major Appliance Sale
From Reuters:
The software works, Accenture told prospective clients, by identifying which spare parts in a manufacturer's range customers would be content to pay more for, how much to raise prices by and which prices should not be hiked.

The latter would include, for example, radiators and body parts that may feature in French automotive insurer group SRA's basket of parts that measures them for inflation, according to a court filing by the software creator, Laurent Boutboul.

[...]

"Solutions of this type, which enable companies to assess and manage their products, are commonplace across industries. They help companies analyze spare part visibility and availability," it said in a statement.

Boutboul is claiming 33 million euros from Accenture over what he says is damage to his reputation because Accenture broke European competition rules.

He says it did this by using non-public information taken from Renault to help configure the pricing systems it set up for PSA and potentially other manufacturers. His lawsuit did not specify the exact information.
In a lot of ways, this seems smart?
3rd Gear: GM Is Good At Recalls
Get your recalls fixed, readers! GM is doing its best in the meantime, completing 96 percent of faulty ignition switch recalls in the US on Chevy Cobalts, Saturn Ions, and other cars you may or may not remember, according to Automotive News.
"It's really down to pick-and-shovel work — checking individual VINs to determine: Is the vehicle even still on the road?" said Tom Wilkinson, a GM spokesman.

The effort isn't limited to the ignition switch recall, which four years ago spurred GM and other automakers to dig through latent case files for safety risks that got buried by corporate bureaucracy, missteps or indifference. GM alone issued nearly 27 million recall notices in the U.S. in 2014, when the auto industry shattered its previous record with more than 50 million vehicles recalled.

As of last month, about two-thirds of the U.S. vehicles GM recalled in 2014 have been repaired, according to data provided by the automaker for its 20 largest recalls that year. (Automakers have to file progress reports on recall repairs for at least six quarters, but GM updated the percentages at the request of Automotive News.)

That compares with an average of about 75 percent for all U.S. recalls, according to regulators at NHTSA.
Fun fact: two of the editors of this very website were once Saturn Ion owners. We have things in our past we're not proud of, much like you probably do.
4th Gear: The Next Corolla Will Be On One Platform

That's according to Automotive News, which rode in the estimable car's upcoming 12th generation. Up until now, the car, sold globally, had been built on three different platforms—more in the past. Now, like Volkswagen and Ford and many other companies, the Corolla platform is going global to reduce costs.
"The concept is now 'Global One Corolla,' " Corolla Chief Engineer Yoshiki Konishi said during a test drive of the hatchback here at Fuji Speedway west of Tokyo.

Migrating all versions of the Corolla to the Toyota New Global Architecture platform is an important evolution for the compact. It will help build brand value and marketing power and simplify product engineering as well as help achieve better economies of scale.

But it also is testing Toyota's manufacturing acumen by requiring the company to quickly convert all 16 of its Corolla plants worldwide to the TNGA production setup.

Toyota will have to overhaul lines at the plants within two years, Konishi said. It's believed to be the first time Toyota has undertaken such a swift and expansive upgrade.

Toyota didn't offer a price tag for the global campaign. But a look at U.S. preparation offers a peek. In April, Toyota said it would invest $170 million at its Blue Springs, Miss., assembly plant to build the 12th-generation Corolla sedan, creating 400 jobs over the following 12 months.

Multiply that outlay by 16, and the expense could easily exceed $1 billion.
Corollas won't be stopped, despite the SUV boom.
5th Gear: Green Investors Aren't Terribly Into Tesla
Is Tesla the savior of the environment the way many of the cars' owners think it is? Not quite, according to investors. So says Bloomberg:
Just 86 of about 1,200 do-gooder investment funds tracked by Bloomberg own Tesla shares. And of those, only seven count Musk's company as a top-10 holding. That's much less of a warm reception than these investors have given even to Facebook Inc., which, despite a data-privacy scandal and the founder's super-voting power, is held by 126 of those funds.

Tesla represents a quandary for the responsible investing set, which looks for companies that they deem supportive of environmental, social and governance issues, or ESG. Musk's vision for Tesla, laid out a decade ago, was impeccable on at least one score: "to help expedite the move from a mine-and-burn hydrocarbon economy towards a solar electric economy." But ESG investors now worry the company's performance on social and governance issues doesn't justify its lofty valuation.
What's the problem? Hmm, seems to be Elon Musk.
Investors say the board is missing expertise on manufacturing — evident in recent production delays — and has too many Musk cronies on the board. The company doesn't publish a sustainability report, which investors say makes it hard to keep tabs on workforce issues such as safety. And they are concerned that Tesla can't manage infrastructure changes ahead involving electric-vehicles and autonomous-driving cars.

The issues will move to the fore at Tesla's annual meeting on Tuesday. State pension funds with strong socially responsible mandates, including those in Oregon and New York City, will be pushing for a governance overhaul, including opposing the reappointments of three directors. The vote will be largely symbolic. Musk owns more than 20 percent of the shares.
Reverse: Quadricycle!
Neutral: When Will Sedans Be Cool Again?
I guess maybe never.