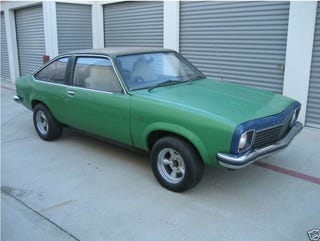 Nice Price Or Crack Pipe
Is this used car a good deal? You decide!
G'day mate. If you come from a land down undah' Nice Price or Crack Pipe has a 1978 Holden that'll make you didgeridoo yourself.
Despite a near hat trick at the NAIAS on Monday, Ford was unable to generate any enthusiasm for the Batman's villain-colored Gran Torino yesterday, and it fell to a landslide 84% Crack Pipe vote. That Ford was rougher than a three dollar whore, but at least you could walk into any Pep Boys and they'd be able to speak Torino. What if you were looking for something that was more of a challenge- something that would make that parts counter guy sweat and flip madly through his catalogs? What if you secretly wanted to tie me kangaroo down, sport?
Well, let the dingo eat your baby and feast your eyes on a 1978 Holden Torana hatchback offered up on eBay from Sacramento, rather than Sydney. Yes that's right, Australia is where all the Vegas have gone. Actually, the LX Torana is slightly bigger than its ill-fated American cousin and was made available with everything from an Opel-sourced 1,900 to a roo-splattering 5.0 V8. The VIN says that this Dandenong-built LX originally came with the four- making it properly a Sunbird. However, as the seller notes, sometime between then and now, somebody dropped in one of Holden's 202-Red six cylinders. That 135-bhp pushrodder should be good for making the light (2,575-lbs) Aussie a little more Mad Maxical, as should the 4-speed stick. That is, it should once you pull all the extra body parts out of the hatch. There's most of a full front clip hiding back there, and the bloke who's selling it also is including interior pieces from the up-scale SS model (this one is an SL) that he found on walkabout. He claims to be your "source" for all things GMH, which would be helpful as Holden Toranas are as rare in the U.S. as Emu Bitter, and this car is in need of a friend. Not having a proper title, and it being too new to fall outside of California's smog-testing requirements means that the eventual buyer will face fewer headaches if they choose to move the car to a state with less-onerous emissions laws. Naturally, a gang of post-apocalyptic yabbos will be in hot pursuit should the attempt be made. Another option would be to duck the street registration altogether by slapping on some flares and making it a A9X Bathurst repli-racer.
Either way, you've got your work cut out should you choose to go down under on this $2,200 project. Parts will be hard to find, registering the car will be more challenging than resurrecting Paul Hogan's career, and in the end, most people will mistake it for a Vega. But the point of this exercise isn't to determine if you or I want it, it's to decide if that $2,200 asking price is a good deal to the Australiaphile who sees this and gets his Wicked Weasel in a bunch over wanting to buy it.
So, what do you think, does that price make you say good on ya, or does it make you think the seller's a dag?
You decide!
eBay, mate, or go here if the ad throws another shrimp on the barbie.
Help me out with NPOCP. Click here to send a me a tip, and remember to include your commenter handle.