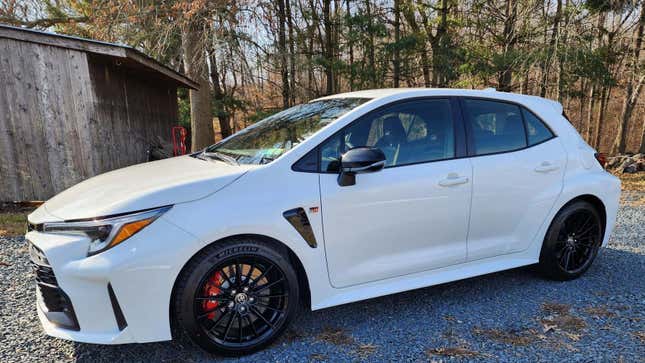 One of the biggest downsides of all the great cars coming out in the last few years is the opportunists trying to make a quick buck. Instead of enjoying these vehicles they're hopping on Bring a Trailer or Cars & Bids to flip these things. One 2023 Toyota GR Corolla buyer found out the hard way, paying a substantial dealer markup, flipped it on the Cars & Bids auction site, and ended up selling it at a loss, Carscoops reports.
This particular GR Corolla looks to be one of the first in the country to show up as an auction listing. This White GR Corolla Core usually starts at $36,995 (including a $1,095 destination charge), but this example included the cold weather, tech, and performance packages bringing the MSRP to $40,073. That doesn't include the dealer markups.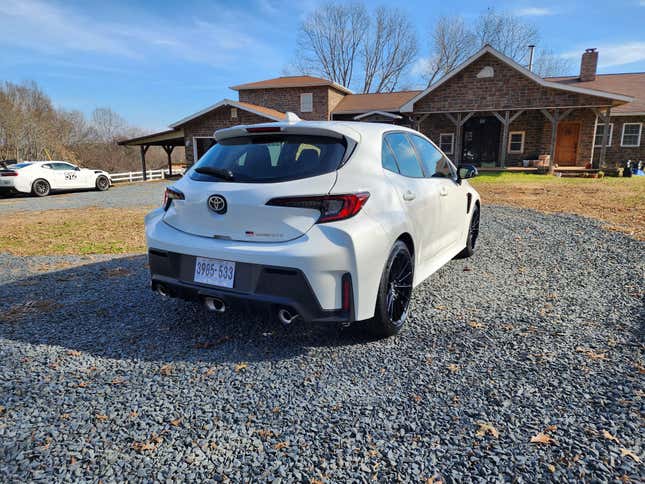 After 19 bids the car eventually sold for $48,550 (with no reserve) with the unidentified seller saying he took a hit. It's not known just how much money he lost, as he's keeping the exact amount he initially paid over the sticker close to his chest.

He pointed out that he paid way over MSRP without disclosing exactly how much, as he's "an enthusiast" and originally planned to keep the vehicle before learning that another allocation that he preferred went through.

"I actually found out about this allocation directly after I purchased the GR Corolla, within a couple hours," said the seller. "I'd rather not disclose how much I paid specifically, as I did not disclose that in the auction. If I'm honest there's no advantage for me to tell anyone in social media exactly what I paid as it could create an artificial ceiling on the auction, if shared. What I can say is that, at current bidding (note – $47,050), I stand to lose a substantial amount of money on the car."
Bro what? You don't want to disclose how much you paid, but you lost a substantial amount of money on the car? Sounds more like he's trying to save face. Even his attitude towards taking a loss on the sale shows either he has deep pockets and money isn't so much of an issue, or as I mentioned, he's trying to save face. Emphasis mine:
After the auction ended he reiterated in the chat on Cars & Bids that "this is not breaking even sadly. I'll enjoy the new car but my payment on that one will be higher as the down payment is now lower. Oh well.
There are a couple of reasons why this whole ordeal doesn't make any sense. The first is this seller's reasoning for the flip. The seller maintains that his wasn't a money grab flip. He's selling the GR Corolla because his allocation for another car he's been waiting on finally came through as he says in the Q&A on Cars & Bids: "I got an allocation unexpectedly early for another car I've been waiting a very long time for, and I cannot afford both cars so this one has to go. I doubt I'll make any profit on this car."
If you have an allocation for another car you've been waiting on, why go buy another car? Just keep waiting for the one you want. The unaffordability is questionable as well given his nonchalant attitude toward taking a loss on this sale.
The second is his misreading of the market in its current state. What was once a "This car is hot and popular right now so let me sell it to see what I can get for it" market, isn't necessarily so much any more. He also didn't take into account supply & demand. As of this writing, I was able to find 65 GR Corolla's for sale in the whole country. Nearly half of those were priced above $45,000 with the highest being marked up to just over $65,000. Prices and markups are up because stock is low. But the GR Corolla isn't exactly a limited-production vehicle, even if Toyota has said it wants to keep numbers low. At 8,000 annual units, that's not exactly exclusive either. As production ramps up and everyone that wants one buys one, the value of these things is going to go down, quickly.
Ultimately, though, this may end up being a learning experience for flippers who have contributed to making the car market a chaotic mess these last three years. Maybe don't buy the car you don't want, just so you can sell it. Some may have already heeded this advice, as I wasn't able to find any other GR Corolla's listed for sale on both Cars & Bids and Bring a Trailer. Lesson learned. Maybe.