As much as we might complain about technology sucking the soul out of modern vehicles, there are still affordable new cars that don't suck. You can even own them yourself! Here are our favorites right now.

Welcome to Jalopnik Favorites, where we name all the stuff that deserves a big fat gold star. To qualify for this list, cars have to be available as-new off a dealership lot today with an MSRP of $30,000 or less.
This isn't a shootout, a head-to-head contest or a direct comparison between cars. It's just a list our favorite vehicles that can be bought new off a showroom floor for less than $30,000, and why they matter to us.
Did we miss anything? That's what the comment section is for.
---
Jeep Wrangler
G/O Media may get a commission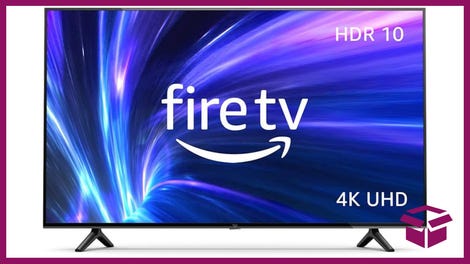 42% Off
Amazon Fire TV 50" 4K Smart TV
The Wrangler is archaic, slow, noisy and is designed to be driven its doors (and roof!) completely removed. I know what you're thinking, and I too thank the car gods every day that such a vehicle is still available as-is as-new in 2017.

Even if you never take your Wrangler further afield than a dirt road or a rutted driveway, the quintessential Jeep is just plain fun to fart around in. Any city, any state, any season. That's probably why Jeep sells tens of thousands around the country every month and why it's being very careful to preserve the Wrangler's essence in the big redesign that's bowing soon.
It's not that easy to find a Wrangler for less than $30,000, but it's not impossible. The bare-bones two-door Sport lists at less than $25,000 and you can even have a four-door under $30,000 if you don't need a single option.
But I'd come right up on our limit with a $29,390 2017 Willys Wheeler, which comes with a slightly uprated suspension and great tires. That's all you really need for beach cruising and all the off-roading you're going to be willing to do with your daily driver anyway.
-Andrew Collins
Jeep Wrangler
What Collins said.

-David Tracy
Ford Focus ST
Growing up in Michigan, everyone I knew was in either a GM family, a Ford Family, or a Chrysler family. We were always Chrysler and GM people. It feels like I'm betraying my birthright by calling out my favorite American car as the Ford Focus ST.
Here you get 252 horsepower, 270 lb-ft of torque and glorious, front tire-shredding torque steer for days on end, all in a package that will make you rethink just how well a small compact can handle. It's rowdy, it's in your face, and it can be taken to the grocery store as well as the autocross course.
"What about the Fiesta ST?" I hear you say, "or the Focus RS?" Well friends, the RS is too rich for my bank account (and the parameters of the list) and the Fiesta ST, while fun and aggressive-looking, is zippy but too small. It's a younger car writer's car.
I have a responsibilities, like a dog, to lug around. I need a back seat. I need a liftgate that reveals enough storage for gardening equipment. But I also need quickness. I need handling. With a Focus ST, you get a utilitarian that doesn't look like one and doesn't drive like one.
Ford's quality has been rising for years, and now they make not only fun cars, but fairly reliable cars too.
-Erin Marquis
Volkswagen Golf GTI
The Volkswagen Golf GTI is arguably the best daily driver under $30,000.
That's a bold claim, but I've spent the last two years commuting in a 2015 GTI with a manual transmission and the performance package. Currently VW calls that combo the GTI Sport. It is a car that will bring a smile to your face when you want to push it, but will also provide a relaxed ride when you are just cruising around. It is the perfect hot hatchback for adults.
It is that dual personality combined with an interior that punches above its price point make the GTI a superior overall package to other sport compacts like the Focus ST and WRX. Those are great cars that provide a ton of performance for your dollar, but the GTI has the ability to slip under the radar while those other cars can attract some unwanted attention. The upcoming 2018 model is expected to elevate the GTI even further with a high-tech digital dashboard found in the $45,000 Audi A4, and a slight tweak in performance.
As for the inevitable Volkswagen reliability comments, I may be a small sample size but my GTI has been practically trouble-free for the past 27,000 miles. I had one minor issue in the first four months of ownership with a rear brake caliper seizing. It was replaced under warranty and haven't had an issue since.
This car is so good, automotive journalists who are notorious for buying beaters on Craigslist actually pony up the cash and buy one brand new.
-Tom McParland

Toyota 86/Subaru BRZ
Everything you've been taught about fun cars is wrong, fellow American! You've been raised to think horsepower is king, that 0-60 times matter most, that the quarter mile is the only bragging right that counts. And those things are nice and good!
But let me tell you this: cars aren't getting smaller and lighter and more analog. They're getting fatter and more laden with tech for people who can't drive. And good, honest, basic, pure sports cars are hard to find these days. Thank god for the Toyota 86, formerly the Scion FR-S, and the Subaru BRZ.
Here you get a gloriously not-turbocharged 2.0-liter boxer four putting out 200 HP, a good stick shift, and rear-wheel drive, as it should be. Yes, it's slow, and a lot of cars on this $30,000 and under list will "smoke" it, but who the hell cares? Throw the BRZ into a corner, hard, and learn to drive right.
It's an incredibly pure driver's car with a laser focus on handling; a Porsche Cayman for those of us who wear Seikos instead of Tag Heuers. Many different kinds of people drive Mustangs and GTIs, but the 86 and BRZ are the mark of a real car enthusiast, the kind having too much fun carving corners to care what anyone thinks.
Buy this car while you can. Celebrate analog before it dies forever. Keep it as long as you can and then give it to your kids.
-Patrick George
Chevrolet Camaro
When I was young, in the 1990s, I associated Camaros with people who, like the cars themselves, had peaked years prior. Judas Priest guys living in a Nirvana world. It didn't help that the car's fourth generation, which debuted in 1992, were quickly ruined by nearly all of their owners with modifications or crashes. Or both.
Then, the year I graduated high school, Camaros were discontinued altogether. Probably for nostalgic reasons, it was some time between then and when the fifth-generation appeared, in 2009, that I came to realize that all Camaros, even those '90s ones, completely kick ass.
It is good news that the 2017 edition starts at just $26,900. Seems like a very small amount of money to pay for a car that kicks ass (I haven't been in the market for an inexpensive muscle car in some years).
Inside, even the base model has grunt with a 2.0-liter, four-cylinder turbo. It's capable of going (Chevy says) from zero to 60 mph in 5.7 seconds, which, what more do you want from a rear-drive fun car that's cheap and gets decent gas mileage?
You should buy yourself a Camaro if you have on you at least $26,900, and you want to experience the '80s, or '90s, or prior decades—this decade—again. You will, I'm pretty sure, have some fun, even without the V8.
-Erik Shilling
Citroën Cactus
Nobody ever said these have to be U.S. market cars, did they? They didn't. Besides, this is the compu-inter-net, and it's GLOBAL. That's why they call it the Global Wide Web or whatever. So I'm picking the new car I'd actually want to buy with my hard-embezzled 30-grand, even if I can't actually get one where I live: a Citroën Cactus.
Citroën has always been bold and unafraid with its car designs, and the Cactus is no different. It's useful and novel and practical and unashamedly strange. It's a little wagon I can get with a six-speed manual, it comes in my preferred yellow-and-black livery, and it has those weird little rubber bumps on the side.
It's got all the modern crap you expect in a 2017 car, but it somehow manages to not have the Character Delete package that seems standard in so, so many new cars today.
I'd happily daily-drive a Citroën Cactus. I'll fill it full of dogs and my kid and bags of gravel and old video games and computers I buy from a guy on Craigslist who I think may have exposed himself to me.
A Cactus comes in at £18,850.00 when I configured it on Citroën's UK site, which is about $24,397 in real money. For a fun, manual, useful wagon that doesn't feel like the death of joy, that's a steal.
-Jason Torchinsky
A Manual Toyota Yaris

Most trims of the Toyota Yaris come with a soul-sucking and horrifyingly dated four-speed automatic (yes, in 2017, I know) that makes you want to fall right asleep. But the $15,635 base model comes with a hilariously decent five-speed manual even in the United States, believe it or not, and I can't think of a better small, cheap hoonmobile at the moment because Patrick already mentioned the 86. Also, the Mazda2 isn't a thing for us anymore.

A flight delay left me in Italy for an extra day, so instead of paying through the nose for cab fare to be stuck at my hotel, I opted for the cheapest rental I could find on short notice. It was a manual Yaris, and it was perfect. First of all, you can cram it just about anywhere. Listen to me, America: subcompacts are good! Second, it comes with a manual, which lets you make full use of all 106 horsepower in the 2,315-pound car. Everything is more fun with a manual: fact.
I don't think you even need it to be a rental to drive it like a maniac. Tripod around every single roundabout you can find. Run through big puddles for maximum splash. Take it in the dirt. Live out all your stupid rally fantasies! It's just a Yaris! They made a zillion of them. It's got decent ground clearance, so you can probably even catch air and be fine.

Sure, I wish the gas pedal was more even with the brake so it'd be easier to heel-toe, and I wish it was a bit more stable in autostrade-speed turns. I feel like those could easily be remedied with aftermarket bits and a bit of tinkering, though. I mean, you're buying a new car for less than 16 grand. You can afford that. The upcoming 210-horsepower Yaris GRMN sounds like it fixes those nuisances somewhat, but as with far too many good things, it sounds like it won't come anywhere near the U.S. of A.
- Stef Schrader

Fiat 500 Abarth
There's just something to punching around on your commute that makes the Fiat 500 Abarth so appealing. A gap open up there in traffic? Braap, zip! You're there. Tiny parking space? Schwoom. In!

Plus, with that buzzy, 160-horse engine paired with a manual transmission, you'd be hard-pressed to find anything this fun under $30,000. Yes, there is an automatic option, but that's, like, $1,000 extra for something you could do just as well yourself for free.
Within this price range, something loud, brash and Italian is totally appropriate. You can get a stripe if you want! It's small enough that you don't ever have to worry about fitting it into places, but has enough storage space for a long weekend getaway somewhere.
And it has attitude. I like attitude.
-Kristen Lee
Hyundai Ioniq EV
You'll probably write me off as a basic, boring dud of human being, but I'm here to tell you that I enjoyed driving the Ioniq. It's a straightforward car that handles very nicely and I liked it, OK?
Are you someone with a daily commute of, say, 60 miles or less? Do you like your cars to be simple? Do you like saving on gas? Here's a normal, all-electric car, priced under $30,000, before tax incentives, that can efficiently handle basically any driving situation short of a cross-country trip.
It's not a powerhouse—118 HP, 215 pound-feet of torque, 0-60 in about 10 seconds—but it's a nice car, with a comfortable interior and a clean layout. Sure, that Sport Mode doesn't make a noticeable lick of difference in performance. Who needs it? This is a textbook practical car, and it doesn't require gas.
Maybe I'm too simple. Whatever.
-Ryan Felton
Mazda Miata
Did you really think we'd have this list without the Mazda Miata, the definitive pure sports car for the past three decades? There are rules, goddammit. And we're not about to break them.
Plenty of the cars on this list have had inferior and unimpressive versions in their past; the Miata is one of the rare cars that's always been good, and somehow it got even better when the new model debuted in 2015.
Mazda's engineers fanatically worked to shave weight off the outgoing Miata (which was also very good) and while this one is slightly down on power at 155 HP, it's quite a bit faster. In fact, it hits 60 mph in under six seconds, so it's no longer even slow.
But that's not what the Miata has ever been about. It's about handling, track days, autocross, corner-carving, darting between 18-wheelers on the highway, top down antics on good weather days, and fun. Pure, unadulterated driving fun, the way few cars on this list can match.
The hardtop convertible Miata RF starts at $31,555 so it doesn't make the cut for this list, but you can get a soft top version for under $25,000. Buy one today and support the future of the sports car.
Many cars do it faster, but few do it better.
-Patrick George