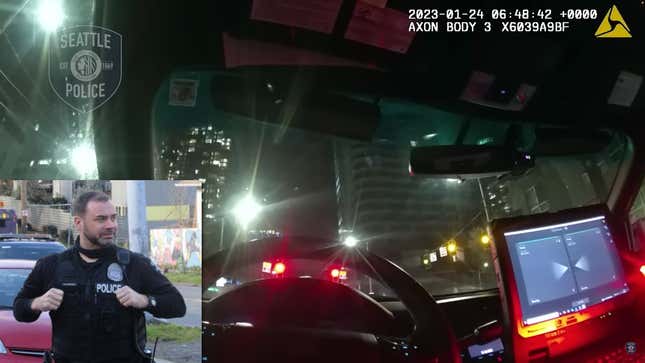 A Seattle police officer has been caught on bodycam footage laughing at and making fun of the death of a young woman who was struck and killed by a cop responding to a call in his cruiser. In the two-minute-long video, reported on by The New York Post, we can hear Officer Daniel Auderer — who serves as the Seattle Police Guild's Vice President — saying the dead 23-year-old grad student had "limited value" and the city should "just write a check."

The footage takes place in Auderer's police cruiser as he drives around city streets and discusses the wreck involving Jaahnavi Kandula over the phone with an unknown person whom we never hear. Kandula was struck and killed by his colleague, Officer Kevin Dave, in late January of this year.
"She is dead," Auderer said over the phone before laughing just one day after the crash. "No, it's a regular person." We can probably assume he is answering whether or not Kandula was a cop.
As the video goes on we can hear Auderer once again break out in laughter, that's when he drops one of the most cruel and heartless lines of the clip.
"Yeah, just write a check. $11,000. She was 26 anyway," Auderer says while misrepresenting her age. "She had limited value."
He also mentioned that he didn't believe a criminal investigation was being conducted.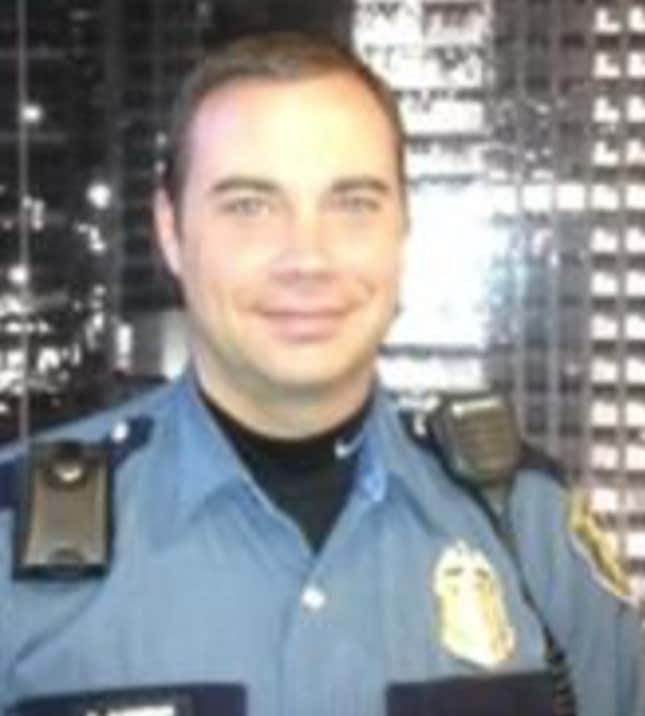 "I mean, he was going 50 miles per hour. That's not out of control. That's not reckless for a trained driver," Auderer said.
There's just one issue. The Post reports that Dave was actually doing 74 mph in a 25 mph zone while responding to a "high priority" call. Although Auderer says Dave had been flashing his lights and sirens, it turns out he was actually just chirping them inconsistently when he hit Kandula, a master's student at Northeastern University's Seattle campus. Auderer himself responded to the scene of the January 23rd crash to conduct a drug test of Dave.
Video of Auderer's heartless call was uploaded to the Seattle Police Department's YouTube page "in the interest of transparency." It will reportedly not comment on the matter until the Office of Police Accountability concludes its investigation into the incident.
It's being reported that Auderer has a history of trouble inside SPD. He was named in a range of civil cases and has been the subject of a number of complaints of misconduct, excess force and bias. Some of these situations include him being one of several officers who stopped two Mexican immigrants under false pretenses, him being part of a group beating of a mentally ill man (causing pertinent brain damage), and using force against a Black woman while she was handcuffed.
The Post reports that Seattle's civilian-led Community Police Commission said the incident is an example of concerns they have "repeatedly raised about elements of Seattle Police Department culture and SPOG resistance to officer accountability measures including the landmark 2017 Police Accountability Ordinance."

"The people of Seattle deserve better from a police department that is charged with fostering trust with the community and ensuring public safety," the CPC said, according to the outlet.
The Post says that footage from Dave's bodycam on January 23rd reveals him admitting he "fucked up," after speeding through an intersection with a 25 mph speed limit.
In a video linked on PubliCola, we can see Dave speeding through city streets on his way to the scene of someone who had used "too much cocaine" and was "freaking out." Mind you, they were lucid and standing outside his apartment as he waited for medics to arrive. Photos posted by the outlet show just how much damage was done as Dave slammed into Kandula doing an indicated 60 mph.
The Post says he performed CPR on the exchange student, who was pursuing a Masters degree in Science Information Systems at Northeastern. She was taken to the hospital and pronounced dead. Kandula was due to graduate in December.