Good morning! Welcome to The Morning Shift, your roundup of the auto news you crave, all in one place every weekday morning. Here are the stories you need to know.

1st Gear: Can It Sustain The Pace And Quality?
Tesla hit a big milestone over the weekend: the long-sought goal of 5,000 Model 3s produced per week. It took an assembly line in a tent, evolving manufacturing practices and an overworked labor force, but they did it. In the words of CEO Elon Musk to his employees in an email obtained by Bloomberg, Tesla "just became a real car company." (What was it before?)
From Musk's email:
"We did it!!" Musk proclaimed in the email to employees Sunday. "We either found a way or, by will and inventiveness, created entirely new solutions that were thought impossible. Intense in tents. Transporting entire production lines across the world in massive cargo planes. Whatever. It worked."
G/O Media may get a commission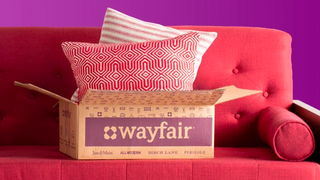 Big deals
Wayfair Surplus Sale
Anyway, it's a great accomplishment for the nascent automaker. Now of course, the question becomes whether Tesla can sustain that level of output, and improve and keep consistent the quality of the Model 3—which early on was not exactly great.
Musk wrote that, not only did Tesla "factory gate" more than 5,000 Model 3s, it may make 6,000 Model 3s a week next month. Including Model S and X production, the company had a "7000 vehicle week," he wrote.

The key will be whether Tesla can keep this pace, said Dave Sullivan, manager of product analysis for AutoPacific Inc. "Reaching it is one thing," he wrote in an email. "Consistently producing 5,000 per week with outstanding quality is another."

Not impressed was Steven Armstrong, Ford Motor Co.'s CEO for Europe, the Middle East and Africa. "7000 cars, circa 4 hours (heart) Ford Team (heart)" Armstrong wrote on his verified Twitter account, parodying a similar tweetfrom Musk about Tesla's weekly output.

The assembly plant reached the target by early Sunday, according to workers who asked not to be identified, with one saying cheers were heard at the end of the line around 5 a.m. local time. A photograph of employees signing a banner welcoming them to the "Model 3 5K Club" was deleted from Twitter and remains on Reddit.
Congrats to all involved.
2nd Gear: Dealers Hoping Cooler Heads Will Prevail On Car Tariffs
The auto industry is having a collective freakout over the Trump administration's planned tariffs on import cars, tariffs that could further tank the sports car market and make your average Toyota Camry about two grand more expensive. Everyone loses!
Especially worried about those tariffs are the car dealers, reports Automotive News:
"It's sort of like nuclear war. It's so unimaginable and the destruction is potentially so great, that what's the point of building a bomb shelter?" Mike Jackson, CEO of AutoNation Inc., the country's largest new-car retailer, told Automotive News. "It's to that dimension, and it's hard to believe that it's actually going to happen."

Jeff Dyke, executive vice president of operations for Sonic Automotive, the country's fifth-largest dealership group, calls the tariff threat troublesome. Up to 85 percent of Sonic's 100-plus stores sell luxury- or import-brand vehicles.

"Hopefully cooler heads will prevail," Dyke told Automotive News. "There could be some short-term pain, but hopefully that does not happen and we're able to move forward without it."
Sort of like nuclear war! These car dealers are so dramatic. Anyway, it won't be nuclear war, because nothing's that bad, but it will suck and cost people jobs.
3rd Gear: Cooler Heads Will Not Prevail On Car Tariffs
Unless the Trump administration comes to its senses, which seems unlikely.
Also from Automotive News: all the lobbying by car dealers, automakers, industry groups, trade associations, think tanks and even members of the president's own party are having zero effect on the tariff decision.
And there is little hope Trump and his close trade advisers will pull back, especially when the president remains fixated on the $200 billion trade deficit in autos. The only chance for reversal, some observers here say, is massive political pressure generated by TV visuals of factories closing and blue-collar workers in unemployment lines because of Trump's tariff decisions.

The take-no-prisoners approach was crystallized last week in a statement from U.S. Trade Representative Robert Lighthizer. In it, he issued a blistering attack on the European Union for retaliating against the U.S. for imposing the metal tariffs based on a national-security rationale that most trading partners view as a pretext for protecting domestic producers and evading a challenge through the World Trade Organization.

The U.S. actions "are wholly legitimate and fully justified, both as a matter of U.S. law and WTO rules," he said. "By contrast, the European Union has concocted a groundless legal theory to justify immediate tariffs on U.S. exports."

His statement is no surprise given the Trump trade team's history of antipathy toward the rules-based global trading system. Lighthizer, for example, spent decades as a trade remedies practitioner, bringing case after case against foreign competitors before U.S. regulators on behalf of domestic steel. His top lieutenants at the U.S. Trade Representative's Office, who came from the same Skadden Arps law firm, share his suspicion of key trading partners and his approach to defending U.S. interests.
Welp.
4th Gear: New Car Sales Look Incredibly Bleak

And no, I don't mean cars as in all cars. I mean the ones that aren't SUVs, pickup trucks or crossovers. Automakers are now on track to sell the fewest new cars the market has seen in about 60 years. And as Automotive News reports, there is no sign cars will rebound anytime soon:
Facing this new reality, automakers have adjusted their strategies — and there's no one-size-fits-all solution. Some are killing cars while others see opportunity in selling them. Still others with car-heavy sales mixes are playing catch-up in bringing more light trucks to market.

In its annual "Car Wars" report, Bank of America Merrill Lynch forecasts that 71 percent of vehicle introductions in the 2019 through 2022 model years will be light trucks.

"There's definitely further growth ahead," Jeff Schuster, president of LMC Automotive's Americas operation, said of pickups, SUVs and crossovers. He said trucks could account for 75 to 80 percent of U.S. light-vehicle sales by 2025.

Automakers are on pace to sell about 5.3 million cars this year, which would be the fewest since 1958. Trade-in data from Edmunds shows that the number of buyers who replaced a car with another car has fallen to 53 percent in the first five months of this year, vs. 68 percent in 2014.
We'll use Subaru as an example here, as it's been quite successful as of late by doubling down its crossovery wagon things, the Outback and Forester:
Through May, the brand's car lineup — the Impreza sedan and hatchback, Legacy, BRZ and WRX — has made up 24 percent of its U.S. sales, down from 58 percent in 2013, meaning Subaru is among the automakers with the biggest shift to light trucks.
Please buy more WRXes and BRZs.
5th Gear: Nissan's Bad Habits
Speaking of sinking sales, one automaker particularly struggling with some of the same bad habits that traditionally plagued the American companies—an over-reliance on fleet sales, incentives and deals—is Nissan. Sales plunged in April, but now they're back up, thanks to those profit-dampening tactics. Via Bloomberg:
The Japanese automaker may have gotten carried away with the austerity in April, when it shocked the market with a 28 percent sales plunge. But incentive spending and fleet deliveries picked back up again in May, and discounts were on the rise again in June.

Nissan's intermittent moderation underscores how challenging it is for carmakers to kick unhealthy habits that prop up sales but can do damage both to earnings and the long-term health of their brands. Taking one's medicine also is more challenging amid a market slowdown. While automakers are expected to cap a stronger-than-anticipated first half with their sales reports Tuesday, industrywide demand is still expected to decline a second straight year from 2016's record.

"In a period of off-peak sales, it's that's much more difficult to wean yourself from the drug of incentives and fleet sales," said Michelle Krebs, a senior analyst at Cox's Autotrader. "Even if Nissan doesn't spend a lot on incentives, its margins are still getting squeezed by rising interest rates and commodity prices."
I'd also argue strongly that Nissan as it is now has a product problem. Its tech, design, interior quality and even identity as a brand are lagging behind competitors. No wonder it's so reliant on rental car sales and incentive deals to move metal. Would you take an Altima over an Accord?
Reverse: 1 Million Corvettes
Neutral: Can Tesla Keep It Up?
Where does the automaker go from here? Can it keep up that level of production and improve quality? Do you think Musk has taken a nap yet?