Amid considerable doubt about its future, production methods and labor practices, Tesla reportedly hit a crucial milestone for the Model 3 sedan today: the elusive and long-sought goal of 5,000 cars produced per week. While the company hasn't officially confirmed the news, it's a huge deal if it's accurate and one that could go a long way toward establishing Tesla's long-term viability.
The news was first reported by Reuters today, citing two unnamed workers at the factory. The story said the 5,000th Model 3 "finished final quality checks at the Fremont, California" this morning, hours after the midnight goal established by CEO Elon Musk.
A request for confirmation sent by Jalopnik was not immediately returned; if we get it, we will update this post.

At least one apparent Tesla worker had this to say on Instagram today in celebration:
G/O Media may get a commission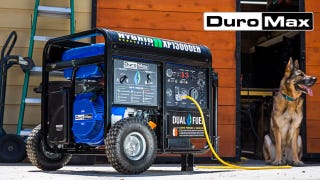 Black Friday Sale
DuroMax Generator Sale
Musk has not weighed in on this, at least not publicly; his last tweet, sent Friday night, was about short shorts.
Tesla said Model 3 production hit 2,270 cars a week in April, but in recent months it had been drastically ramping up production of the sedans it's staking its future on. The goal had been 5,000 Model 3s a week produced by the end of June.
The automaker added a third finishing assembly line in a tent at the Fremont factory, but as the New York Times reported yesterday, the exact methods of building the car itself seemed like a work in progress at times. Production itself was plagued with issues over automation, batteries and apparent quality issues on early build cars. And indeed, the much-ballyhooed $35,000 version of the Model 3 seems a ways off.
But the mood at the factory today, understandably, seems to be one of celebration. Via the Reuters report:
As the end of the quarter neared, Musk spurred on workers, built a new assembly line in a huge tent outside the main factory, and fanned expectations that Tesla could hit its target, including tweeting pictures of rows of auto parts and robots over the final days of the quarter.


"It was pretty hectic," said one worker who described the atmosphere as "all hands on deck."

Another worker speaking after the 5,000th car was made described the factory as a "mass celebration."
It is worth noting that Tesla nearly hit its Q1 goal of 2,500 Model 3s a week through a "burst" in production during the final week of March, though it ultimately fell short. The question now is whether the 5,000 cars a week rate—if it is true—can be maintained, and if the car's quality issues can be sorted out.
The Reuters story says Tesla is likely to announce the quarter's production and delivery numbers this week. If we get confirmation sooner than that, we will update this story.
Update: In a tweet Sunday afternoon, Musk claims 7,000 cars were built in a week, but no details were offered.
This is a breaking news story and is being updated.