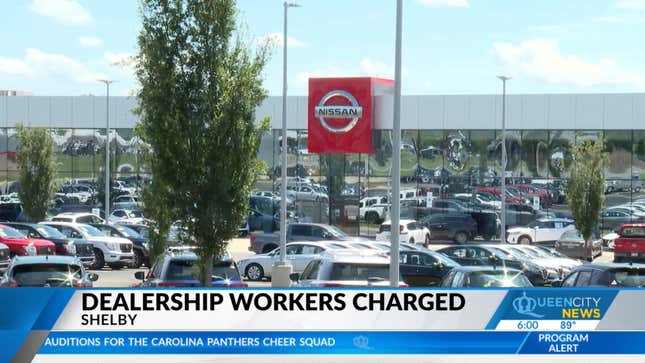 Earlier this week, the North Carolina Department of Motor Vehicles announced that it had filed more than 400 charges against 12 employees of the franchise dealer Nissan of Shelby. According to the release, "[t]he initial investigation centered around the process used by individuals or dealers to rebuild salvage vehicles and the documents used to transfer of titles of those vehicles. During the investigation, additional information was found that led to additional charges.​"
And boy are there a lot of them. Former general manager Sam Kazran alone caught 110 counts of Failure to Inspect Vehicle Prior to Being Offered for Sale. Another employee, Casey Ramsey, has been charged with 38 counts of Failure to Deliver Title, 38 counts of Improper Use of Temporary Markers, four counts of Failure to Disclose Damage and one count of Making False Statement about Date of Sale.
The remaining 10 employees were all charged with some combination of the above violations, and all have been charged with multiple crimes. Although, you do have to feel a little bad for Amy Howell, an employee charged with one count each of Failure to Deliver Title and Failure to Disclose Damage. She's still accused of breaking the law, of course, but it wouldn't be surprising to hear that she was new and pressured by her coworkers.
"I am relieved, but I am still concerned about what happened to me and possibly other people as well," Nissan of Shelby customer Lucinda Ross told Queen City News. According to Ross, two years after she traded in her old car for a new one, the dealership called her and told her she had to pay them even more money.
"They're telling me I had to give them money," she said. "I had to call the people I financed my car through and tell them I had to re-finance $2,500 into the loan. They said, 'No, your loan paperwork is fine.'"
Ross also told Queen City News that her new car, a 2021 Nissan Rogue Sport, came with damage to the door that the dealership refused to fix.
This isn't the first time that Kazran has run into trouble with the law, either. Back in 2010, the Federal Election Commission filed a complaint against him alleging that he illegally reimbursed employees of his Florida dealership for close to $70,000 in political donations.