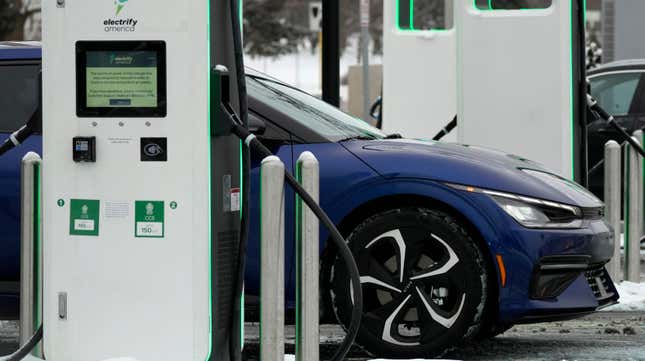 EV drivers have had to deal with a lot of things since the cars have slowly started to become mainstream, including drivers of ICE vehicles blocking charging spots for EVs. Known as ICE-ing, this practice is so prevalent in some places, like Australia, that taking up an EV spot with your combustion car can result in a $2,100 fine for gas drivers. Now, one state is looking to follow suit; The Charlotte Observer reports that North Carolina is considering a similar law but with a fine that's way smaller
Electric Car Charging Still Sucks, But That Might Change
The bill was approved by a majority of the state's House Transportation Committee. This is the second time such a bill has gone forward; in 2021 a bill was passed in the state House but died in the Senate.
If passed, the bill would make it illegal for drivers of gas-powered vehicles to park in spaces that are specifically designated for EV charging. This would apply to EV charging spaces at government and other public buildings. Spaces on private property would also be included, so long as the owner has signage that indicates that the space is for EV charging only.

The bill has pushback, of course. On one side, some committee members were concerned that EV drivers would take advantage of the bill.
"So you could park a vehicle, plug it in and leave it there indefinitely?" asked Republican Rep Jay Adams. He strangely argued there's no way to know if an EV driver is actually using the space to charge a vehicle.

Other committee members took a position against the bill by pointing out that there's no law against gas-powered vehicles parking in front of gas pumps and not filling up. Another representative said that mandates on EV charging space use should be left up to local governments.

Some members didn't take issue with the bill's premise but instead critiqued the fine, which would be $100 if passed. Some think that's too steep of a fine, like Republican Rep. Dean Arp, who argued that a parking fine in his county is just $5. He said he'd support the bill, but only if the fine was no more than $25.

Whatever North Carolina lawmakers decide, more states are sure to pass similar laws as EV adoption gains traction across the country.