Good morning! Welcome to The Morning Shift, your roundup of the auto news you crave, all in one place every weekday morning. Here are the important stories you need to know.

1st Gear: But Nobody's Getting Laid Off... Yet
Nissan's American sales have slumped 6.5 percent already this year, and in an effort to focus on "profitability" over "aggressive growth," Nissan is slashing production at its American factories, Reuters reports:
Cuts are already in progress at two assembly plants in the United States and three in Mexico, the Nikkei said, adding that employees will not be let go, and production lines will not be completely halted, with the cutbacks expected to wrap up later this year.

Nissan said that the report was not based on any announcement by the company. U.S. production of Nissan vehicles, including the popular Rogue crossover and its high-volume Altima sedan fell 9.2 percent in the year ended March, company figures show, following a period of increased sales in 2016.

At the 2018 NADA Show in April, Nissan dealers were told by U.S. sales chief Dan Mohnke that the company was planning to reduce production and lower inventories in the fiscal year beginning April 1.

Nissan has two factories in the United States, one in Tennessee, and one in Mississippi. Its plant in Smyrna, TN, makes the Nissans Leaf, Maxima, Altima, Rogue, Pathfinder, and Infiniti QX60, while its plant in Canton, MS, makes the Nissans Altima, Murano, Frontier, Titan, and NV.
I can't remember the last time I really thought about the Nissan Frontier, and I'm not sure why that is. Anyone drive a Nissan Frontier lately?
G/O Media may get a commission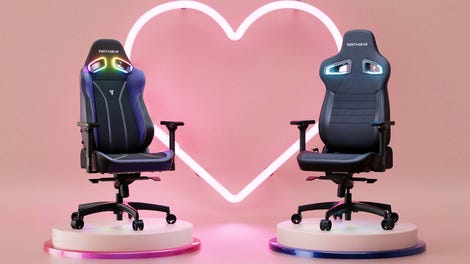 Up to $150 off
Vertagear Gaming Chairs
2nd Gear: And Now The Japanese Prime Minister Is Getting Involved
Even with Nissan's American production cuts, however, it's important to note that a large plurality of "foreign" cars these days on our roads are actually very much American, in some cases more so than supposedly "American" cars. And if President Trump's planned automotive tariffs go through, there's a good chance it'll end up hurting American workers, too, Japanese Prime Minister Shinzo Abe would like to point out (via Japan Today):
The Trump administration decided last week to begin a national security investigation into auto imports that could lead to new U.S. tariffs similar to those imposed on imported steel and aluminum.

"Japanese automakers have created jobs and made huge contributions to the U.S. economy," Abe told the Diet, when asked by a lawmaker how Japan would respond to the U.S. move.

"As a country that prioritizes a rule-based, multilateral trade system, Japan believes that any steps taken on trade must be in line with World Trade Organization rules," he said.

The number of cars Japanese automakers produce in the United States is double the number it exports to the country, Abe said.

This is all a silly and pointless game, and it is no longer the Year of our Lord 1983.
3rd Gear: Canada's Getting Involved, Also
Oh wait, that's right. Canada builds a ton of "American" cars, too. And if said tariff plans go through, it could end up costing American consumers a ton of money, and a ton of Canadian jobs. So Canada is sending its top diplomat to Washington to be like "NOOOO WHAT ARE YOU DOING," according to Reuters:
Canada's Foreign Minister Chrystia Freeland will go to Washington on Tuesday to meet with the U.S. trade chief, officials said on Monday, as officials press for a deal on reworking the North American Free Trade Agreement (NAFTA).

Freeland will be in Washington on Tuesday and Wednesday, said her spokesman Adam Austen. The United States, Mexico and Canada have spent months struggling to settle deep differences over what a new NAFTA should look like.

"We've said all along we are ready to go (to Washington) at any time," Austen said by phone, but declined to comment when asked about the chances of the three nations sealing a deal.

Chrysler, Ford, GM, Toyota, and Honda all have plants in Canada.
4th Gear: The EPA Is Ignoring Its Own Scientists In An Effort To Maximally Fuck Up The Environment
The Environmental Protection Agency's Science Advisory Board is a bit self-explanatory. It consists of scientists who are there to make sure that what the EPA is doing actually, you know, protects the environment. Using science.
But EPA Administrator and furtive napper Scott Pruitt is in such a rush to fuck up the environment that the SAB is freaking out, Bloomberg says:
But this time, the SAB working group has singled out five major actions planned under President Donald Trump it wants the board to examine, and the panel adopted unusually pointed language to highlight problems with the EPA's handling of the issues.

Consider the working group's analysis of the EPA's April 2 conclusion that emission requirements for cars and light trucks are too stringent. That Trump administration determination — a 180-degree reversal from the agency's conclusion under former President Barack Obama just 15 months earlier — triggered a formal process of dialing back the requirements. Where the Obama-era determination was backed by more than a thousand pages of technical assessments and other studies, the SAB working group said the Trump administration's pivot was based on much thinner evidence.

The EPA didn't identify or account for the potential effect on greenhouse gas emissions, climate change and public health and safety when it reopened the review, the working group said in a memo. "These would seem to be logical and necessary areas for scientific and technical assessment."

Scott Pruitt, an astoundingly corrupt rube, will likely win over the scientists because that is our political system.
5th Gear: Seatmaker In Buyout Talks
German seatmaker Grammer is in buyout talks with Chinese company Ningbo Jifeng Auto, Automotive News says:
A move by the Ningbo-based head- and arm-rest manufacturer could revive concerns among Germany's leadership about Chinese investors' purchases of assets in Europe's biggest economy that were sparked by the 2016 purchase of robot maker Kuka by Midea Group. In February, Li Shufu, the chairman and main owner of China Zhejiang Geely Holding Group, revealed he had amassed a stake of 9.69 percent in Daimler, making him the single largest shareholder in the company.

Even so, a takeover could be endorsed by automakers. The Hastors' Prevent Group took the unprecedented step two years ago of halting component deliveries to VW because of an orders dispute. Volkswagen last month reportedly canceled all supplier contracts with that company as a result of the conflict.

May their marriage be blessed, and I wish them hundreds of fat children.
Reverse: This Was 13 Years Ago And Now You Feel Old
On this day in 2005, 23-year-old Danica Patrick becomes the first female driver to take the lead in the storied Indianapolis 500.

Neutral: Seriously, The Nissan Frontier
We all love the Chevy Colorado and Ford Ranger and Toyota Tacoma and whatnot. Smaller pickups are great. What about the Nissan Frontier?
Correction: This post originally said that Nissan had two factories in Tennessee. It has one assembly plant in Tennessee (Smyrna), along with an engine plant in Decherd. The Canton facility is in Mississippi. We regret the error.