Mercedes teammate Lewis Hamilton may be ahead in points of Nico Rosberg for the Formula One World Driver's Championship, but Rosberg's going to make winning that difficult. Nico qualified in first during today's qualifying for the Abu Dhabi Grand Prix, ahead of Hamilton by 0.386 seconds.
Currently, the two drivers are so close in the points that the fact that Abu Dhabi is a double points race could play a significant role in who becomes the 2014 World Driver's Champion. If Nico Rosberg wins tomorrow, Lewis Hamilton will have to finish second to claim the championship.
This showdown between the two Mercedes teammates promises to be a good one.
Further down the grid, Mercedes engines are still dominant, with Valtteri Bottas and Felipe Massa claiming third and fourth on grid, respectively. After them are the Red Bull Racing cars, with Daniel Ricciardo in fifth and Sebastian Vettel in sixth. Daniil Kyvat was the mid-field surprise this weekend, putting his Toro Rosso in seventh position. Jenson Button's McLaren qualified eighth behind him. Rounding out the top ten are Kimi Raikkonen and Fernando Alonso in the Ferraris, qualifying ninth and tenth, respectively.
G/O Media may get a commission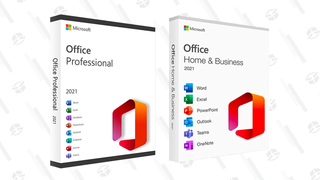 89% off
Microsoft Office Professional 2021 Lifetime License
Romain Grosjean was supposed to receive a twenty-place grid penalty for swapping to a sixth internal combustion unit, turbocharger, and energy-storing unit (one of the two in his power unit) for the season. Because he qualified sixteenth out of the twenty cars on grid, however, he will receive a drive-through penalty during the race instead of being moved back farther.
The Caterhams did as expected, rounding out the bottom of the standings in nineteenth and twentieth. Decent driver in a back-field car Kamui Kobayashi finished ahead of teammate Will Stevens, who just got approved for a super license for this race.
Caterham administrator Finbarr O'Connell could also be seen making the rounds in the paddock, looking as out-of-place as you'd think an account trying to head up a Formula One team could be.
A full listing of qualifying results with lap times can be found here.
The dominant Mercedes engine also broke a record today for the most number of pole positions ever claimed by a single engine in a season. This season, the Mercedes PU106A has taken every single pole position. The last time a single engine was behind every pole in the season was in 1969 with the Cosworth DFV, when there were fewer races in a year.
The action at the front of the pack guarantees to be interesting, that's for sure. Williams is nipping at Mercedes' heels and would love to capitalize on any of their mistakes during the last race of the season. Will Hamilton and Rosberg fight clean for the driver's championship? We'll have to see early tomorrow morning.
Photo credit: Getty Images